Digital era, the long tail, streetwear, social media, pure players, business platforms, influencers, liquid design… these are some of the ingredients for cooking this article…
Global volatility, from geopolitics to social instability, is the new normal. Companies in all industries need to adapt the way they manage their businesses in an ever-changing landscape. Agility and speed are some of the success factors of the retail evolution race.
Today, retail is more dynamic than ever due to the impact of technology and the new forms of communication on the Internet. The marketing funnel has changed, as well as the customer journey is impacted by a new brand-consumer relationship that multiplies touchpoints and puts the customer and the experience at the centre. Companies are redefining their business models, some B2B players are going B2C (or B2B2C) while the competition landscape is coming from outside an industry vertical. Retail companies are impacted by niche players in the long tail but also by other companies selling experiences.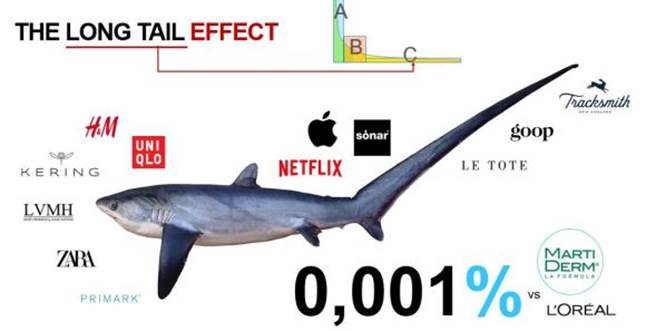 The picture above is about the long tail economy, the new competition landscape and the experience economy. Companies shouldn't focus their strategy on competing to their A Pareto competitors, their twins or brothers, but understand the whole ecosystem. If you are a luxury brand, for example, pay attention not only to conglomerates or niche players but also to non-traditional competition.
Retailers should adapt their value proposition (market approach) in the new experience economy, facing other industries like electronic, media and entertainment companies such as Apple, Sonar Music Festival or Netfllix. Today, analysing the opportunity cost of a purchase is much complex. It is time to take a deeper look at niche players, many born digital that are covering what customers want today: feeling part of a tribe, in search of sustainable, local products, and so on. You are not competing on product but experience too.
I took these example of "niche players" but there are thousands… Goop is a wellness and lifestyle brand including e-commerce, collaborating with fashion brands, launching pop-up shops, holding a "wellness summit", launching podcasts, and also docuseries for Netflix. Tracksmith, from New England (US), is a running brand, lifestyle brand, a runners hub, a club. If you know Rapha, the cycling-lifestyle brand, they share things in common. Then, Le Tote: A Clothing rental subscription box from San Francisco, focus on womenswear in the segment of everyday wear. Le Tote uses AI to improve recommendations and acquired Lord & Taylor, the luxury department store in NYC.
Finally, Martiderm, a Dermocosmetics specialist founded in Barcelona with €38 million revenues. This is 0.001 per cent of L'Oreal's revenues. Martiderm sold €8 million during Chinese single's Day (in one day), being the 8th cosmetic brand in terms of sales on Tmall, an Alibaba company. So, in 24 hours it sold around 20 per cent of their total annual revenues. How? A Curated product for Asian customers and excellent operations, allowing them to compete to L'Oreal.
Then, Covid-19 is changing the shopping habits and preferences. Comfort is more important than style when it comes to shopping clothing during the Corona period and classic brands are therefore in trouble. Casual and sportswear categories and brands are seeing sales rise due to Covid-19, while gyms and offices remain closed or people are scared to step in. Are we living the Apocalypse of suit and tie? Gym-goers are discovering outdoor exercise and are investing in new materials or updating their closet, as commented in the fashion of cycling (bikes are the new toilet paper).
Streetwear brands and collaborations are booming, and luxury companies are embracing limited editions meanwhile ceremonies and events are mostly cancelled. Coolness is the Holy Grail in today's luxury. Many brands are embracing this revel counterculture attitude thru capsule collaborations, hiring talent or acquiring "streetwear" players. T-shirts are killing shirts, and sneakers are killing "high heels". So, design and creativity are big assets to boost sales.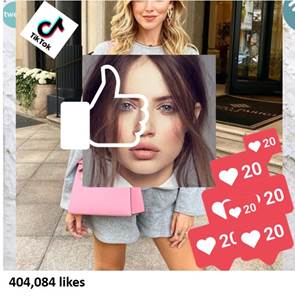 What if influencers could build their own fashion brands? A good product and millions of followers are the perfect combination to succeed. An influencer is capable of selling more items (eg t-shirt, shoes, perfume, etc) in 24 hours than many flagships in a whole month. Influencers have millions of loyal followers that would be happy yo shop their idol's merchandising will let them feel closer and identify themselves as part of an "exclusive" tribe.
James Charles is an american influencer with a channel on Youtube specialising in Beauty and 23 million followers on Instagram. Chiara Ferragni is an Italian influencer with 21.6 million followers on Instagram. Ferragni has collaborated with different fashion brands, as a model but also as a designer. Then, Influencer Marketing Platforms (eg Heepsy, Markerly) brings access to millions of celebrities and influencers around the globe. The influencer marketing industry is on track to be worth up to $15 billion by 2022, up from as much as $8 billion in 2019, according to Business Insider Intelligence estimates, based on Mediakix data.
Influencers are inspiring Millennials and GenZ, that are spending more time on video and social. Brands are adapting to this new era in marketing and advertising, but what if Influencers develop their own products?
What would be Influencers' challenges when starting their own collections?
An option would be "licensing" their brands and letting a business to carry on with all the operations, from product development, supply chain and retail. This is the standard business model of global beauty companies (eg Coty and Gucci or L'Oreal and Giorgio Armani).
An interesting platform that I recently discovered is Urbancoolab and its robodesigners. Urbancoolab is an AI streetwear design platform that collaborates with creative minds to design, produce, and sell original streetwear collections on their behalf. Their robo-designer, STiCH, will follow influencer's creative input of art, photos, music, and text to transform their creative direction into a full streetwear capsule collection. Urbancoolab handles the whole value chain, end-to-end. From production to webstore, customer service to fulfilment. Then, influencers stay focus on the marketing side, their biggest asset.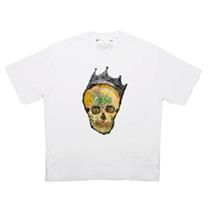 Technology is not only enhancing brands to get faster to the market, but also individuals, artists, musicians, niche players or influencers. Influencers have the marketing power while technology platforms handle with supply chain management. The internet economy boosted niche players success and today, social media and technology platforms are redefining "business as usual" through influencer's brands.
This article has not been edited by Fibre2Fashion staff and is re-published with permission from fashionretailer.com