Polyester is a synthetic fabric derived mainly from petroleum. It is one of the world's most popular textiles, and it has a multitude of consumer and industrial applications. Despite its worldwide fame, its manufacture comes with a hefty environmental cost.
Whilst polyester could be classed as a virgin fabric, Repreve is a recycled polyester brand name by Unifi, an American fibre manufacturer. Unifi manufactures repreve out of recycled plastic chips made from polyester waste such as plastic bottles. Finished fabrics can either be 100 per cent repreve or a hybrid with virgin polyester or other fibres (such as Spandex). It is used to create fabrics for athletic and fashion clothing as well as upholstery. Launched in 2017, repreve is now the world's leading, branded recycled fibre. We will delve into the differences and similarities between repreve and polyester in this article.
<![if !vml]>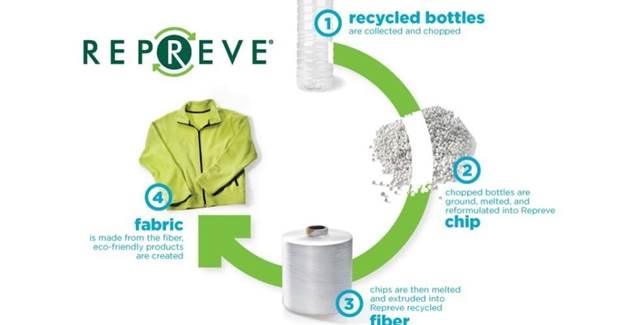 <![endif]>
Introduction to repreve and polyester
The earliest record of polyester creation dates back to 1940 when American company DuPont wanted to make textile fibres using polyester. DuPont trademarked its creation with the name Mylar and received registration in the year 1952. Meanwhile across the water, British chemists John Rex Whinfield and James Tennant Dickson were at the same time inventing the same compounds which resulted in polyester. Concurrently, in the Soviet Union, PET was manufactured at the Institute of High-Molecular Compounds in the year 1949. This institute was part of the USSR Academy of Sciences.
Fast forward to today, the global production for polyester reaches almost 80 million tonnes per annum. Polyester can be produced via two methods, one using ethylene glycol and dimethyl terephthalate, and the second using ethylene glycol and terephthalic acid.
In the first process, dimethyl terephthalate and ethylene glycol are allowed to react in the presence of a basic catalyst at a temperature of about 150 to 200 degrees Celsius. Methanol is distilled out and then excess ethylene glycol is distilled with the help of a vacuum. This process of producing polyester is also known as the transesterification process.
In the second process, ethylene glycol and terephthalic acid are allowed to react at high temperature and moderate pressure in a process known as esterification. Water is removed via distillation during the process.
<![if !vml]>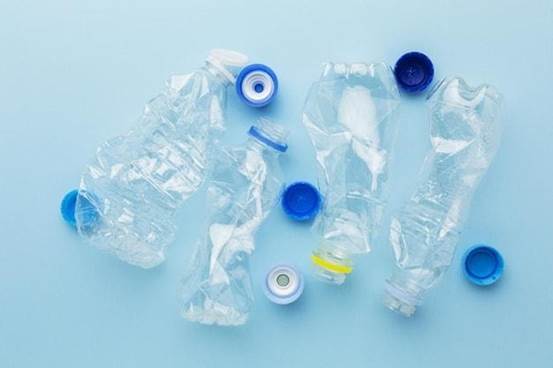 <![endif]>
Repreve fabric is created at Unifi's advanced recycling facility, where plastic bottles are sorted, washed, and chopped into flake material. The clean flake is blended, melted, and turned into repreve recycled chip and loaded in silos. One silo can hold the equivalent of 27 million plastic bottles. The chip goes through the extrusion and texturing process and is transformed into fibres with inherent performance properties.
For dyeing, an innovative process called waterwise may then be used. Colours is blended into the fibres, offering long-lasting, vibrant fabric colours with a waterless dyeing process that conserves natural resources. The solution dye becomes part of the fibre as it's being extruded, resulting in rich, brilliant, long-lasting colours.
Similarities between repreve and polyester
<![if !supportLists]>• <![endif]>Both are made from polyester, a man-made synthetic fibre.
<![if !supportLists]>• <![endif]>Both are durable and long-lasting fibres.
<![if !supportLists]>• <![endif]>Both are easily blended with other fibres such as cotton, to improve their breathability.
<![if !supportLists]>• <![endif]>Neither of these fabrics biodegrades easily due to being man-made.
<![if !supportLists]>• <![endif]>Both of these fibres are entirely vegan, as no animal husbandry is required in their production.
<![if !supportLists]>• <![endif]>They are both water-resistant, fight against odours, and lightweight.
<![if !supportLists]>• <![endif]>They both have multiple applications - in fashion, activewear, upholstery, outdoor gear, and car interiors.
Differences between repreve and polyester
<![if !supportLists]>• <![endif]>Producing repreve offsets the need to produce new petroleum, emitting fewer greenhouse gases and conserving water and energy in the process. This is in stark contrast to virgin polyester which requires the petrochemical cycle to continue for its production.
<![if !supportLists]>• <![endif]>Repreve is a recycled fibre, virgin polyester is not.
Repreve vs polyester: Environmental impact
To date, Unifi has recycled 10 billion bottles. It diverts plastic waste from landfills to create durable, sustainable fibres that can be used in textile fabrics. Producing one pound of repreve can
<![if !supportLists]>• <![endif]>Save enough energy to run a compact fluorescent light bulb for nearly 22 days.
<![if !supportLists]>• <![endif]>Save enough water to provide more than the daily requirements of drinking water for one person.
<![if !supportLists]>• <![endif]>Save the amount of greenhouse gas (GHG) emitted while driving a hybrid car almost 3 miles.
It has also received the Oeko-Tex Standard 100 certification, a well-known international eco-label. Oeko-Tex offers "Confidence in Textiles," ensuring that repreve's fibres are tested to be free of harmful levels of more than 100 restricted chemicals.
The only concern with repreve is the fact that it requires plastic to be produced, thus continuing the industrial petrochemical cycle. It would be good to see single-use plastics disappearing altogether from our shelves. However, it is a major step in the right direction in terms of sustainability. It tackles a current problem.
Repreve vs polyester: Applications
Repreve and polyester have similar applications as they have the same chemical makeup. Repreve is used mainly for apparel, footwear, automotive, contract furnishings, and home textiles. Virgin polyester is used for just about everything you may encounter in your day-to-day life from the clothes you wear to the interiors of your car to the filters, ropes, tents, curtains, and fishnets you may use. The only difference is that repreve isn't as widely available as polyester, but brands are quickly getting on board with repreve.
<![if !vml]>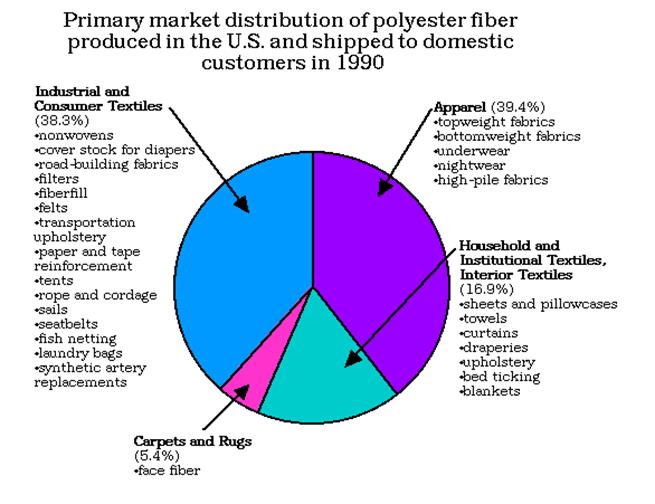 <![endif]>
primary market distribution of polyester fibre
Repreve vs polyester: Conclusion
We have compared the similarities and differences between these two types of polyester, one of which requires raw materials and one which is recycled. Repreve is by far the better option when it comes to the environment.
Examples of polyester and repreve from the showroom
Repreve polyester 167g/s'm double weave
<![if !supportLists]>• <![endif]>Fabric Type: Woven
<![if !supportLists]>• <![endif]>Weave: Double weave
<![if !supportLists]>• <![endif]>Length: 50 m
<![if !supportLists]>• <![endif]>Width: 140 cm
<![if !supportLists]>• <![endif]>Weight: 167 g/s'm
<![if !supportLists]>• <![endif]>Content: Polyester 56 per cent, Elastane 8 per cent
<![if !supportLists]>• <![endif]>Country of origin: Taiwan
Repreve grosgrain
<![if !supportLists]>• <![endif]>Fabric type: Woven
<![if !supportLists]>• <![endif]>Weave: Grosgrain
<![if !supportLists]>• <![endif]>Finish: Regular
<![if !supportLists]>• <![endif]>Washing temperature: Cold
<![if !supportLists]>• <![endif]>Drying: Line dry
<![if !supportLists]>• <![endif]>Length: 50 m
<![if !supportLists]>• <![endif]>Width: 57 inch
<![if !supportLists]>• <![endif]>Content: Polyester (Repreve) 100 per cent
<![if !supportLists]>• <![endif]>Country of origin: China
This article has not been edited by Fibre2Fashion staff and is re-published with permission from synzenbe.com