Fast fashion is now one of the most negative terms in fashion
The annual Australian Circular Fashion Conference is Australasia's first leading business event on sustainability for apparel and textiles. Following the success of the first annual conference in 2018, the 2019 ACFC held from March 21-22, was a call to action to accelerate and expand sustainability efforts, in order to support industry and mitigate risk over the next 5-10 years. Founder and director Camille Reed spoke at length to Fibre2Fashion about the ideas discussed at the show, Australia's sustainable fashion scene, and what lies ahead for circular fashion.
What was the agenda for the second ACFC?
First and foremost, the conference elevated Australia's leadership role globally, hosting seven international guests from across the world (Milan, Stockholm, Switzerland, New York, San Francisco), it was a history-making moment for this industry and for the Southern Hemisphere. We had three of the most renowned and highly regarded sustainable fashion brands globally (Eileen Fisher, Filippa K, Mara Hoffman) and two of the most incredible private companies (Bluesign Technologies, CLASS) addressing Australian businesses on their key recommendations on sustainable materials and supplier standards. Majority of our keynote presenters were visiting Australia for the first time.
In 2019 we focused on next steps: we're taking the conversation to the next level. The 2018 event was an introduction and invitation for the industry to participate in a critical topic. Therefore, we had to elevate the level of action required to ignite industry's action. The content was drawn upon these existing businesses, who have been practicing sustainability in this space for several years.
A very new concept introduced this year was the University Challenge, an integral part of the ACFC programme showcasing an important and under-developed opportunity, partnering universities with industry companies to generate solutions for which the business is looking to immediately address their sustainable barriers. Over two big days students and industry partners presented out-of-the-box solutions which their partners could look at implementing in their business, this complex challenge was facilitated by Design Chain.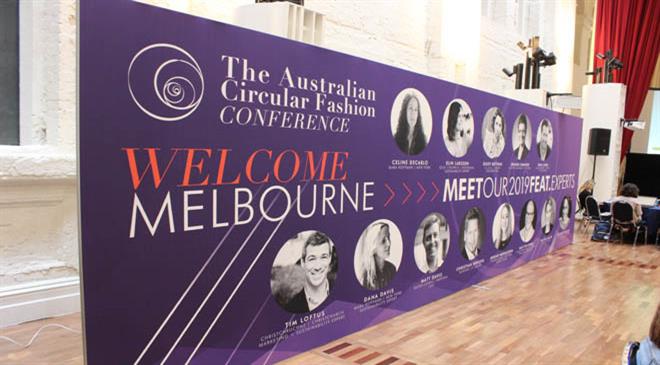 What were the key takeaways and main discussions at the conference this year?
Upon receiving incredible feedback we've heard the biggest takeaway overall was the diversity in the speakers and the incredible experience each speaker demonstrated during their presentations. Speakers focussed on the key pillars of circularity from design, materials, attitudes and standards.  This is the first time in Australia we have seen these many international guests attend an industry event; therefore, attendees were very appreciative of hearing what large international companies had to say on the topic.     Attendees were also impressed with the level of engagement from the audience, many of which made a conscious effort to network and collaborate.
Where are business leaders attending the conference from?
We doubled the size of attendees compared with 2018, upward of 400 professionals from a diverse range of industries-charity, academia, retail, wholesale, banners + flags, Victorian + New South Wales government departments, waste, SMEs, media, consultants off the top. It's important to include every angle of the apparel and textile industry when discussing sustainable solutions and serviceable options for the local market long term.
Where does Australia stand in the global circular fashion movement?
Since launching the conference in 2018, we've seen tremendous recognition and interest from several international organisations. We've successfully elevated the status of Australia's ingenuity in this space through brand engagement, government interest, academic partnerships and seeking relationships with international groups. After sharing meetings with Eco Age, C.L.A.S.S, Sustainable Apparel Coalition, and Common Objective over the past 12 months Australia is considered very progressive in addressing sustainability for our fashion industry. We've seen a rise in events (large and small), numerous start-ups and consultants emerging, academic institutions and students seeking opportunities to participate and collaborate. Australia is renowned for engaging quickly and adopting new business trends.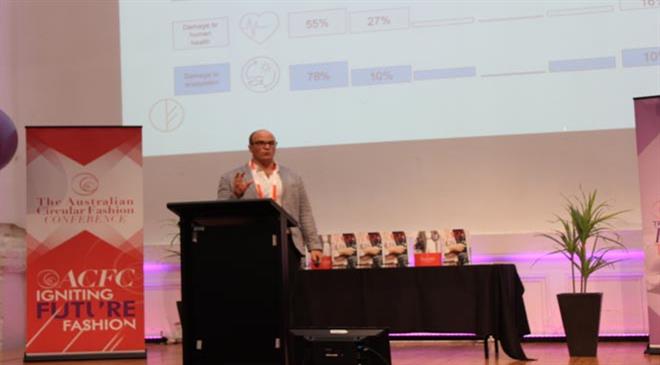 What issues in the fashion niche require urgent attention in terms of taking sustainable efforts?
There is no one particular area which should be addressed first, nor is there a right or wrong way to introduce new circular business systems. However, a level of action and implementation is required now, business engagement and acknowledgment for measurable changes regarding goal-setting, internal KPI's, circular business development, supply chain and procurement assessment are several key areas which can be focussed on in early stage transformation. Customers and industry need to work in unison and support each other. This way business transparency is seen as a positive step rather than the classic blame and shame notion we've seen in the media.
What percentage of recycled clothing/textiles is used to make new clothing globally?
At this stage we cannot estimate the figure because a great deal of the technology is relatively new, majority of the most important requirement to close the loop is establishing an end market for the recycled textile to be purchased and utilised within supply chains-this needs to increase.