Working with A&E to develop anti-counterfeiting sewing thread platform
US firm Applied DNA Sciences is a provider of molecular technologies that enable supply chain security, anti-counterfeiting and anti-theft technology, product genotyping and DNA mass production for diagnostics, personalised medicine and therapeutics. MeiLin Wan, vice president, textile sales, discusses counterfeiting, prospects of traceability solutions in Asia and the latest innovations at her company.
Applied DNA Sciences is bringing CertainT platform to Asia. Do you see a growing demand for traceability solutions in Asia?
Asia is a very important market for textiles. Traceability, as we see it, can start at any point in the supply chain depending on the claim that you want to make. Simply put, if you claim it, you own it. That is why clients utilise our CertainT platform because of the forensic certainty it offers. It goes beyond the 'generic' taggants on the market that may be easily copied or used by another supplier. Asia has a problem with counterfeit products, and we believe that using a forensic molecular tag can also help mitigate the risk of counterfeits contaminating a supply chain, or help to keep track of original products that may be diverted into a gray market.
Is the pressure mounting on textile manufacturers in Asia to keep the supply chain clean as they play a big role in the global textile world? Where is the movement the strongest?
It is an opportunity and a challenge for textile manufacturers who know that being technology driven, consumer-centric and staying relevant in this hyper-informed and competitive world is the key to success. Consumers and NGOs are on the look-out for 'green washing' or claims that are 'too good to be true'. This is why using the tag-test-track system under CertainT, in or on the product itself, has been a great opportunity for textile manufacturers to use the best-in-class technology for sustainable global commerce.
What is the size of the Asian companies getting authenticity and traceability solutions? Are any small and medium scale textile industries using Applied DNA solutions?
If your company is focused on creating value through innovation and collaboration, I believe you will find that there is no limit to how our solutions can be used to provide a competitive advantage.
How many fibres and textile chemicals does Applied DNA provide traceability solutions for?
Virtually any fibre or textile chemical can utilise our CertainT platform. If you currently submit chemical samples for testing and certification, you can preserve the integrity of that safe chemical by tagging, testing and tracking it with CertainT.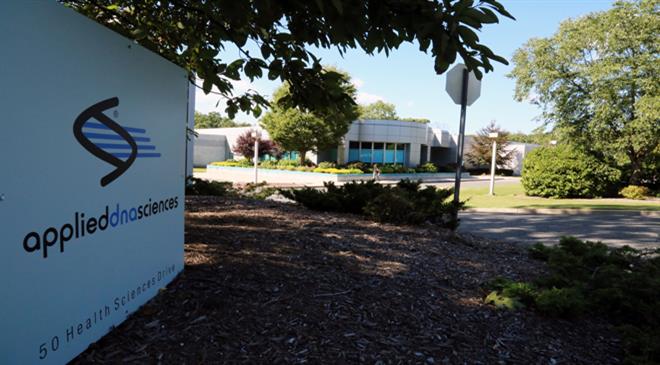 Is geo-tracking a part of the traceability solutions you provide?
Yes, that's right. All the information from tagging and testing goes into a secure CertainT textile portal that provides access to information on the history of the product authentication.
Do you plan to get into ingredient branding and promoting CertainT to consumers to look for authenticity and anti-counterfeiting, especially for textile and apparel products?
CertainT was conceived to be an ingredient brand from its inception. Consumers want to know if the products they are purchasing online or in store are proof-positive authentic.
Counterfeiting is a major issue for brands. What is the latest that you offer on this and does it indeed check the problem?
We are collaborating with American & Efird (A&E), one of the world's leading manufacturers and distributors of industrial and consumer sewing thread, embroidery thread, and technical textiles, to develop an anti-counterfeiting sewing thread platform. Many products, from running shoes and performance athleisurewear to bespoke suits, can benefit from a secure sewing thread.  The platform under development will address counterfeiting, but more importantly assure quality and integrity to the brands with a forensic, secure and effective solution.
How many textile brands does Adnas have on board for its solutions? What is the contribution of textile sector in Adnas's annual revenue?
We work with many textile brands, but they are not just limited to retail but also manufacturing and raw material fibre and product brands. We have been able to publicly announce some like Bed Bath and Beyond through the Pimacott and Homegrown cotton brands. There are others we are currently working on that we will share later.
What latest innovations and solutions are under way at the company's research and development (R&D) unit?
What sets us apart, over and above any other tracer or taggant, is that we have proven that you can tag, test and track over 200 million lbs of fibre in yarn, fabric and finished goods. We continue to accelerate the global application of our solutions in multiple substrates and enable our partners to do their own DNA testing on site.  That is the power of our system.
Do you plan any major announcements or launches this year? What are your short-term and long-term goals?
We are all about innovation through collaboration with our partners and clients. We look forward to sharing more about how CertainT can make a difference, not only in supply chains, but through the amazing people we work with all around the globe. Our technology is only as good as the people who see the vision and put it into practice.
By what percentage can retailers improve their sales and engagement with consumers using this platform?
The 'lift' will be felt and seen through increased confidence in the product quality, support in protection of the brand and intellectual property, and more compelling and stronger story-telling that is based not only on perceived value but actual scientific and verified forensic data. (HO)