Urgent need to revive & promote our heritage weaves
Anuprerna is an artisanal textile producer involved in working closely with 300+ weavers in rural West Bengal to produce ethical, sustainable and beautiful handwoven textiles using indigenous weaves and techniques. Paulami Chatterjee interviews Amit Singha, Owner & Curator of Anuprerna, to assess the plight of the weaving community in the midst of the global pandemic. Singha also shares details about the company's recently launched online platform.
Amid the COVID crisis, how is the handloom industry sustaining itself? How is the livelihood of weavers associated with you impacted?
Due to the Covid19 pandemic, the handloom industry has completely come to a halt. The ripple effect can be seen from the end consumers to manufacturers and in our case, the artisans as well. Our artisans are affected due to lack of work and unavailability of mode of communication for the transfer of goods. We channeled all our working capital to pay our employees and artisans. We ran a small campaign trying to get help in this troubled times to donate funds to our artisans. A lot of well-wishers helped us a little to enable that.
What needs to be done to keep handlooms more relevant in current times?
To keep it relevant to modern times, handloom textiles and designs should imbibe the modern contemporary approach as well. Designers should be inclined to incorporate our traditional textiles into their designs. Consumers should be made aware of the importance of the stories behind these craft in a transparent manner.  
Through our newly launched platform, we are planning to collaborate with designers across different continents to bring cross-culture designs, merging the designer's cultural exposure with east India's traditional textiles.
What are some of the ancient heritage weaving and knotting techniques that you follow or have revived? Please elaborate.
We have been working to preserve and promote two primary crafts of fine muslin khadi (with cotton and Indian silks like matka, tussar, mulberry) and jamdani techniques.
Khadi - A fabric made by hand-spinning threads on a 'charkha' and handwoven by artisans in handloom thereby supporting ancient skills and traditional crafts. The ideology and associated technique was envisioned by Mahatma Gandhi to inspire people to be self-reliant. In east India, especially the Bengal weavers have been practicing this weaving craft with a very fine count of khadi yarn (handspun cotton/silk) for centuries.
Jamdani - Considered to be one of the finest variety of muslin that is handwoven from cotton, the art flourished under the Mughal patronage. Even the name, jamdani, is of Persian origin and comes from the word "jam" meaning flower and "Dani" meaning vase. The name is suggestive of the beautiful floral motifs. The weaving is time-consuming and labour-intensive because of the richness of its motifs, which are created directly on the handloom using the discontinuous weft technique.
What challenges are you facing in day to day sourcing and order delivery?
Even if there was a little demand, we were unable to fulfill it due to the absence of logistics partners. Moreover, there is so much uncertainty around the pandemic; we are unable to plan anything in advance or get a way to handle our employees, our weavers, and all our stakeholders. Now the logistics have opened up and we are receiving few orders from domestic and international clients as well.
In the pre-COVID times, what was an individual weaver earning from you per month? How much has that reduced now?
The average earnings of an individual weaver are in the range of Rs 9,000 - 10,000 per month with consistent work throughout the year. As their earning depends on consistent work, it has reduced due to lack of work.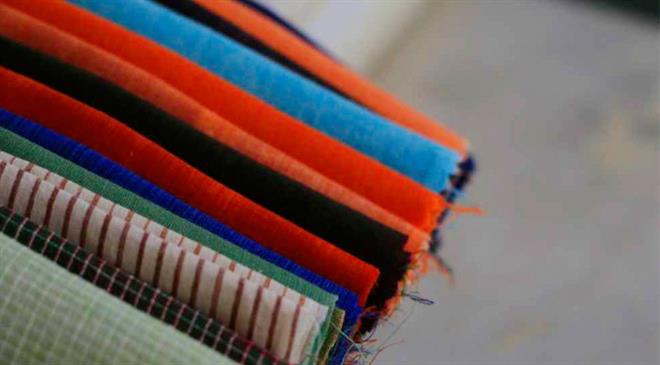 What are the challenges that this niche faces?
These crafts are passed on from generations. The basics of the crafts are easy but to master the craft for creating intricate designs and patterns needs experience, patience, and skills. Due to the heavy competition of machine-made textiles with respect to both price and time, these craftsmen face challenges in finding a stable future working with these crafts. In the course of three decades of our working, the future generations of many of these artisans have chosen to venture into different fields for more stable income. As a result, there is an urgent need to revive and promote these beautiful crafts.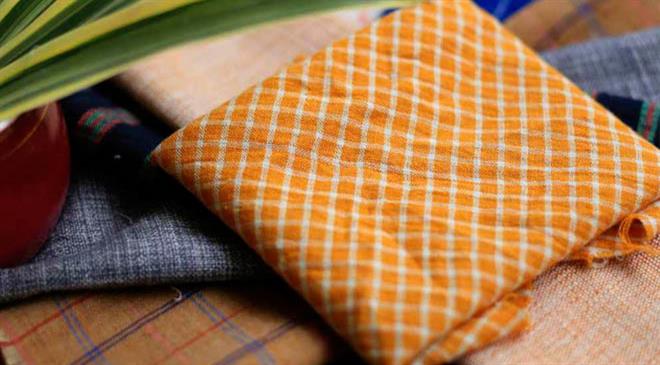 How supportive are government initiatives and schemes towards the Indian handlooms' community?
The government has many schemes and initiatives to directly help the artisans and such handwoven techniques, although they are not sustainable. One thing probably the government is able to help is by creating more awareness. But there are more issues to tackle in terms of design upgrade, quality, production efficiency that needs much closer supervision which we are trying to achieve.
What kind of support are you providing to the weavers in the current state? How different is your effort in really uplifting the plight of this talented lot?
We already had some work planned and designs we wanted to develop; fortunately we shared that with the weavers just in time before the complete lockdown was imposed in the country. As they work from home, they could continue working during the lockdown period as well. For rest, we ran a small campaign to collect funds and donate it to our artisans. A lot of well-wishers helped us a little to enable that.
How are you trying to market your products?
We do have offline clients to whom we showcase/send swatches/yardage fabrics. Recently, we have launched our online platform to connect with both B2B and B2C clients to market our products, crafts, artisan stories, etc. 
The demand from the market and pressure on the industry as a whole is today on circularity. What steps have you taken towards this?
The handwoven processes positively impact the weaving community and environment with respect to job creation, artisan empowerment, water conservation and reduced carbon footprint. Due to the nature of textiles and techniques we work with right from the time of procurement of fibre, the process of hand-spinning to make yarn and finally hand woven to beautiful textiles, the entire process has very minimal impact on the environment.
What are your future plans? Do you plan to add more product categories or expand your current set-up?
In the last two years, we have forayed into natural dyes, organic fabrics in order to establish our goal in sustainability. We have already explored multiple crafts of West Bengal from khadi, jamdani, shibori, batik, block, hand-printing, natural silk and more. Along with fabric, we have expanded our product portfolio into accessories like scarves, tablecloths, homewares, sarees and also into apparels, with the help of our tailoring partners.
Simultaneously we are aspiring to be innovative in our approach of conceptualising new designs, concepts and ideas using different hues, colours, motifs and threads to create diverse textiles based on the traditional crafts that would appeal to the modern contemporary global fashion market.
At present, we are working with some of the famous sustainable fashion brands across India and abroad. We have taken a new initiative to partner with textile designers from the west to incorporate new design ideas into our traditional crafts and also work out modern western apparel. (PC)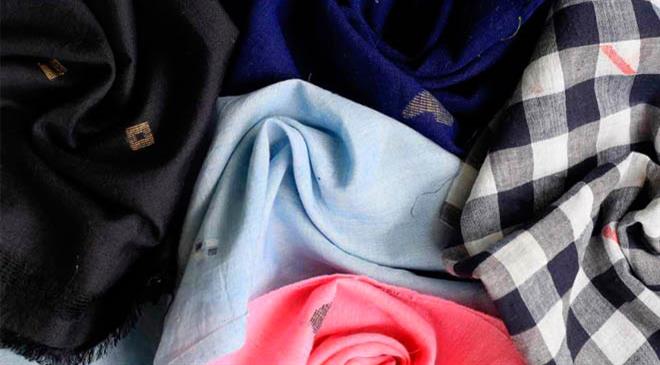 What was the seed money when you launched your brand and how did you go about securing it? Have you broken even?
The business has been pioneered and driven by my father since 1983, inspired by the artisan's community around, started out of a small village in Burdwan district of West Bengal. There were ups and downs based on the market condition but it has been a stable business since then. 
Post my education as a computer engineer and an MBA graduate, with work experience of 3+ years in the field of finance & strategy, I decided to spearhead this venture associating with this brand Anuprerna to target international consumers. It's completely bootstrapped so far and has been profitable since the start.
Where do you source the raw materials from? How does your supply chain work?
We source our cotton yarns from south India, khadi yarns from eastern states like Bihar, Odissa also north east Assam for silks and a lot of yarn is sourced from our home state West Bengal as well.
All fabrics are woven across different clusters in Bengal by artisans working from their homes. Weaving wages are fair and sufficient for them to live a happy healthy life but one thing they always look for is continuous year-long work as most of them are paid on a contract weaving basis.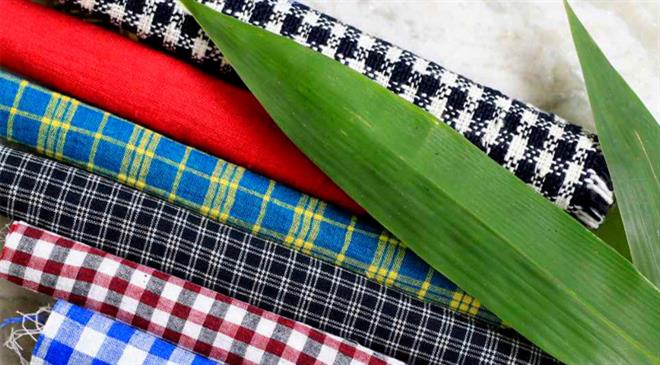 How many weavers do you work with? What is the percentage of women in them?
We work with 100+ weavers across multiple clusters across West Bengal. Usually, it is a family-oriented homeworker economy where the men are responsible for weaving and the women are usually involved in the pre-weaving activity. Usually, in the weaving field, 30 per cent are women. Our weaver information is shared on our website.
Which are the most widely sold handlooms at Anuprerna?
We are engaged in offering an exclusive array of fashion accessories and natural fabrics such as cotton, khadi, linen, and east India's indigenous handloom silk fabrics. We also specialise in a variety of hand weaving and printing techniques like jamdani, batik, block and screen printing. The primary craft we have been dealing with is khadi.
Which are your major markets abroad? Tell us about your retail presence.
Our clientele mostly include domestic brands and designers. We are gradually reaching out to export clients through our online platform, social media presence, and certain other sustainable platforms primarily across the US, UK, and other European markets. We recently launched our web platform to reach retail clients as well.