Tell us about the value-added services you offer.
Bonded and non-bonded general and specialised warehousing, including for chemicals and temperature-controlled products, palletization, packaging and labelling are just some of the value-added services we offer.  
Our value-added services for GOH include development of specialised mobile hanging docks (called GOH on wheels) to enable hassle-free and safe movement of garments across the facility. These are specialised mobile rails having wheels, which can be easily moved to different locations. While stuffing the container, these mobile rails can be directly loaded inside the container. Another key value-added service includes the set-up of dedicated and customised warehouses inside the CFS for dust and moisture-free storage while ensuring safety of the garments. 
What is the USP of your GOH service? How is it different or better than other players?
Apparel retail is a fashion industry and is synonymous with speed, making time a critical component. And of course, garments as a product are easily prone to damage due to moisture and dust. What sets us apart are quality, efficiency and speed.
With over two decades of lifting the apparel export-import trade for the country, we have become synonymous with expertise. We have been one of the GOH pioneers in India. Our strategically-located container services facilities in Chennai, Dadri and Nhava Sheva serve India's top three apparel manufacturing belts serving leading global apparel fashion brands. 
Driven by an array of continued innovations, customised solutions and enhanced offerings, our customers have come to consider us as their go-to partners. Safety, speed, reliability and cost effectiveness backed by our long and rich experience are the hallmarks of our services.
Apart from our standard array of services, there are some innovative features that have been highly appreciated and are witnessing increased demand. Mobile GOH fabrication is a service offered in case of emergency situations, in which the fabrication service is taken at the customer's doorstep, the container fabricated, stuffed with GOH, and shipped. Another example is the concept of GOH partitions developed to jointly ship garments on GOH mobile trolleys (for low value apparel) and on beams (for high value apparel). 
Quality is all pervasive in our operations.  On the material side, a 28-point checklist for ensuring high quality fabrication and quality testing, such as load tests, for every single beam in the container are followed. We have highly skilled and experienced people working in this field for over 10-15 years. Our team's GOH fabrication turnaround time is within 3.5 hours against the industry standard of 5.5 to 6 hours. In today's scenario, two hours saved can make a world of difference. Managing the right load in the container, on each beam, well thought and calculated placement of loaded hangers to ensure apparel protection are just some of the many critical aspects that are well addressed.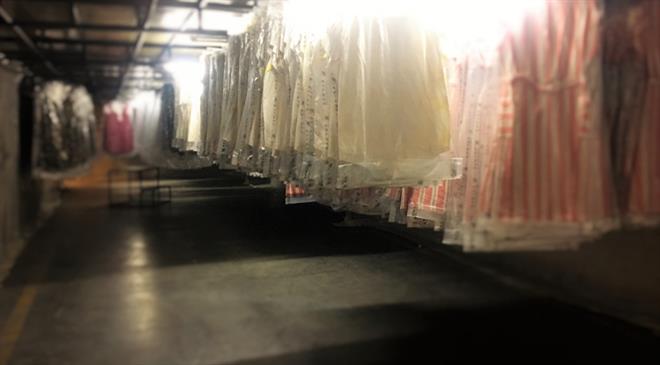 What's the annual tonnage in terms of garments that you carry, and from which geographies to which is the bulk transported?
Shipping containers are available in two sizes-twenty feet and forty feet long, known as TEUs and FEUs respectively. A standard container can generally carry 28 tonnes but given the volume and quality requirements for a garment consignment, we have observed that generally the weight is limited to 8 tonnes, including the weight of GOH fabrication. We have seen that approximately 70 per cent of retail garment exports are to the Europe, around 20 per cent to the United States and the balance 10 per cent to other regions, mainly the United Arab Emirates.
What are the advantages of using GOH over the conventional way of shipping garments?
Speed and quality are of essence in the apparel retail industry. In the conventional method, each garment is first ironed, folded, covered with plastic and then packed in a carton. These cartons are then sent to be stuffed into containers for export. Once the containers are received at the end destination, they are taken to a work area, taken out of the carton, unwrapped and unfolded, dusted if not covered in plastic properly, ironed and then taken to the retail counter or shop floor for display. In this case, even a customs inspection will entail extraction of cartons from the container, unpacking for inspection and repacking them. 
In case of GOH, the garment once put on a hanger and covered with plastic, stays in the same position across oceans till it reaches the shop floor. 
Thus, GOH does away with the manual activities like folding, ironing and wrapping, and adds speed to the supply chain. Additionally, with innovative customisation in fabrication like ropes and strings, GOH enables efficient use of space and process to curtail the number of hands that the garment passes through and deliver maximum number of stock keeping units (SKUs) per container. The concept of GOH rooms ensures garment safety. 
The option to bring a mobile GOH unit right inside the container leads to reduction in the frequency of garment handling and reduced time for stuffing the containers. GOH also reduces cost as it does away with the cartons, speeds up the process and reduces intermediate activities like ironing of clothes before display. Additionally, since the fabrication is done in a standard container, one doesn't have to invest in dedicated containers.  Due to the inherent nature and string of activities, GOH leads to reduced rejection rates at the last mile. GOH is best suited for this 'need-it-now' industry.
Does APM plan to increase its operations in India?
We are constantly looking for opportunities to best address the supply chain needs of the trade and its customers. There is special focus on unlocking the potential of Indian hinterland by bringing it closer to the coast and hence, to the world. The intent is to deliver services in sectors requiring special expertise including cold chain, chemicals and solar, to name a few. (HO)