Time to go long-lasting
About a year ago, the H&M Group launched a new brand called Arket, which is sold online in numerous countries in Europe and now also in 13 stores. That alone is not very special. The interesting thing about Arket is the concept: Arket sees itself as a sustainable brand. This claim is reflected in the use of sustainable materials and an unprecedented degree of transparency: Arket lists all suppliers per product on the website and on the respective care labels. Arket's goal is to create a durable and affordable fashion, not a disposable product, and this is seen as a counter-project to the parent company. But how does sustainability work within the H&M Group? How can longevity in fashion work at all? Regina Henkel speaks to the CEO of Arket, Lars Axelsson, to glean more about it.
What does Arket mean?
Arket means 'a sheet of paper' in Swedish and symbolises the creative possibilities we felt when developing a new brand. The name is a nod to our Nordic heritage and combines many of the concepts we return to for inspiration, such as archive, archetypes, and the market.
Why is Arket interesting to the H&M group?
All brands within the H&M group have distinct design concepts but follow the same business philosophy of fashion, sustainability and value for money. The group is in constant development, with several new projects running simultaneously, to complement the existing concepts and find new customers. When we started working on the Arket project during the winter of 2015, we looked at ourselves and what we were missing as customers. We also considered the role of the physical store nowadays and concluded it needs to be a place where customers feel at ease, inspired, and where they are happy to spend time. Arket is a modern-day market with a broad but carefully curated assortment as well as a vegetarian café under one roof, and aims to make quality and sustainable design accessible to a broad customer group.
What is Arket's opinion on fast fashion?
Arket focuses on simple, welldesigned and durable products made in a responsible way, that the customer will be able to keep and use for many years. We value longevity and it's something that is reflected in everything we make. We believe our customers are looking for quality as a broader concept and part of this is building a wardrobe to last for a long time, filled with fewer but more versatile pieces they can keep coming back to.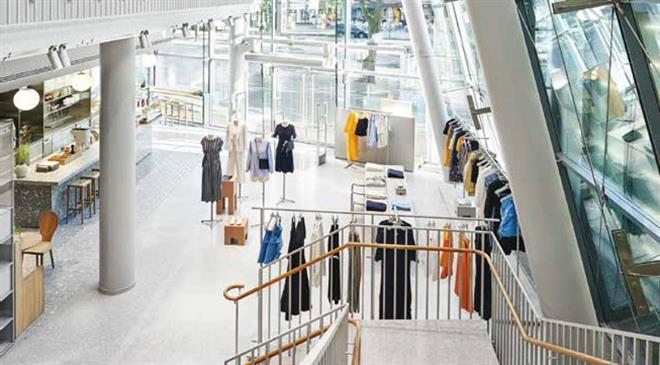 How has Arket performed so far? In what areas do you want to become even better?
H&M group doesn't disclose figures for the individual brands. However, the feedback we've received from customers this far has been hugely positive, and we've especially enjoyed seeing how those aspects that were fundamental to us when developing the brand are also those that are the most important to our customers-such as the quality of the materials, the focus on simple and well-made items, sustainability, transparency through the production processes, and not least our vegetarian café. We're still a new concept and at this early stage in the brand's development, our main focus is to continuously take in feedback and listen to the customers, and try to refine and develop our version of the modern-day market.
In which countries have you opened stores? Which will be next?
Arket was launched on Regent Street in London and online in 18 European markets in August 2017. Since then, we've opened 13 physical stores in cities like Copenhagen, Brussels, Munich, Amsterdam, Liverpool, Gothenburg and another two stores in London. In August, the first in a series of Arket spaces offering an edited version of our collections opened at Copenhagen Airport.
Sustainability is important to you. How far do you go? In what sector could you be seen as a role model for others?
As a brand within the H&M group, Arket has the ambition to lead the change to a sustainable fashion industry. Our focus is long-lasting and durable products that can be kept and used for many years. Sustainability has been a primary consideration in the development of Arket and has been incorporated naturally in all processes-from our supplier choices, to the materials we use and how we can help educate our customers on how to care for their products to prolong their lifespan. We always strive to source the most sustainable materials available for our collections. The definition of sustainable is interpreted from case to case-sometimes it will be organic natural fibres or recycled and regenerated materials, other times it will be the strongest and most durable option to guarantee products with a long life, and thus a sustainable use of the resources. We believe in transparency as a necessary companion to sustainability, and share as much information about the design and production process as we can, especially through our online store. Arket is too young to be considered a role model but we certainly hope to contribute to a collaborative positive change in the industry through the work that we do, and by bringing our suppliers to the front of the stage.
How far are you working on closing loops?
Our first step and primary goal as a new brand is to lengthen the loop, before closing it. That's why we invest in designing and developing products that our customers will be able to keep for life. We always work to increase the sourcing of recycled materials, such as Econyl yarn made from 100 per cent recycled nylon waste, or yarns spun from recycled cashmere fibres, and we are currently investigating additional ways for our customers to give their Arket products a second life.
The store concept is very unique as you integrate a café. Why?
Our ambition has been to create a new type of destination, a modern-day market, combining carefully curated collections with a New Nordic vegetarian café. We've looked at what kind of store experience we were missing as customers, a place where you feel inspired and at ease, where it's easy to find what you're looking for, and where you can get an understanding of the quality of the products. We also wanted to offer something more than shopping, and making the café a central part of the stores felt a natural direction. The café is a warm and generous environment that invites you to a slower pace, and also what creates a unique atmosphere in each of our different locations.