Get the right products, cater to the right audience
A luxury multi-brand footwear and accessories retailer, Berleigh brings together the finest products from celebrated brands around the world. Chief Executive Officer Shashank Arya talks about the prospects of the luxury footwear market in India.
What is the size of the footwear industry in India? At what rate is it growing?
The footwear industry is very promising right now with growing awareness about the latest trends among consumers. Footwear has now become a necessary style statement for the masses. This industry has seen phenomenal expansion in the last few years. The demand is increasing with each passing day. 
The segment has evolved from being just a mere necessity as a protection for your feet to an important accessory that ups your fashion game right away. The market has evolved and there is a lot of potential of late. The consumers today are aware about domestic and international brands across categories. 
What has been your learning since you brought in Heel & Buckle London, and then other brands?
We saw a gap in the market for bridgeto-luxury products with best quality patina finished leather and exotic leather. People in India are now well travelled and aware about products. We have made these products available for Indian customers who have evolved. The internet is making the world a very small place; every single thing is now accessible across the globe. In the same sense, the luxury market has grown over the years. People have become more fashion conscious and are giving importance to the way they dress. Hence, this has created a huge demand in the market, especially for shoes. 
Berleigh has an online presence at Berleigh.com and flagship stores in Mumbai and Delhi.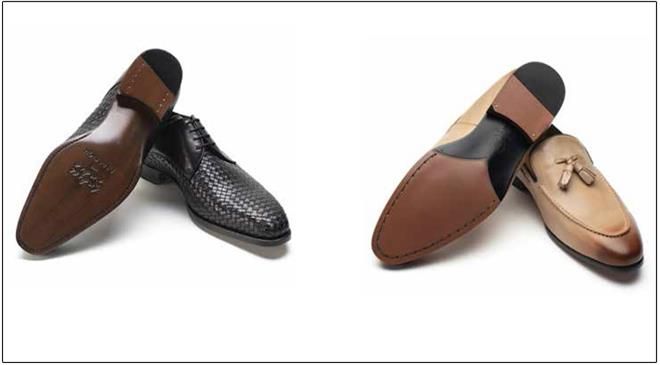 What is your USP? What factors have contributed to your success?
Berleigh is a multi-brand footwear concept label, where we make an effort to curate a collection of brands and styles that rise above mere transient fashion. All the styles from the brands are exclusively curated by our fashion experts. They select styles that would do great in the Indian market and appeal to a customer's fashion and style sensibility. We have expanded and launched our in-house line of luxury footwear for men and women called Heel & Buckle London. We will soon launch the accessories line under the same brand. We also offer a bespoke concierge service at Berleigh that provides a personal shopping experience to customers where they can try a curated range of footwear. 
Factors that lead to success are the latest styles and trends, quality of the products and service provided by the brand. Not too many brands in the market provide shoes with patina finish, exotic skin leather, etc. To fill the gap in the market, we found it appropriate to target an audience seeking quality products. 
We launch two collections in a year, and each brand has about 50 styles to offer to the clients. We have a strong design team in India as well as globally that curates the entire collection for areaspecific markets and their needs. Growth expectations will increase as the demand will continue to increase with the launch of new collections. We are also planning to introduce new brands. We plan to expand our product offerings, which include accessories, bags for men and women and small leather goods like wallets and belts. We also offer accessories for shoe care.
The price point that sells the best in India is `7,000-15,000 and about $50-70 internationally.
Many brands coming to India have not been faring well in their own countries. How easy does it become for a company like yours to bring them to India?
It is a challenging task to get international brands to India but getting the right products and catering to the right audience is the key. It is also important to have the research done well and then to curate the collection as per the market we cater to. 
Berleigh currently offers the homegrown brand Heel & Buckle London, which offers footwear for men and women. International brands for men include Andrés Sendra, Duke & Dexter and Magnanni and for women Berleigh houses Schutz.
What percentage of your footwear and accessories is imported? Any plans to manufacture in India?
Indian consumers today are extremely fashion oriented and they look for styles that are prominently trending in the fashion universe. To bridge the gap in the Indian footwear fashion sector we have collaborated with Schutz from Brazil, Magnanni and Andrés Sendra from Spain, Duke & Dexter from the United Kingdom and made them easily available across India through Berleigh. These brands offer bespoke styles and comfort with great finesse of the products for the Indian consumers; hence we import all our styles through luxury brands around the world. Heel & Buckle London is manufactured by us. We give utmost importance to the quality of the product. Hence, the raw materials that we use to manufacture the products are sourced from Italy and Spain.
How is the market for luxury footwear shaping up in India?
The luxury footwear market in India is slow but has great potential. India is a growing market with more people travelling and being aware of the finer things in life. Footwear is now playing a vital role in dressing up. People now prefer better quality products that are in line with the current fashion trends.
Tell us about your marketing strategies.
With the rise of the social media, a brand gets more opportunities to build a personal relationship with clients. It becomes easier to identify basic consumer needs and current trends. Also, PR companies help to bridge the gap between the brand and consumer as they give an appropriate identity to the brand that helps the brand in turn to sink into the mindset of the target audience. Since the consumer is king, it is essential to always cater to their demands. 
We also understand that we cannot completely control or perfect the communication process, but we make constant efforts to refine that over time, but it will always evolve with changing needs and culture. Instead of focusing on perfecting it, we work on making 
Berleigh and Heel & Buckle London consistent across majority marketing channels. Brand associations with like-minded brands and individuals also help bridge the gap as it helps communicate appropriate information to the customers and persuade that the brand possesses the features and attributes satisfying their needs.
What percentage of your sales is through brick & mortar?
A majority of the sales is through stores; we are working on increasing our presence online. Shoes have a try-and-feel mindset before buying. But we are looking at changing that perception by having a very userfriendly website to make shopping convenient. Hence, our focus is both brick-and-mortar and online.
How is Berleigh working towards reinventing shopping experiences?
Berleigh works on giving customers an experience of luxury at a minimal cost. The in-store team aims at providing attentive customer service to help the customers decide for the best. In-store services also provide shoe care services for clients. The look and the feel of the store plays a crucial part towards reinventing the shopping experience because customers can feel the overall shopping experience provided by the brand at the store itself. (HO)