What are the different products made by Bodhi?
MS: Bodhi is known for saris. They have an understated quiet, yet rich, look that is appreciated by our discerning patrons, who are independent in thinking and very highly positioned professionals-bankers, lawyers, bureaucrats, corporates, academics, etc. Bodhi saris exude power and minimal elegance.
However, Bodhi's mainstay is also dress fabrics-in cotton, silk and other natural fabrics. Those who have used our dress fabrics find them extremely appealing not only for the design and aesthetic value, but because our fabrics are soft to feel, colours are fast, machine-wash-friendly and last a long time. We make loungewear and chic homewear for women, which too are extremely popular. Another range that has a huge appeal internationally as well as in the domestic market are the stoles and shawls. Our product range (however small) using end bits of fabrics and scraps such as gudries, bags and pouches also create a lot of interest. 
How do you publicise Bodhi? What are the marketing and promotional activities you undertake?
MS: We have been a bit low key about this aspect. You could say that has been our shortcoming. Occasionally, we do get written about and featured in various magazines or design events. Of late, I have started to use social media-Facebook and Instagram-to talk about our work. We are a bit quiet, though occasionally we do advertise when we have a special event at the shop.
Where is the brand available in India?
PS: At our studio shop in Baroda, as well as at the Taj Khazana, Good Earth and other such premium stores across the country.
How big is the export business compared to the domestic one?
PS: We are a part of the Fairtrade movement. We sell collections through Fairtrade shops across Italy-Consortium of Altra Mercato. Their label is called Auteurs De Monde, though the exports are not huge. Every year, we also sell a small collection at the Santa Fe folk Art Market. We have also collaborated with an eminent illustrator Fakuda San from Japan. We translate his illustrations on fabric using handblock printing. The effect is stunning.
Are foreign buyers aware of the detailing and hard work that goes into your work?
PS: Most of them are. We do take lot of trouble to inform and educate them about how the product is made.
Can these techniques match their quality control standards?
MS: Oh, yes, unless of course they are looking for machine-made perfection. We ask them to celebrate imperfections on weaving as that really suggests that these products are authentically hand-made. If they do not, then they are not really Bodhi buyers.
What is the price range of your products?
MS: Our saris can cost between ₹8,500 and ₹60,000. Our cotton kaftans can cost ₹2,600- 3,000.
What are the innovations in the weaving, printing and dyeing that are typical to Bodhi products?
PS: Bodhi is about experimentation and innovation. We are primarily a printing workshop, and all the printing happens in the house in Vadodara. In working methods, we function more like a "research and development institute" rather than a commercial enterprise. There are plenty of experimentations and innovations conducted in the course of our journey to even begin to list them down here. 
However, in a nutshell you could say that we have very successfully translated and used the essence of the present-day technology, processes and new raw materials at the cottage industry level without any use of machinery or equipment. This has an enormous bearing on the quality of our products.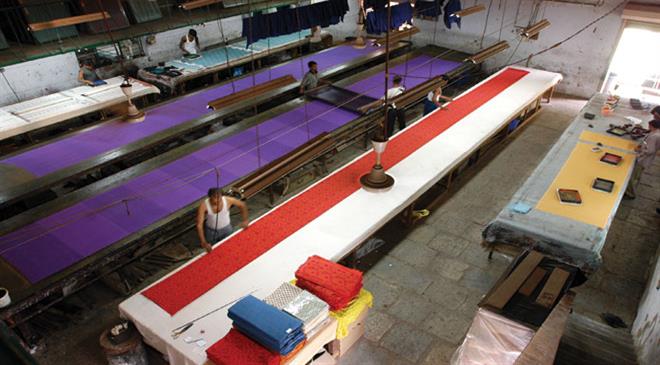 Are there plans to make Bodhi more wellknown like Anokhi or Fabindia?
MS: No, absolutely not. I have worked very closely with Fabindia for almost a decade and a half. We have been one of the very important vendors and I have seen the organisation grow to what it is today. I have my very strong reservations on the handcrafts sector and the scale of operations for it to be truly sustainable.
How many collections do you make in fabrics and garments?
MS: Typically two in a year-one that is festive (winter) and the other that is at the onset of summer. I do not work like fashion designers who work on two very distinct looks-Spring/ Summer and Autumn/Winter. We work from August to January (Raakhi to Christmas/ NRI season) and then to Holi and the holiday season.
Do you recycle any wastage or fabrics?
PS: We are big on recycling as I've mentioned earlier, and we have made all kinds of things- stoles, dupattas, jackets, pouches, quilts.
What order quantities can Bodhi handle?
MS: Bodhi is happy to service small, but sustained orders.
Do you sell offline, or online too?
PS: We sell offline, but now we are gearing up to sell online. We have sold our products on portals such as Jaypore.com very successfully. Now, we hope to have our own shop on Etsy as we think that should be an appropriate platform for our kind of artisanal products. We are so small and niche, I do not think we can make our presence felt in any market. But those who are our patrons, come back to us again and again.
What is the turnover of Bodhi, and what budget is allotted to publicity, R&D and promotions?
MS: Ours is a family owned company-small and at a scale that is personal. We work as one. We spend as and when necessary.
You have an enviable collection of printing blocks...
MS: Our collection of printing blocks is huge. On one hand, they trace and document Bodhi's design journey, and on the other they also speak about a few failed experiments, and some design goof-ups.
Is the brand doing any R&D with respect to natural colours?
MS: Yes. We have been working quite successfully with natural colours.
What is your vision for Bodhi in the 21st century, and what are your expectations?
MS: We started Bodhi in 1984. We had instinctively veered towards frugality, sustainability and a belief in "small is beautiful." Now, in this century, surrounded by mass manufacturing, runaway consumption, uncontrolled waste, disruptive technologies, artificial intelligence, information overload and digital manufacturing, I have begun to think of the future of artisanship and handcrafted products. Digital manufacturing can, on the one hand, unleash creativity, while on the other the ease of manufacturing can lead to frivolous manufacturing and waste. In this scenario, our vision for Bodhi in this century is to constantly raise the bar in innovation and artisanship in the areas of our core competencies, that is through design and making of hand-dyed, hand-printed and hand-embroidered textiles, and at the same time provide opportunities to teach and learn these crafts. 
Our vision is to create a beautiful, simple and elegant space that provides facilities for making and teaching, where the joy of artisanship can be experienced, skills and ideas appreciated, and value of handwork realised. We believe that craftsmanship can be appreciated and sustained only through the agency of culture. And, culture is a lived experience. Our vision is to create a space where this culture can be lived.