Lingerie shapes evolving with advent of athleisure
Brunet International manufactures laces for womens' intimate apparel. The company was established in 1911 in France; production was moved to China and Thailand in 2005-08. The company's HQ has been in Hong Kong since then. Brunet International's clientele includes Victoria's Secret, Calvin Klein, Chantelle, and Triumph along with Gokaldas and Jockey India. Managing Director Arnaud Limousin discusses the latest technologies, trends and triumphs at the company.
Why did you move production to China and Thailand from France?
The strategic decision was implemented in 2005, when we decided to be in the region where garment manufacturing too was. We are still delivering all our production to Asia/Southeast Asia.
How has the world of laces evolved since 1911? Which are the vintage styles that keep coming back year after year?
Obviously, the world of lace has changed a lot since 1911. The location-and also the technology-is not the same. Romantic and Chantilly laces are still in high demand.
Can lace ever be functional? Or, is its role only that of an embellishment?
The primary role of a lace is embellishment. It is gracious, elegant and can dress up any garment. Since activewear has developed, we have also studied functionality in lace-whether it is related to hand feel, stretchability, compression and even moldable laces. We have customers specialise in this market, and we develop products according to their expectations.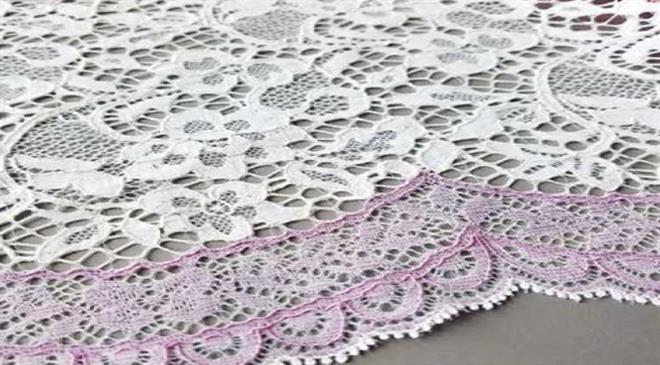 Which are your major markets for trims and laces? Where do you see the prospects growing?
For Brunet, Europe and North America have always been strongholds in terms of revenue. Since we moved to Asia, we have learnt a lot about various consumer behaviours and style requests in this region. Therefore, we have consistently increased our position in Asia and Southeast Asia. The demand has evolved into a more embellished approach to intimate apparel. This is exactly what we do.
Tell us about the brands you are associated with.
Our customers are brands or specialised retailers. In Europe, we supply to brands like Chantelle, Aubade, Triumph and Van De Velde and retailers like Etam, Oysho and Hunkemoller. In North America, we have been long-time partners with The Limited, CK, Adore Me, Hanes and Spanx. In Asia, it is so far mainly the Chinese domestic market. Last but not the least, in India we are delivering to Gokaldas and Jockey.
What are the latest technological advancements in the manufacturing of laces and trims?
I would say the machinery. Brunet has the most highdefinition lace machines in the market. We can create very detailed laces with true authentic looks. This has helped us launch our new trademark "Nouveau Leavers". It is done on Karl Mayer machines and takes lace aesthetic to new heights. We have shown it globally since our launch in January, and the reactions have been fantastic in all the markets.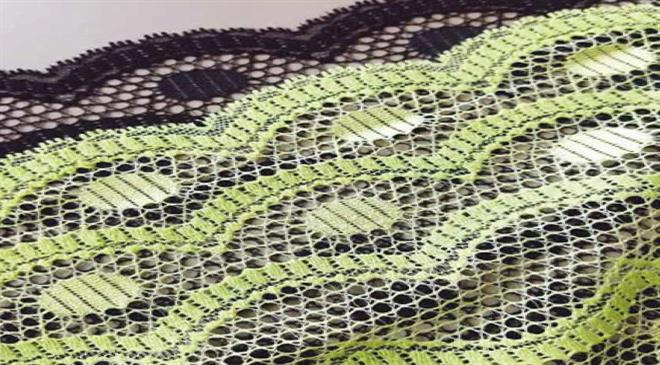 Where do you source raw material for trims and laces from?
Our source is an agile mix between Asia and Europe which helps us keep our identity and uniqueness.
What is the annual production capacity of laces and trims at Brunet?
Our total available capacity is around 40 million yards.
What are the latest trends in laces and trims in women's intimate apparel?
Delicate, elegant, soft with a touch of vintage, bohemian look.
How big is the design team at Brunet? How do they keep up with the latest global trends?
We have 15 designers in Hong Kong, China and Thailand. They are always keeping an eye on fashion through the internet, exhibitions and shopping. We also have an integrated sales team in Europe which helps fetch the latest high-street trends.
How sustainable is your manufacturing process?
In terms of yarn, we are now developing recycled and organic ranges. It should be ready within this year. Our dye house is one of the best in China with a minimum water usage ratio.
Has athleisure or sportswear influenced the demand for conventional lingerie segment?
Yes, it did; even though the regular lingerie segment is still there. We can see the shapes of lingerie evolving and our lace needs to follow those changes.
What is your USP compared to other players?
We are service-oriented and passionate about what we do. We help our customers reinforce their identity and develop their business. Our company was established in 1911. We have a lot of valuable archives that are still helping in today's trends.(HO)