Sustainability at core of all Cone Denim innovations
Cone Denim is a worldwide leader in denim innovation. Fibre2Fashion speaks to Kevin Reardon, Vice President Sales and Managing Director of Cone Denim, to know how the iconic brand continues to inspire the global market with a passion that balances denim art and science and leads in industry knowledge, technical expertise, and sustainable denim innovation.
What makes Cone Denim an iconic denim brand in US? What is your USP?
Cone Denim's heritage and legacy dates to 1891 when brothers Moses and Cesar started the brand with a vision ahead of their time. Denim enthusiasts worldwide recognise Cone Denim for its place in history as the creator of long-chain indigo dyeing, denim sanforisation and Cone's Deeptone Denim, introduced in 1936. Cone Denim continues to inspire the global market with a passion that balances denim art and science and leads in industry knowledge, technical expertise, and sustainable denim innovation.
Which leading brands are your customers?
Cone supplies fabric to top denim brands across the globe. Many of those relationships are longstanding including Cone's relationship with Levi that started with a handshake in 1915 and continues today, nearly 105 years later.
Recently, you debuted the Cone Community Collection of selvedge fabrics. What are the main characteristics of this collection? What are the causes it wants to raise awareness about?
Denim is the most globally iconic fabric. People across cultures identify with and connect personally to their denim, making it a perfect fabric for the Cone Community Collection. The denim community as a whole is very active in promoting and supporting social causes. We believe that if we design fabrics that have broad appeal and reach as many brands and people as possible, we can do our part to raise awareness and support causes aligned with the values and soul of Cone Denim, which transcend throughout Cone's history of giving back to employees and communities through community services and philanthropies. 
This year Cone Denim introduced Cone Community Collection in support of Breast Cancer Awareness and Pride Awareness to increase acceptance and show our support of a wider and more inclusive community. We selected these causes for the initial Cone Community Collection because of their widespread impact. Everyone knows someone that has been affected by breast cancer. We chose to partner with the Alight Program, a Greensboro NC-based programme that provides financial, educational and emotional assistance to area women and families to help understand and navigate their diagnosis and treatment plan. 
Likewise, the awareness and importance of inclusivity and acceptance resonates across our world and offers a positive impact to individual lives and communities. We believe that Cone Community Collection offers an additional voice to these principles and an opportunity for Cone to step up and help make a positive impact.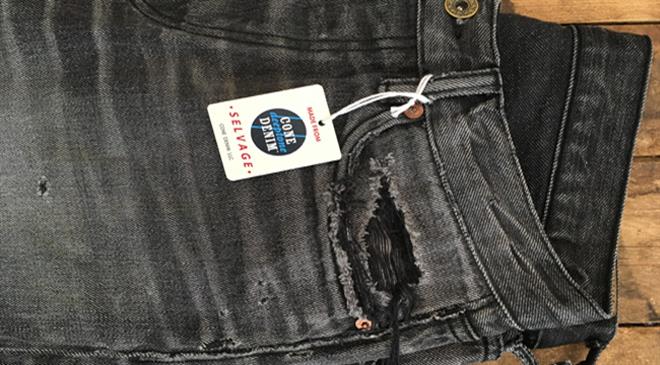 According to you, which brands are creating cause-oriented collections today?
The list for cause-oriented brands is rapidly growing from larger established corporations to start up and boutique brands. Some key brands that come to mind that have served as an inspiration and are trailblazers are Stella McCarthy, Patagonia and Madewell - the list goes on!
Today selvedge denim is no longer a high-end denim product with chains such as Uniqlo selling a pair for €49. What's your take on that?
Selvage denim represents heritage and legacy in denim and resonates in different ways with denim enthusiasts. The broader availability of selvage today expands the selvage experience to greater number of people who have the opportunity to connect with denim heritage in exciting new ways, furthering denim's unique affection and emotional connection to people.
What new technologies is your research and development incubator, Cone 3D, currently researching on? What announcements are expected in future?
Sustainability is at the core of all Cone Denim innovations.  We are excited to continue to explore different content, chemistries and processes that promote more socially-conscience denims globally. Over the last several months Cone has announced collaborations with Crystal for more environmentally friendly laser finishing technology and Cone's installation of new Jeanologia technology, in addition to the launch of Cone Denim's Recycled Cotton Collection of denims.