India's own fibre
Suvin is the world's longest and finest cotton fibre that is grown exclusively in India. Suvin Ratna is made from the fabulous 100 per cent Suvin cotton, and is a premium fabric brand. Nayan Mirani, President of Cotton Association of India, reveals the story behind Suvin and Suvin Ratna to Meher Castelino in an exclusive interview for Fibre2Fashion.
Please tell us a bit about the work done by the Cotton Association of India.
The Cotton Association of India (CAI) has been involved in providing a wide range of services to the entire cotton value chain since its incorporation in 1921. CAI caters to all segments of the cotton trade including mill buyers, growers, ginners, brokers, merchants, importers and exporters. 
CAI offers services like cotton testing through its laboratories, maintains cotton grade standards, fixes daily spot rates for all major varieties of Indian cotton, provides arbitration services for speedy dispute resolution, holds training programmes on various topics specific to the cotton trade for speedy resolution of disputes, disseminates data through its bulletin 'Cotton Statistics & News' (which is a weekly), 'Indian Cotton Annual' and its website www. caionline.in. CAI runs few laboratories across India in Mumbai, Rajkot, Aurangabad, Akola, Warangal, Indore, Hubli, Bhatinda, Mundra, Guntur and Ahmedabad. 
CAI also runs a cotton promotion programme with the objective of promoting the use of Indian cotton among end consumers. As a part of cotton promotion initiatives, CAI conducts a school contact programme currently in Mumbai, which is planned to be a pan-India activity. The launch of Suvin Ratna is yet another initiative of CAI. CAI, through its research wing Cotton and Allied Products Research Foundation (COTAAP, which works towards supporting cotton farmers to get better yield and value for their crop regularly), participates in Standard Chartered Mumbai Marathon, the largest mass sporting event in Asia where participating NGOs build awareness for their cause and also raise funds. CAI is also planning to start a cotton museum at its building in Sewri, Mumbai. CAI is housed in a heritage building structure in Cotton Green, which was the hub of cotton trade until the 1970s. The closest railway station is, in fact, Cotton Green, which is on the Harbour line and is about four stations before CST. CAI is also represented on various international cotton fora like International Cotton Advisory Committee (ICAC), International Cotton Association (ICA), International Forum for Cotton Promotion (IFCP), International Textiles Manufacturing Federation (ITMF), to name a few. 
What exactly is Suvin? Please tell us more.
Suvin is the world's longest and finest cotton fibre. It was developed by the Central Institute for Cotton Research (CICR). Suvin is a crossbreed between Sujata and St Vincent (a sea island cotton). Suvin derives its name from the combination of SUjata+VINcent. It was released for commercial cultivation in 1974. Suvin is categorised as extra-long staple cotton. An Egyptian variety called Karnak, a sea island cotton, was selected by Indian scientists and made to acclimatise to our growingconditions. Once it got acclimatised, it was named Sujata.
Why was the extra-long staple cotton fibre Suvin created? How different is it from the shorter staple cotton fibre?
During the 1960s, Indian textile mills were solely dependent on imported cotton for their fine count spinning. The industry longed for an Indian grown alternative for the expensive and exclusive Egyptian Giza cotton. Owing to the popular demand from industry, the CICR embarked on R&D to create an extra-long staple cotton variety with superior fibre properties that could be grown in India. 
Suvin has the unique distinction of being the longest and the finest fibre in the world. With 38-40 mm length and 2.8-3.0 micronaire, it has a spinability of 240s Ne to 300s Ne count of yarn. Short, medium or long staple cotton can be spun only between 10s Ne to 50s Ne count of yarns.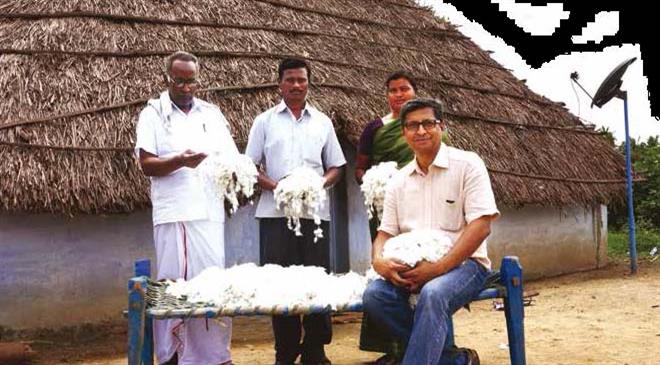 How many acres of land are cultivated under Suvin?
Until 1990, Suvin was cultivated over an area of around 40,000 acres, roughly producing 30,000 bales of 170 kg each. Currently, it is being cultivated merely in an area of 1,200 acres; this is mainly due to nonremunerative prices obtained by farmers, rising cost of cultivation, low yields, etc.
What is the price of Suvin? Who is using Suvin right now? Is Suvin being exported; if so where?
The current international price for Suvin fibres is above $4.0/lb. Suvin is used to create exclusive garments by high-end fashion brands in India and abroad. In India, Raymond and ITC use Suvin. Japan has been a major importer of Suvin since the 1980s.
How different is Suvin from GM cotton? How long does this cotton take to grow?
Suvin is a straight variety (not a hybrid) and as yet not genetically modified. The duration of Suvin crop is 210-220 days (from the date of sowing).
And, what then is Suvin Ratna?
The Cotton Association of India has launched an exclusive fabric brand; it is called Suvin Ratna. Suvin Ratna was launched in 2014. As of now, Suvin Ratna is available only from the Cotton Association of India and it does not have an online presence.
Where is the fabrication of Suvin Ratna apparel done? Who are the designers? Is it only shirts as of now? What are the retail price points?
Suvin Ratna is made from 100 per cent Suvin cotton consciously grown by Apachi EcoLogic Cotton, Pollachi and expertly spun and woven by Morarjee Textile Mills with both its warp and weft containing a count yarn of 2/200. Suvin Ratna was launched as a men's shirt material brand and is available in four colours.