How many clusters are involved currently and in how many projects?
Craft Village doesn't engage in cluster programmes, as it works for forward markets and end-consumer linkages, which has been one of the most essential tasks to be taken up. It would be visible from the UN data that over 40 per cent of craftspersons since the 1990s have become either daily wage labourers or left the trade in the absence of adequate work. This has happened mainly due to the absence of market forces, brand building, awareness about indigenous products, etc. Therefore, the aim of Craft Village is not to create hybrid craftsmen who neither have traditional skills or knowledge nor have combined sets of skills that loses on all fronts. Due to the above reasons, Craft Village and part of its strategic framework have refrained from cluster projects.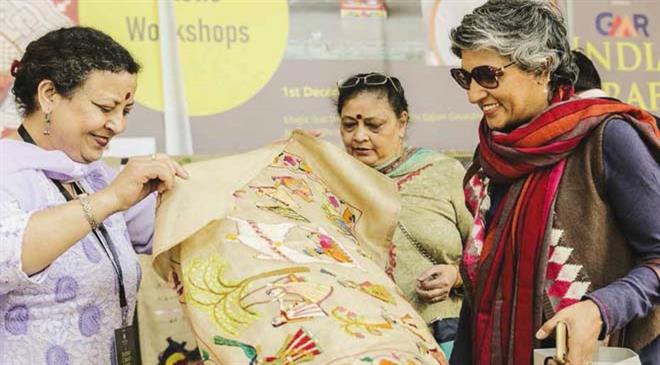 What kinds of disruptions does this niche need?
At the moment, the Indian crafts industry needs more sense than money. Disruptive models and strategic alliances with new modes and methods of businesses through short-term and long-term innovative strategies are required. One possible response can be to increase the output from craft such that it resembles current mass production of other goods. However, it would be in direct conflict with sustainability and the values of craft practice. The other possibility is an idealised version of craft before the industrial revolution, which is not economically viable. Therefore, a way is required to be found beyond these two alternatives. In an ideal condition, crafts can be positioned as more green, integrating new technology without compromising traditional values, creation of robust chains of supply that are sensitive, professional development of makers to grasp the opportunities, approaches to markets that infuse these values, and the creation of new expectations in the buyers about what "value" means (be it cultural value or economic worth). Taken together, this may create the conditions for an economically viable craft sector in a new economic and social order, beyond just making or trading skills to more contextual knowledge and perspectives.
How supportive are government initiatives and schemes towards the Indian arts & crafts community?
The Indian government has taken plenty of initiatives to support the revival of crafts, and the contribution of Kamladevi Chattopadhyay has been significant, besides many other veterans who have contributed to the development of the sector. Unfortunately, the only issue is that the government still has very conservative/myopic view of the crafts sector, whereas it must look at more disruptive models practised across other nations, who have successfully evolved traditions to more contemporary outlook without changing the essence. Also, policywise, a lot needs to be thought beyond crafts as cottage industry to a mainstream "creative industry" contributing to the "creative economy". There is an interesting model that Indonesia has been working on, bringing all kinds of crafts under a new ministry called "ministry of creative industry". Now, this is a very far-fetched idea but dedicating a ministry for "creative industries" could benefit not just crafts but also others falling in that domain.
Please share a few details about your up and coming projects, courses, and initiatives.
The global craft and folk traditions are disappearing fast. Handmade has taken a back seat in a rapidly changing world, posing great danger to crafting traditions across the world. The diminishing demand for craft products is attributed to "good stories untold". These world crafts may have originated at different places, times or in a different dynasty but they all look alike as if they belong to one culture, one tradition and one world. It is the spirit of the people, and endless passion of craftspersons and artisans that imparted a meaning to the world around us-be it objects, spaces or experiences.
Craft Village in 2016 marked October 15 as International Craft Day as there was no dedicated day for the celebration of world crafts. In 2017, we started International Craft Awards to recognise global talents in the crafts sector and in 2018 India Craft Week (ICW) was an endeavour for "one world, one craft". 
ICW is designed to position crafts as 'aspirational or desired' by bringing international communities who value them, and to present a new imagery to the world of exotic and rare handcrafted forms. ICW 2019 will work further towards creating a balance of tradition and modernity.