Our products are 100 per cent environment-friendly
Creative Bee was launched in 1998 by Bina Rao and her husband K Siva Kesava Rao, in Hyderabad and has been responsible for promoting crafts, fabrics and traditional prints in India and abroad. The couple has a long list of admirers who swear by their creations and are loyal followers of their work. Bina and Kesava Rao reveal to Meher Castelino their journey and dreams for Creative Bee.
Tell us something about your background.
Bina Rao: I was born and brought up in a Gujarati family. My grandfather was a landlord in village Dhamdachi, Valsad and I grew up in a lush green mango vadi in a big mansion. Playing with the children of farmers and estate workers and eating in their homes, kept me close to rural life. My father was a doctor, horticulturist and philanthropist. He encouraged me in reading literature, listening to Hindustani classical music and painting too. He was also Gandhian and used only khadi. So, as a child I was used to the comforts of handspun-handwoven clothing. I studied at the village primary school and then at the girls' high school at the district headquarters. My aptitude for art and music got me admission in the Faculty of Fine Arts, Maharaja Sayajirao University, Vadodara.
Kesav (Shiv Kesava Rao) came from Hyderabad to do his MA in graphics; we were classmates. I then went to the National Institute of Design in Ahmedabad and did my AEP Textile Design. We got married after a lot of agitation in my family.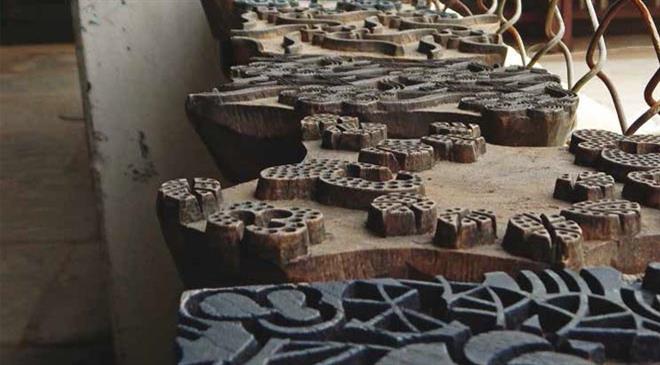 What made you and Kesav Rao start Creative Bee?
BR: Those days there were not many opportunities for designers. During the first few years, I practised as a consultant from a small office space and realised that the handloom sector urgently needed re-positioning. Weavers of Andhra Pradesh and elsewhere in India had exquisite skills, but the quality of yarn, dyes, etc were deteriorating rapidly. Kesav was busy establishing himself as an artist; I was restless to set up an R&D handloom unit where I could experiment with new designs. He helped me set up the design and production facility, which is now known as Creative Bee. 
It took over a decade to establish the almost vertically integrated production of handwoven and natural dyed production facility, which also includes the Creative Bee Dye farm, which is a result of Kesav's research of many years in reviving and standardising natural dyes. Then, we established market linkages with Indian and international buyers, adding a fashion wing to Creative Bee. The launch of the Bina Rao label took another decade. We believed in sharing knowledge and Creative Bee needed direct revenue to be generated, as our business which was more of a social venture with Fairtrade like policies needed a secondary source of funds. So, Creative Bee's knowledge division was established and eventually Creative Bee became a hub of the highest quality of hand-crafted fashion and textiles. Advisory, training and consultancy projects from the government and other international organisations are taken up under this division.
Why did you pick Hyderabad as the city for your workshop?
BR: We chose Hyderabad as our home and work place. I had specialised in handloom, and Andhra Pradesh offered me a ready platform to work with a large number of weavers. My journey in hand-crafted textiles and fashion began in 1992.
How difficult or easy was it to set up such a complex workshop?
BR: It was extremely difficult, as Hyderabad didn't have blockprinting activities those days. As part of my consulting projects to set up an all-India handloom showroom, I was travelling to various parts of Andhra Pradesh. Machilipatnam was the place where the block print of kalamkari had originated, and I saw that a number of printers didn't have enough work. Few years later, when we were ready with the farm set-up, we invited four families of block printers to come and work with us. Kesav had trained them in the natural dye process that he has evolved through his R&D, and it is over 15 years now that they have been working at the farm. At the farm, we have built a small community, and there are no supervisors or managers. All artisans and their children (who are sent to an English medium school) have a sense of belonging to the farm. On (certain) days, women workers from the nearby village, who have been trained in clamp dyework, come on their own. 
Ninety per cent of the deadline in terms of production is met with. Kesav divides his time between the farm and his studio (www.kesav. in). We don't sell the harvest of the farm. Kesav says let the birds and children eat first; then distribute to friends and neighbours. The buildings on the farm required a lot of investment from time to time and though we do not use any heavy equipment, we do need other amenities. The place was built brick by brick and it has the look of natural wilderness. Also, running a design studio was not easy. It blocks huge amounts of capital in samples, prototypes, library, updated equipment, yarn, blocks, dyes, raw materials, etc. For any cottage industry, there are constant challenges in sustaining, and then expanding to sustain it further.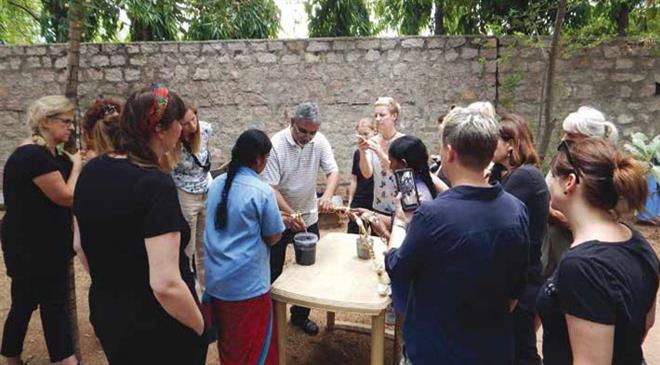 How many prints/weaves/ collections do you create in a year?
K Siva Kesava Rao: Numerous.
Are the designs created according to the customers' needs?
KSKR: We have a White Label for customised products created for customers against their orders. New products are constantly developed by me along with the Creative Bee team for retail and export.
What are the minimum and maximum quantities that you accept?
KSKR: Fabrics need to be 50 metres minimum for weaves, prints and yes. Saris, dupattas, stoles and garments are in multiples of 12. We also do a home line for large orders, as our looms include 110" wide ones.
Where are the fabrics exported to? Are the fabrics available in India?
BR: About 40 per cent of our production is exported to Japan, the US and the UK. All our products are available at our flagship store in Hyderabad. Creative Bee has shop-in-shops at Kochi and Goa.
Are the garments created by your studio or by freelance designers?
BR: We have an in-house facility for prototypes. The Bina Rao products are designed by me; the Creative Bee label is designed by our panel of designers sometimes as per my brief or design brief from a client.
You have 400 weavers all over India. Do they work exclusively for you?
BR: Not exactly, but at least 50 per cent of the looms are continuously producing for us, and the weavers are paid higher wages than prescribed norms. There is no rejection or deduction made for damage.
What is the set-up with the weavers like?
KSKR: Creative Bee has a policy of training weavers to use azofree and low-impact organic acid dyes, and then modifying their looms to get flawless weaving; making them understand the variations of different reeds, paper designs and colour trends. In 3-6 months they are ready to produce the desired quality and design. Then onwards, we support them with seamless production orders.