India's exports stagnating
Digjam is a leading manufacturer of fabrics for suiting. Its vertically integrated set-up has a production capacity of 5 million metres. Digjam manufactures over 3,000 design-shade combinations every year in light wool, polyester wool and woollen fabrics. President & COO Arvind Kumar Upadhyay opens up about the challenges in Indian textiles and makes policy suggestions.
How has the world of suiting fabrics evolved over the years?
The market for worsted suitings is shrinking due to declining demand because of continuous increase in wool prices and shorter winters. Further, there is no awareness among customers about the extraordinary qualities that the finer wool suiting materials have such as softness, higher elasticity, being more breathable, its warm and cool nature, and resistance to static. For the last few years, formal suits even in offices and boardrooms have been replaced by formal wear. Competition from synthetic and cotton fabrics from decentralised sectors and cheaper supplies from China have influenced customer preferences, especially youngsters' choice for jeans and low-cost synthetic fashion fabrics.
What is your share in the domestic and global markets for suiting fabrics?
Digjam has about 6 per cent share in the suiting market among the organised sectors in the domestic market. Out of the total production, approximately 30 per cent is for exports.
Which are your major markets for worsted and woolen fabrics?
Digjam has a wide distribution network with a pan-India presence. It has a wide product portfolio with quality perception among trusted brands in each market segment. We are exporting to more than 25 countries through 50 customers. The major customers are Land Ends, JC Penny, Canda International, Conbipel, Oldgate Textiles Ltd, Tem Formula, Dressmaster, A&P Bianchi Abbigliamento Uomo srl, Hersfelder Klederwerke, etc. We are planning to explore Australia, New Zealand and Russia.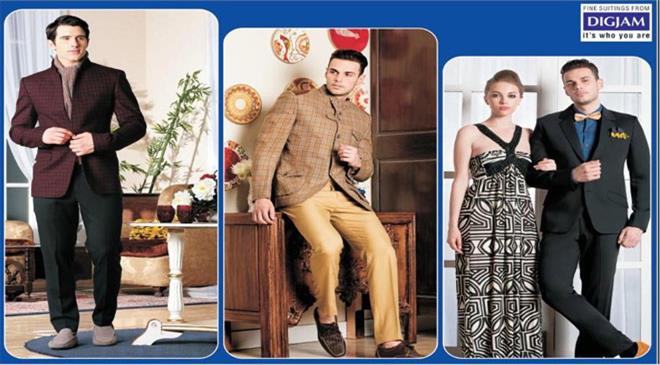 Tell us about retail presence in India. Any expansion plans?
Digjam fabrics are sold through EBOs, MBOs in all metros and in smaller cities and towns across the country. We also supply directly to converters and government institutions, including the armed forces.
Functional clothing has become the norm. Is Digjam working in this direction?
Yes, Digjam produces fabrics with special finishes to meet specific customer requirements such as stormwear finish, stormwear with antimicrobial finish, antimicrobial finish, soil release finish, aroma/fragrance finish, UV protection finish, etc.
How big is the design team at Digjam? How do they keep abreast with the international trends?
Digjam is a customer-led, design-centric player with a fully equipped design and development section. Highly experienced and qualified staff members are focused in continuous innovation to match the fast-changing market trends.  Ideas are shared through regular participation in domestic and international exhibitions, interaction with sales representatives, and consulting various fashion magazines.
How do you see prospects for the Indian textiles and apparel industry in the next 2-3 years?
Textile is one of the oldest sectors of the Indian economy. The industry is the second largest employer after agriculture, providing employment to over 45 million people directly and 60 million people indirectly.  It contributes 5 per cent to India's GDP, 14 per cent to overall index of industrial production, and 11 per cent to total exports.  Currently, the size of the Indian textiles industry is estimated to be at around $127 billion out of which 30 per cent is exports. According to a study by Wazir Advisors & PCI, the Indian textiles industry has the potential to reach $500 million.
The Indian textiles industry has the capacity to produce a wide variety of products suitable to different market segments for domestic and global markets, which include handspun and handwoven textiles, products from powerlooms/hosiery and knitting products from decentralised sectors, and premium cotton, synthetic and worsted products from capital-intensive sophisticated mill sectors.  
However, the GST aftershock has been felt all across. The textiles sector, the third largest foreign exchange earner after petroleum products and gems & jewellery, has shown only 0.75 per cent growth in 2017-18 on account of a 10.4 per cent decline between May 2017 and January 2018. The main reason has been unresolved issues, including the reduction in the drawback after implementation of GST and capital blockage due to slow refunds, which have adversely affected working capital.
While India is struggling with the problem of stagnation in exports, countries like Bangladesh and Vietnam have shown significant growth in apparel exports. To bring the sector back on track and speed up growth, the government must address the issues and implement the suggestions given by the various organisations and experts. The government must also ensure timely action to avoid opportunity loss in the fast-moving, competitive global market.
What can the industry do to increase exports?
To increase exports, the government can restructure the incentive with increase in slabs on the basis of value addition of the product from raw material to garments. Raw material, especially cotton exports, must be discouraged and more attractive schemes should be introduced for spinning and weaving units, which will result not only in higher foreign earnings, but also lead to more employment.
How quick is the Indian textile industry in adopting new technology? What needs to be done to increase the pace of technology transfer, particularly industry 4.0?
Though the Indian textile industry by and large has been adopting new technologies, in the weaving sector there are huge numbers of conventional looms running with low productivity that need to be replaced with high-speed shuttleless looms. More than 95 per cent share is from the decentralised sector, where second-hand machineries from developed countries are preferred on account of lower costs.  But composite mills in the organised sector, the spinning mills, and the garment sector have been adopting the latest technologies which are essential to remain competitive.
What are your expectations from the next textiles policy?
The government of India has great vision to secure a higher share in the global textiles trade and to establish the Indian textiles industry as an international competitive producer. The Indian textiles and apparel industry and the ministry of textiles have to work together and focus on following areas:
Provide competitive resources to industry such as low-cost finance for working capital and availability of low-cost energy so as to be most competitive in the global market. (Due to higher lead time to convert the fibre to fashion)
Increase investments in advance and have fully-integrated manufacturing facilities to produce with minimum costs within the shortest lead times. Allocation of funds needs to be increased under TUFS to expedite investments.
Produce value-added products with specialised designing and finishes. Currently, Indian exports mainly cater to the low-to-medium price segments of the fashion market.  There is a huge scope in the fashion market with higher margins compared to discount segments.
Need to restructure policies to encourage fabric and garment production and avoid exports of low margin raw and semi-raw materials.
Strengthen strong distribution network not only in the global market, but also in the domestic market covering small cities/towns and villages, the untouched areas having huge opportunities.
Need to facilitate the areas of in-house production of technologically advanced machineries from fibre to garment. Till then, all textiles and clothing machineries must be exempted from custom and excise duties.
Increase the investment in research centres with world class facilities for the development and production of  fine and super-fine cotton and wool fibres (yet depending on import), product design developments, textile and clothing manufacturing processes. 
Fast and continuous developments of human assets, and retain them.
Active and effective participation of expert technocrats in policy decisions with government as well as private entrepreneurial activities. 
Quick attention and response by the government for timely action in facing global competition so as to avoid huge opportunity losses. (HO)