Earlier, the biggest spends for suitings happened in tier-1 cities, but much of this has shifted considerably to tier-II and tier-III towns. How are you handling this market scenario?
To be honest, we have always striven to contribute at the grassroots level, in terms of quality and variety of fabrics. With the right mix of products, relatable brand ambassadors and on-ground and mainline initiatives, we have been able to build and enhance our ground in nontier-I segments. We have invested in marketing tools to aid brand recall and capture share of mind and heart.
In India, the lower-end polyviscose segment occupies 70 per cent share in the suiting segment with the rest being luxury. Will more brands be moving into the PV segment or the other?
It has been noticed that there is a consumer shift to synthetics over natural fibres/fabrics. The proliferation in the market has been done thoroughly-for both organised and unorganised segments. It's a need of the hour for a brand to have enough bandwidth to have product extensions that cater to a diaspora of fabrics at different price points-be it wool, polyviscose, cotton or anything else.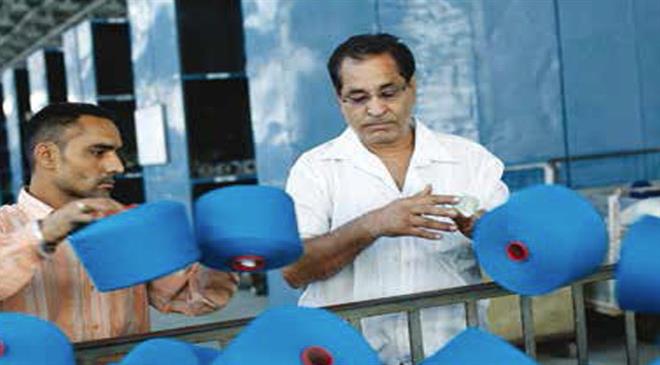 Europe is still considered the benchmark in the manufacturing of suiting fabrics. How can more Indian brands rise up to their level? How do you react to this personally?
Let us not forget that India is the second largest exporter of textiles with export of $40 billion in FY15-16, with increased projections till 2020. Keeping that in mind, personally, I feel that India is churning out products with a high innovation index. Right from utilitarian-based fabrics to environment-friendly ones, from vintage designs to new-age ones, there are myriad products being featured for different target markets. Indian brands are constantly reinventing themselves to be on the ascension scale in the industry and if they continue doing so, we will definitely create a new benchmark.
Fabrics today are usually lighter than they were 30-40 years ago. Will the trend continue?
Consumer preferences today are changing-they want something that feels light because of a perceived notion that it's finer. A lot of times this is the case-the lighter the fabric, the higher its count. This is a trend prevalent primarily for youth. They believe the functional attributes of finesse are positive rub-offs to the way they are perceived and in the true sense, the fabric brings out the 'best you'. Discerning customers, who are trend-savvy, also opt for thicker and more rugged fabrics which are donning international runways. I would say based on sheer volume of consumer preference, the skew is more towards lighter fabrics with a good drape.
A fabric's quality and character aren't just a function of what that fabric is. The manner in which it's woven plays a huge role. What novelties are fabric manufacturers bringing to the table? How is technology shaping suit fabric manufacturing today?
As mentioned earlier, there are several novelties ranging from wrinkle-free and aromatic textiles to stain-resistance and more, that fabric manufacturers are bringing to the table. Technological advancements are shaping the manufacturing processes in a rapid way. Several years ago, waste management was a major setback, but with the advent of new and improved manufacturing processes, this has been abated, if not eliminated. It also paves the way for new product lines and extensions with improved finishes-even liquid ammonia for wrinkle-resistant fabrics. Technology is also leading to smarter factories, better utilisation of assets, high-scale production, enhanced quality products, product innovations and more-the list holds a variety of prospects for the future years as well.
Modern manufacturers know how to produce Super 250s wool which is the finest and silkiest type of worsted wool fabric. What are the other fabric trends you see in the luxury suit market?
The luxury suiting market has grown manifold in recent times. Discerning consumers are looking to buy fabrics which are unique and demand knowledge about the product before purchase. Wool and wool blends rule the roost here. Mangled with exotic fibres, new designs and brand names, the consumer has begun to devour this segment. The primary drivers here are blend, brand and design for purchase, followed later by the price.
Seersucker suits were originally considered a poor man's alternative to linen. With more designers opting for seersuckers now, has the fascination around it changed?
I have always seen seersucker suits to be gamechangers in the industry, given their multipurpose utility and style. This particular fabric ticks all the boxes that a consumer looks for-style, comfort, colour. The best part about it is that such a fabric can never go out of vogue. They can be lent to both formal and casual wear and are a must-have for spring/summer.
Suiting fabrics for an all-purpose business suit will differ from those for a formal wedding suit or tuxedo. Or you may want to strike a balance between a suit that is classic and practical but also a bit of flex at the same time. What would be the ideal suit fabric choices in such situations?
Consumer trends have shifted from the one-suit-fits-all-occasions mode. The consumer is much more attuned to designs and what to wear for any occasion. A trend that's taken the market by storm has been mix-and-match coordinates. For example, a navy blazer and trousers could be a formal look, a plaid blazer with chinos is a casual look, an embellished blazer with dark trousers for an evening look. There is a rise for unmatched coordinates.
How can suiting brands attract GenY, whose preferences are whimsical in nature?
To attract any set of consumers, it is essential to identify the said set's common personalities and then incorporate those with the brand's personality. GenY's traits include high levels of digital consumption, environmentally-conscious decisions and more-it is imperative to capture such aspects and portray them via the brand. It could be via choosing certain patterns or colours that appeal to the consumer set, or it could be choosing a brand ambassador that they can relate to, along with extensive digital/social media engagement.