We revitalised textile scan printers range with cutting-edge innovations
EFI Reggiani is a leading technology provider of a full range of industrial solutions for textile manufacturing, including high-quality printers for fashion and home furnishing textiles, with a portfolio spanning the company's original rotary screen technologies to the most advanced inkjet textile printers and inks in the industry. EFI Reggiani is part of EFI, a global technology company based in Silicon Valley. Vice president Adele Genoni converses about the latest in indigo dyeing, digital and traditional printing technologies at the company.
How was the response received at the International Textile Machinery Exhibition (ITM) 2018 for the new EFI Reggiani Colors and EFI Mezzera.
Even after a month, EFI Reggiani is enjoying the success at ITM, where the new EFI Reggiani Colors and EFI Mezzera indigo dyeing technology were presented. 
The new EFI Reggiani Colors printer launched at ITM is a breakthrough solution for textile producers, offering up to 12 colours that can be printed in a row. This unparalleled new digital printer brings new creativity to the industry with an explosion of colours. Along with the completely renovated portfolio of advanced EFI Reggiani textile production solutions, it helps our customers reach new levels of sustainability, efficiency and profitability.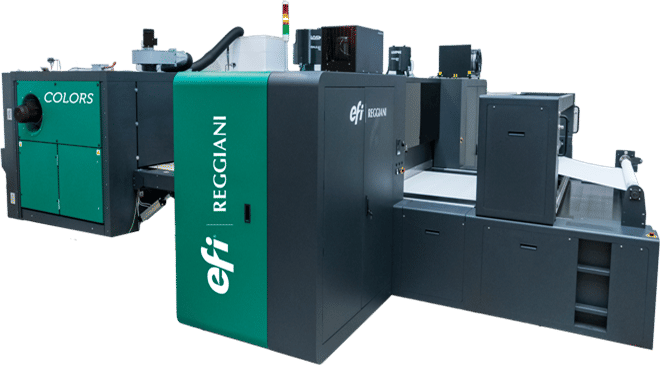 What is the USP of EFI Mezzera indigo dyeing technology?
The EFI Mezzera indigo dyeing technology making its worldwide debut at ITM gives textile companies a way to eliminate excess water usage, chemical waste and high operating costs of denim production. EFI partnered with denim producers and manufacturers from around the globe to create the new Mezzera Loop Slasher, which gives users a more sustainable process, reducing environmental impact with lower water consumption and operating costs. The new product uses nitrogen sealed chambers to improve indigo performance and preserve chemicals. Compared with other denim production technologies, the EFI Mezzera Loop Slasher has a 35 per cent smaller footprint and uses 50 per cent less indigo liquor. It also limits the total amount of chemicals needed in denim production, preserving 30 to 40 per cent of hydrosulphite needed in the process for re-use.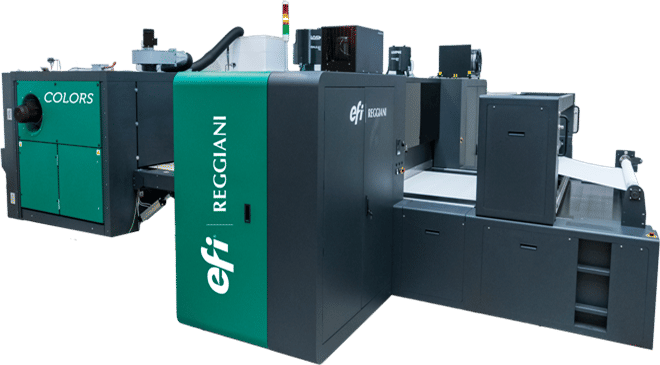 What is the global market size for textile printers? What is the expected growth rate?
Digital is at this time about 3-4 per cent of all printed textiles consumed by the fashion industry, reaching ~13 per cent in the fast fashion segment with and expected compound annual growth rate of ~20 per cent.
Digital printing is the fastest growing printing technology in the textile market, where textile printing market represents ~30-35 billion sq m. Digital textile printing is growing very fast opening huge opportunities.
With 70 years of innovation, research, and technological excellence, EFI Reggiani (which includes the Reggiani Macchine, Mezzera, and Jaeggli brands) is a worldwide provider of complete solutions for the textile market, with a focus on the development of sustainable processes. With high quality and performance of its machines and outstanding service to its customers, it is the premier manufacturer of digital and traditional printers and pre-post treatment machines, such as systems for washing, bleaching and dyeing. The sales of traditional printers are still on a positive trend, but the digital textile printing market is growing very fast, thanks to further market opportunities, including new applications and the fast fashion segment.
What is your global market share?
We hold 35 per cent of the digital textile market, with more than 700 digital printers running worldwide and more than 2.500 analog printers installed. We sold nearly 1.000 tons of ink in more than 40 countries worldwide and boast of having several loyal customers with more than 10 printers in each factory in the European Union (EU), the United States, China and India.