Which are your top markets for traditional, digital, soft-signage printers and post and pre-treatment machines?
We deliver an overall solution for the whole textile process, starting from yarn treatment to fabric printing and finishing. We design, manufacture, sell and service high-quality machines for a wide variety of substrates and applications, which include fashion, home textile, sportswear, signage, flooring, automotive and outdoor. 
Our reference markets in digital and traditional printing are Turkey, Pakistan, India and Bangladesh, while in soft signage the United States is where the highest number of printers have been sold. EFI Mezzera lines are mostly sold in India, Mexico and Indonesia.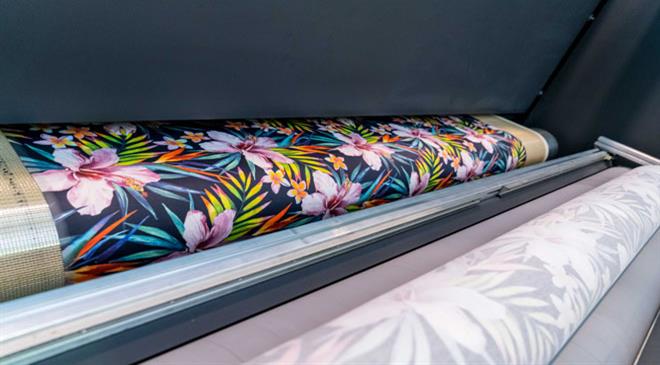 What will be the next big thing in digital textile printing?
During the last 12 months, we revitalised the textile scan printers range with cutting-edge innovations. Four new extraordinary printers are able to meet all needs and requests. The new EFI Reggiani Flexy, Vogue, Top and Colors are the prelude of a new era where the EFI Reggiani single pass will be the leading actor.
Greener processes are surely dominating the textile printing industry. An example is during the Federation of European Screen Printers Associations (FESPA) exhibition in Berlin, where we exhibited the breakthrough industrial textile pigment ink technology for direct-to-textile production. Our new pigment ink technology gives users a faster, environment-friendly production process with inline polymerisation that requires less water, less energy and less processing time, with no washing or steaming needed. In addition, the ink's excellent fastness properties and high printability sharpness allows printing on a wide range of fabrics with fine-detail designs, especially for fashion and home decor.
Our new pigment inks are based on an innovative binder technology. These react to our printers' on-board dryers, which set off a unique in-line polymerisation process for faster, greener printing that requires fewer steps than other digital industrial inkjet textile systems.
The technology completes the outstanding range of innovations we have presented over the past year, with unparalleled new products including the Flexy digital printer launched at last year's tradeshow by FESPA and the Colors printer launched last month at the ITM show in Istanbul. 
How sustainable are the printing colours?
We develop and produce water-based inks, which are safe and green and can be used on the most varied substrates of plant and animal origin, from cotton to silk, from viscose to wool.
Our water-based reactive, sublimatic and pigment inks are easy-to-use one because these don't need any special maintenance on the printer, both for customers that print 24 hours a day and for those with only one work shift.
We are committed to improving sustainability. We continuously develop and test productive systems with lower environmental impact in each segment of the supply chain covering the full textile workflow. That means respecting the environment without compromising machine performance; that means developing green processes and innovative solutions that guarantee savings in energy, water, inks and colour waste; reducing stock consumption, using recyclable materials and drastically reducing pollution.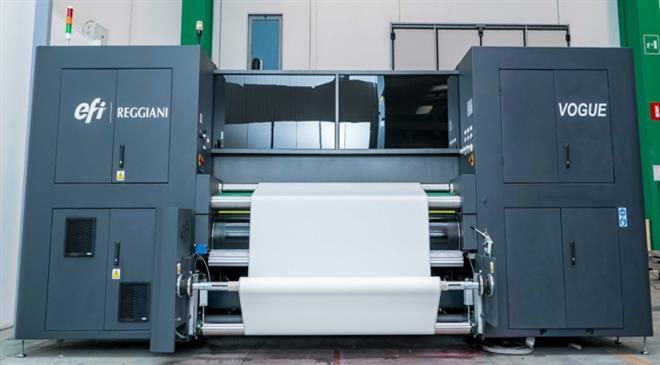 What is the latest innovation in the EFI Fiery Textile Bundle?
Our digital printers also benefit from an advanced production workflow available with the new Fiery Textile Bundle. The bundles combines the tools for efficient textile design and file preparation, with the Fiery digital front end (DFE) for professional colour management and high-quality RIP output. The design tools quickly and easily create professional designs, seamless repeat patterns and multiple colourways, and include functionality to manage colour libraries and palettes for design teams. The bundle's Fiery DFE features dedicated textile functionality to deliver accurate colour, fine details, high saturation, and smooth gradients, and can be used with all our printer models and dedicated cutting systems.
What are your thoughts on Industry 4.0? Which areas in textile printing is the rate of adoption higher?
Our aim is to support customers in their transition to Industry 4.0, thanks to the EFI Digital Textile Ecosystem, a unique solution to experience the workflow from 2D/3D design and professional colour management to digital printing with a full range of water based inks, till finishing and cut & sew.
Several key clients across the globe have showed interest and more and more are investing in this direction, adopting EFI products.
What has been your growth story in the last two fiscals?
Last two fiscal years showed a solid and constant growth year-over-year and Efi Reggiani is working hard to take advantage of this great momentum thanks to a completely innovative product range and the amazing new products that have yet to come. (HO)