Air as utility, not an expense
Compressed air is the fourth most important and expensive utility in a textile plant after water, steam and electricity. The biggest lifecycle cost of a compressor is towards energy. Elgi Equipments Limited, one of the leading air compressor manufacturers globally, recently addressed the issues through its IoT-powered air compressor solution, Air Alert. Anvar Jay Vardarajan, Head-Marketing & Corporate Communication, spoke to Hiral Oza on future technologies, energy conservation and marketing challenges in the business of air compressors.
What are the top disruptors in terms of air compressor technologies globally?
In terms of disruption in the air compressor industry, the technology has not changed in a long time. But if you look at the science of compressed air, it is not very efficient but still preferred because it is safe, a reliable form of energy, and easy to store. I think in terms of disruptions from an absolute technology perspective, I cannot mention anything that has transformed the industry. But I do think that there are some interesting developments on how customers are buying and how vendors are selling.
One example is that instead of buying a compressor, can a customer buy air? There is a lot of equipment that goes into producing electricity. So, for a factory can you have air as a utility? Based on the power consumption and budget, an air compressor manufacturing company should ideally be able to provide solutions. However, this model has not really caught on in India and it's still very minimal in the West. I think it is safe to say that this is something that will probably grow especially for those businesses and industries where the volume of compressed air is very high and the application is critical. They do not want to worry about maintaining a machine and changing a filter. They just want air at certain quality and certain volume and pressure. I think that is one disruption in terms of air as a solution.
Something that will be an emerging trend is the move more towards oil-free. Most industrial machines are oil-lubricating machines which mean that they use oil for cooling, lubrication, and sealing the screw compressors. This requires a lot of maintenance. Obviously, technology has moved to a point where the oil carry-over is minimal, but just for the general trend with oil-lubricating machines, a lot of maintenance is required. I feel that one of the big changes is that how do we make oil-free more accessible because currently this technology is certainly not energy-efficient or inexpensive. Hence, one of the challenges is to democratise oil-free technology because it has positive environmental implications, maintenance-wise it is better for customers, and provides a better quality air.
What is the state of technologies being employed in India? Are they at par with global standards?
In terms of technology, Indian customers are still not as experienced or mature as our customers in the West. Most customers there entertain the thought of a variable frequency drive (VFD), which stabilises a compressor's power consumption when the compressor is not producing air. But in India, the focus is more on reducing the upfront cost of the machine, which is considered expense instead of investment and future saving. Indian customers are less aware of the total lifecycle cost of the machine. Getting customers to see that wholistic view and then consider products and accessories like VFD equipped machines and standalone VFD's is one of the big challenges for manufacturers.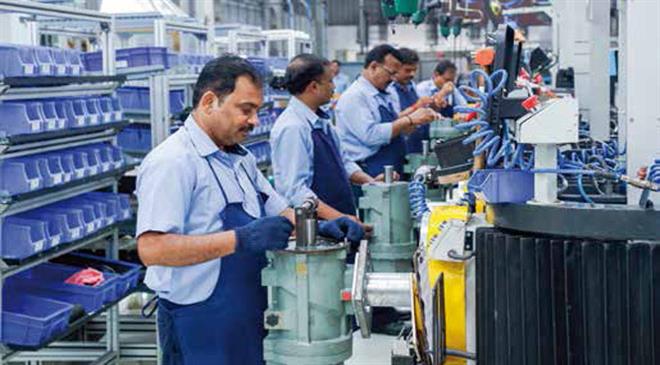 What percentage of air compressors and accessories manufactured at Elgi are used in the textiles industry?
We are definitely one of the leaders. Giving an exact break-up will not be possible.
What is being done at Elgi for better movement of yarn and fibres through compressors and to improve filtration?
It is important to note that compressors do not directly move yarn and fibres, and rather produce the compressed air that powers machines that handle the movement. Elgi offers the lowest oil carry-over in the industry, which reduces the maintenance of yarn and fibre movement machines as there is less oil in the compressed air. Oil is used in compressors as a lubricant, sealant and coolant. As a result, trace amounts of oil are present in the discharged air. Better design and tighter tolerances within Elgi machines result in the lowest oil carry-over of less than 1ppm compared to industry standard of 3ppm.
What is the USP of Elgi air compressors?
Our USP is that we aspire to provide the lowest lifecycle cost. Lifecycle cost is the combination of the upfront price, the cost to maintain the compressor over its life, which include its spare parts, the service cost and also the energy consumption. Our vertically integrated setup lets us offer the lowest lifecycle cost. It allows us to be cost-efficient and yet provide high-quality products with the best warranty in the world. For instance, in the US we offer lifetime warranty on our machines which no one else has managed in compressors. In India, we have the longest warranty, which is of six years. All of this collectively allows us to aspire to the lowest lifecycle costs in the industry. That aspiration will be a combination of not just educating the customer, but also continuing to improve the quality of our machines to such an extent where the external environment is harmed less.
Why six years in India and lifetime in the US?
One of the challenges is that we do not have as much control in India over how the machines are being maintained and used. Right from the genuine parts to how the compressor room is setup and how often it's maintained.
How big or small is the market for second-hand air compressors? What about unorganised markets?
We are not involved in it; so I will not comment on size. It is not a huge influence. After 10 years, you look at better technologies.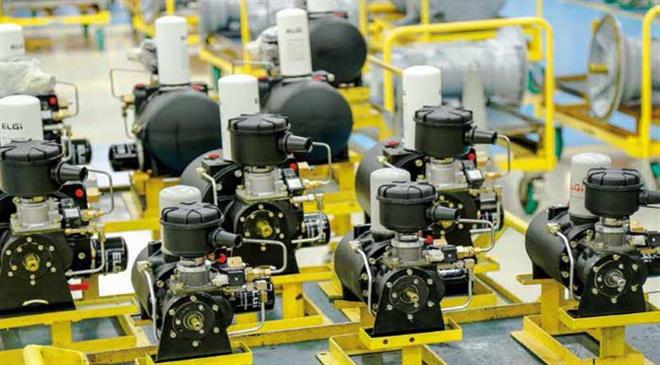 What about spare parts and small parts (of the air compressors)?
The aftermarket is important from a company's perspective because it is a key driver of profitability. Mature markets like the US, Australia, Europe already have strong after-market business. They don't need to know the benefits of compressors, its accessories, etc.