Shift to conscious shopping not a trend, but a movement
Growing up in the little beach town of Fire Island, New York, the brother-sister duo Jake and Caroline Danehy always appreciated the sun, sand, and living mindfully. It wasn't until they noticed the plastic waste in the ocean that the idea of using plastic bottles to create swimwear sprang up. Today, together they run a NY-based brand creating swimwear out of recycled plastic bottles- Fair Harbor. The young founder & CEO, Jake Danehy, talks about the journey of the brand, new product launches using innovative materials, collaboration collections, and a soon-to-debut women's line.
How did the idea to start Fair Harbor come to you? Why swimwear?
Fair Harbor is the name of the beach town on Fire Island, off the coast of Long Island, where our family spent summers. It's essentially a glorified sandbar, where no cars are allowed and everyone rides around on weathered bicycles. It's a really small community that lives simplistically and inclusively. Situated between the bay and the ocean, we witnessed a lot of plastic waste wash up on the beaches of Fair Harbor. Once I had studied extensively about the negative effects of plastic waste in the ocean, Caroline and I decided we needed to do something to keep the waters clean and protect special communities like Fair Harbor. Swimwear was a natural fit. After learning about the technology to convert plastic bottles into a functional fabric, making swimwear spoke to our childhoods at the beach, wearing boardshorts and bathing suits all day to surf, swim, fish, lounge, and so on.
How much funds did you raise from Kickstarter? Who are the major investors in Fair Harbor?
We first pitched Fair Harbor as part of a mock Shark Tank competition at our school, Colgate University, which was organised through their entrepreneurship programme called Thought Into Action. The panel of celebrity entrepreneurs included Jessica Alba, Neil Blumenthal, MC Hammer, Jennifer Hyman, and more-in front of a 2,000-member audience.
The pitch, in 2015, came before anyone really knew that the technology to convert recycled plastic bottles into apparel even existed. While on stage, I held a plastic bottle and asked if they could imagine turning it into these (as I held up a pair of boardshorts). People were in awe, including Jessica Alba and Jennifer Hyman who are into fashion. From that competition, we were awarded $20,000 for our first production run. Thereafter, in 2015 we successfully raised 225 per cent of our initial funding goal through a Kickstarter campaign.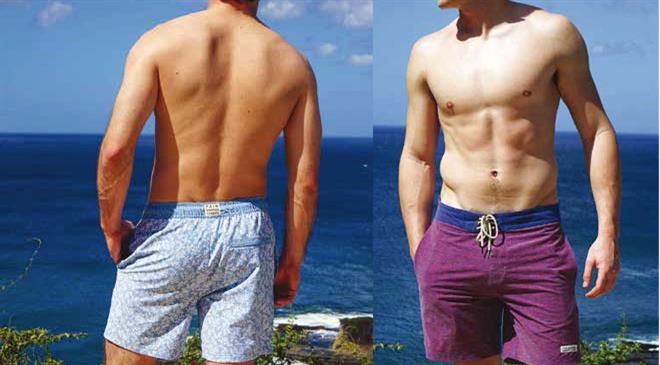 Would you say American consumers are conscious shoppers when it comes to fashion and apparel?
Yes-especially now more than ever. This shift in awareness and consciousness is not just a trend, but we see it as a movement that will continue to gain momentum. People's efforts to support ethically or sustainably produced goods has grown tremendously since we started Fair Harbor. Millennials, in particular, have a real concern for the authenticity and production of the goods they purchase.
Will recycling help fix the problem of fast fashion?
Recycling single use plastic is our focus, while simultaneously creating a really high-quality product in effort to change the way consumers view single use plastic. It's going to help in creating less waste that winds up in landfills or the oceans, which is obviously a huge issue, especially for oceanic wildlife. While recycling will help fix the problem of fast fashion, it's not going to solve the issue of fast fashion.
Tell us about your product line from upcycled coconuts.
Two of our newer products-The Rockaway (performance boardshort) and The Anchor (athletic short with built-in-liner)-make use of both recycled plastic bottles and upcycled coconuts. Essentially, the discarded husks of coconuts are broken down and spun into polyester, much like the plastic bottles.