You don't ski fast… you fly low
The idea behind Flylow took roots when co-founders Greg Steen and Dan Abrams, both Colorado natives and friends since college, couldn't find a pair of ski pants that could hold up to the kind of skiing they were doing. Although they had no background in clothing design, they went on to design some of the best mountain gear for fellow skiers. President
Dan Abrams
talks to
Paulami Chatterjee
about how Flylow is creating ripples around the world of skiing with fashionable yet durable mountain apparel.
What is Flylow gear all about?
Flylow is an independent, homegrown, and mountain-raised company dedicated to building great gear for the modern mountain lifestyle. I founded the company with my good friend Greg Steen, and we are still the owners, operators and guys who design the clothes. We are skiers first and foremost, and we make products that are specific to skier needs. On a more esoteric level, our goal is to inspire people to live life on their own terms, because that's what Greg and I have done. We are living life on our own terms in the mountains, making gear for people who like to play hard.
Where did you get the name Flylow?
Greg and I were skiing at Jackson Hole and a college buddy of ours showed up with his girl friend, who happened to be French. Most of the group was telemark skiing, and they had to take a break in the middle of the run-as telemarkers do-and I blew past their rest break and skied right to the lift. When the group re-gathered at the top, the young French woman came up to me and said something that was immediately memorable. She said, "You don't ski fast… you fly low." Instantly, I could see it written on a t-shirt or a jacket, and I knew it would be a fantastic name for a brand.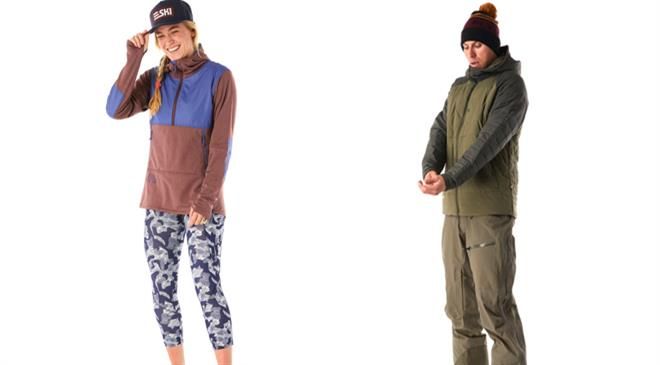 What made you start making women's gear in 2011 and what were the details that went into it?
We knew from the beginning that we wanted to make women's gear, but we had to make sure that we could afford it as small entrepreneurs who were paying the bills ourselves. Fortunately, we eventually felt a groundswell through our social media channels that enabled us to be confident that there were at least 500 women out there who would buy our jackets and pants-as that's what the minimum is. Even though the greatest determinant of what people buy in apparel is colour, when Flylow builds a jacket, the number one input is the fabric. For our women's line, we design fabric from the ground up for each piece. For example, we don't want to sacrifice durability but we do want to add a little more stretch for comfort and fit. We also use a little bit of a warmer membrane, use more traditional moisture-vapour permeable membranes, and shy away from the air-perms. All these things add up to allow our women's designs to fit more people and appeal to a wider variety of skier preferences.
What was the idea behind intuitive fabrics and what makes them different from normal fabrics?
All intuitive fabrics are specifically made for Flylow and are designed based on the anticipated end use of each garment. This includes the balance between waterproofness and breathability, the thickness and the texture, the colour and other factors.
Powder mag has called the Cooper Jacket one of the best men's jackets of the year. What makes them a class apart?
The Cooper Jacket is built with an intuitive air-permeable fabric that we call 'The Perm'. It utilises an electrostatic membrane, which allows the fabric to be 20k waterproof-which is at par with the weather requirements of high-altitude mountaineering gear-while still maintaining an air permeable membrane. The pores also allow air to move out without allowing water to move in, allowing heat to escape before it turns to sweat. This is a key difference from the traditional moisturevapour permeable membrane and keeps the wearer drier and more comfortable during a full day on the mountain.
Your products are regularly featured and awarded by top magazines and publications? How does it feel?
It's always humbling to be included amongst the ranks of some of the finest brands in the world, and from time to time we have found ourselves next to great mountaineering brands, traditional alpine race brands and even fashion brands. Honestly, we are flattered that our designs and our feature sets continue to have overrepresentation relative to the size of our company. From what we hear from the media, they really respond to the fact that the guys who founded the company are still the ones who are making and designing all the gear.
How do your snow apparel and accessories protect skiers against extreme weather conditions?
The key to staying warm and staying outside is to be able to stay dry, and Flylow accomplishes that by using super breathable fabrics and layering systems. One of our newest technologies is Omni Bloq, an innovative new durable water repellent (DWR) that creates a stronger and more cohesive bond with the fabric, causing water to bead up and shed for three times longer than typical DWRs.