Personalised styling in era of mass production
FR Tech is an Indian deep-tech startup firm revolutionising the way fashion retailers sell and interact with customers with an automated personal styling technology solution-iLuk. It provides a functional value to the shopping experience by helping partner retailers engage their customers better. Through iLuk, partner retailers can offer personalised styling solutions that are suitable to their body-type. Founder & CEO Sandeep Chatterjee and CTO Ravi Katha discuss the journey of iLuk.
How and why did you get into fashtech?
Sandeep Chatterjee: We started by creating interactive consumer engagement solutions with technology. We understand that is the way forward. We are in transition from a customer loyalty-driven business model to a more meaningful customer relationship oriented model. From the beginning of organised fashion retail, customers were doing the same thing-carrying clothes to the trial room and after the trial, making their purchase. We wanted to create a technology that is fun and provides functional benefits to customers, and at the same time allows retailers to develop meaningful relationships with customers.
When did you start FR Tech Innovation?
SC: We started market research in January 2015. After extensive conversations with customers across the country we tried to map out possible developments. We believed that the future belongs to hybrid retailers. The high-street retailers will have to do much better to engage their customers digitally, and e-retailers will need to have an offline engagement model sooner rather than later to have a long-lasting relationship with customers. We started FR Tech in August 2016 with the idea to be the catalyst in the transformation process on the way fashion retail is done now (irrespective of the fact whether you are a e-retailer or a high-street retailer) and how it will be done in the future.
What were the challenges you faced while developing Iluk?
SC: Challenges were all around; we were creating something that has never been created across the globe in a very popular domain. We were starting on a deep-tech project that is difficult to undertake in India. Deep-tech projects require lot of resources and there is no guarantee of success as these projects are mainly research and development-based projects. In our country, the probability of getting funded for deep-tech projects is next to impossible. Most investors look for safer ideas and more assured projects to invest in. We are lucky in being able to generate our initial funding through family and friends, develop a proof of concept and then get an angel investor. Getting an able team headed by our CTO, Ravi Katha was a blessing that helped us overcome the technical challenges. We have been lucky that each person who has invested in this project shared the same vision for Iluk along with the co-founders. Investor trust and patience is important for deep-tech projects. Our incubator CIE based out of IIIT Hyderabad have extended us amazing support. The degree of difficulty in the project kept us focused and helped us enjoy the journey of bringing an idea alive with Iluk.
How did this idea come about?
SC: Through consumer research we realised loyalty points and discounts have been done to death by retailers. Most importantly, discounts and other such carrots are good enough to get new customers to try out your product, but what would one do to ensure that customers keep coming back? The cost of customer acquisition is growing, but that is no guarantee of customer retention.
Ravi Katha: We wanted to create a technology that would offer meaningful functional benefits to end customers, and personalised styling suggestions seemed the right thing to offer. In a mass production world, we can offer personalised styling suggestions with Iluk. Does it get any better?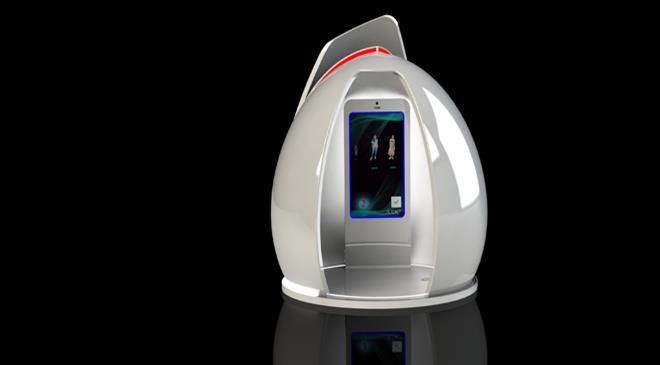 Who are the major investors in FR Tech? What was the seed capital you began with?
SC: My co-founder Nasreen Waqar Naqvi has invested substantially in the project, and we are extremely thankful for the trust and faith she has had in us. Along with her, we have two close friends who have been involved with technology to see the merits of the project and commit early with their investment. After we had the proof of concept (POC) we got an angel investor from Bangalore, who has identified the promise of the product and been a very proactive investor.
What did your pilot tests for Iluk say?
RK: We had an MVP version1 (minimum viable product) which we wanted to introduce in March 2018. We were set and our test consumers were happy with version1. Just as we were starting to plan the launch, the research and development team came up with some upgrades that we thought were extremely meaningful for the-end consumer; so, we delayed the launch to create the MVP version2. So, what we are launching now is a much better and more relatable technology from a consumers' perspective.
What was the interaction with the industry like?
SC: We introduced Iluk at an industry trade fair. The response was amazing. To be honest, we couldn't have dreamt of or hoped for a better response. We are humbled by the support and encouragement we have got from prospective partner retailers. We also realise that this comes with the responsibility of improving the product and helping retailers connect with consumers in a more meaningful and constructive way.
What was the cost of making the first Iluk Pod?
SC: Since this has been an arduous R&D-based project, it is extremely difficult to put a number for the cost. However, the success stories we create for our partner retailers will be the only way we would understand that the cost of creating this technology was worth the effort.