How is Iluk different from the 3D body scanners and other such technologies?
RK: Body scanning is just one part of the technology. There are many body scanning technologies; some are invasive and some not. Some use laser, while others use infrared. In our pod we use simple cameras to do the body scanning. Our scanning process is non-invasive and safe even for an expecting mother. We have a lot of other technologies that work over body scanning like taking different measurements instantly; we have a built-in artificial intelligence algorithm which analyses the customer body type and then offers personalised styling suggestions based on customers' body types and customers' fashion sensibility. While other body scanners do a good job of scanning the body and creating a 3D avatar, our technology does much more and provides an amazing user experience to a customer.
How easy is it to meld with the other software or ERP systems being used?
RK:
We have built Iluk with the possibility of working with whichever framework the customer is using. Our partners do not have to make any changes in their present framework to integrate Iluk.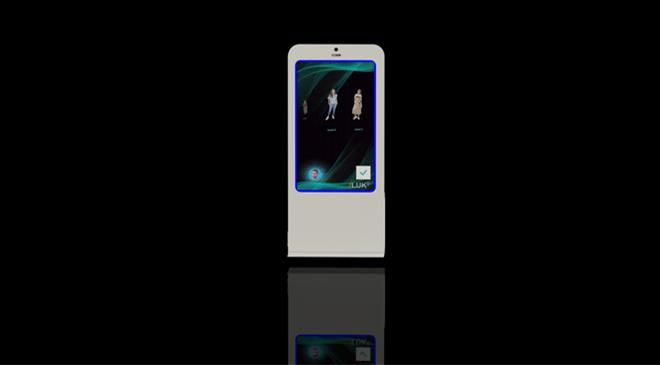 How many apparel brands/companies are your clients?
SC: All big fashion retailers in India have engaged with Iluk and we expect to roll out the pods soon.
Are Indian apparel retailers/brands ready for such digitalisation?
SC: We have found Indian apparel retailers to be extremely enthusiastic with Iluk. We believe the organised retail industry in India wants to stay ahead of the curve and are open to using digital technology if it helps them have a more meaningful business relationship with consumers.
What kind of sizing and styling woes does Iluk plan to solve?
RK: We are dealing with large number of consumers with different fashion sensibilities. We pay a lot of importance to what kind of clothes a customer is comfortable in, and then based on their body type we offer styling suggestions that would suit that person the most within his/her comfort zone. There may be times when customers may evolve, and our system has the intelligence to understand that and offer suggestions accordingly. Iluk provides a very viable solution of buying clothes that will not mismatch for fitment. Our fitment suggestions are highly accurate.
Will Iluk provide solutions as a stand-alone service, or is partnering with retailers the way forward?
SC: In India, Iluk pods will work with partner retailers. We see our partner retailer as a very important association and are committed to creating success stories along with our partners.
What is the cost of installing the pod?
SC: We are leasing the pods so there is no capex for working with Iluk. There are some interesting commercial terms which are more focused on our partner's success.
What are the improvisations/ innovations being added?
RK: There are many aspects of this technology, as well as the complete technology, that has been patented.  
Garment draping 2D Vs 3D: For example, in magic mirror if a customer is wearing a skirt and she is trying on a pair of jeans, the customer can see the image of the jeans placed at the appropriate place, but the image is placed in a 2D format. This means that as the customer turns around to see how the jeans looks from the side, the customer will be able to see the skirt which she was wearing earlier and not the jeans. Draping is 3D; so, when the customer turns around, she will be able to see how the jeans look from 360 degrees. 
Garment draping placement vs draping with physics: In magic mirror, the garment is placed on the customer; it is not draped. Iluk drapes a customer's avatar in 3D and applies physics which helps the customer visualise how the garment will look closer to reality. 
Garment placement vs garment draping: In magic mirror, a garment is placed over the clothes a customer is wearing. So, if the customer wearing a skirt is trying on a pair of jeans, she can see the jeans being placed at an appropriate area, but she will also be able to see the skirt around it. So, the customer then is expected to visualise how the jeans would look on its own without the skirt being around. In Iluk, the skirt will disappear and the customer can see only the jeans, make the decision and buy the garment.  
The Iluk pod is placed in a customer's retail outlet. A consumer enters the pod to get scanned. The body shape is analysed and a 3D avatar of the consumer is created. Personalised styling suggestions are offered based on the consumer's body-type and particulars of what the buyer is looking for: e.g. weekend casuals. Once a consumer has created a 3D avatar, he/she can access the avatar from any device (tab, phone or PC) using the profile ID and password and shop for any part of the wardrobe and get personalised styling suggestions. Iluk provides a strong functional benefit of personal styling along with the convenience of shopping anytime from anywhere as per convenience. 
Once you have created your 3D avatar, you don't need to go to the store if you don't want to; you can access your avatar from the website or app by keying in your ID and password. Your avatar would be accessible for 12 calendar months unless you have significant changes in your measurements. Since you can try the apparel on your avatar before you buy, one can be better assured about fit and not having to send the apparel back because of a misfit. 
What is next for FR Tech?
SC: FR Tech would continue R&D to add new features to Iluk, even as we have some more interesting projects to work on. (HO)