Which are your best-selling products? How many collections do you come up with each year?
Our current best sellers are our 200 and 300 TC Percales and our 600 TC Supima. We come up with at least two major collections each year, coinciding with the New York Home Fashions Market Weeks in March and September.
Which are your major markets? What is the annual production capacity at your units?
The US, Canada, UK, Europe and Australia. We see prospects growing in the UK and Continental Europe substantially. Our annual capacity is 15 million metres for weaving and 45 million metres for processing. We cut and sew 7.2 million sheet sets annually. About 90 per cent of what we manufacture is exported. We source raw material (primarily cotton) from the US, Australia, Egypt and India.
What impact has the US-China trade war and the rupee depreciation had on business?
The oscillating US-China trade war hasn't had much of an impact on business in India. There haven't been any major shifts of business. The impact of depreciation of the rupee has been nullified largely because of forward contracts and the effect of imports.
What are the short and long-term sustainability goals set at GHCL?
Over 40 per cent of our energy requirement for spinning-which translates to 25 MW-comes from renewable wind energy. We are working towards carbon neutrality for our entire textiles business by 2021. We are also actively using sustainable raw material in textiles-more sustainable cotton (BCI/organic/Supima), cellulosic fibres (Tencel Lyocell) and recycled PET fibres. In keeping with the circular economy, we try to reuse as much material as we can. For instance, we make paver blocks from fly ash, plastic and limestone fines.
How do you look at the subjects of circular economy and blockchain?
The linear economy necessarily must give way to the circular economy, if we are to have any chance of saving our planet. Excessive consumerism and unmindful waste have brought us to a point where doom is staring at us in the face. In keeping with one of the 17 SDGs 'responsible consumption and production', industry has to wake up to reality and do its bit in terms of saving the environment. 'Reduce, reuse, refurbish, repair and recycle' will need to be mantras that manufacturers live by. In terms of blockchain, the unalterable chain of custody of data across the supply chain will secure traceability of material, which again, is the need of the hour.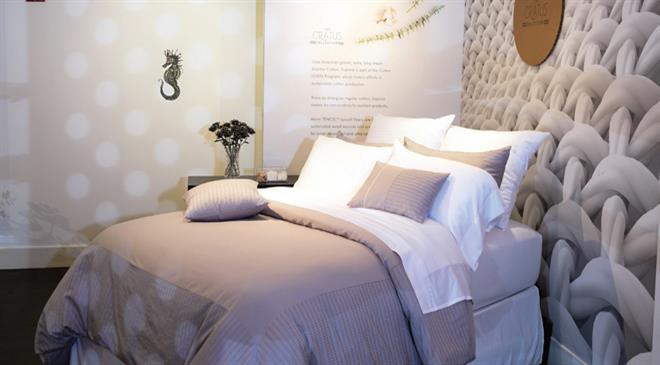 What fabrics/materials are preferred by consumers for bedding?
Customers are primarily looking at sustainable material. Cotton is definitely still largely preferred by customers. We are moving towards 'more sustainable cotton' in a big way-through the Cotton Leads programme, which fosters efforts in sustainable cotton production in the US and Australia, through the Better Cotton Initiative (BCI) and the Global Organic Textile Standard (GOTS) for organic cotton. The other material being preferred by customers is cellulosic fibre such as Lenzing's Tencel Lyocell, which is biodegradable and compostable. Recycled polyester is again a material that is being looked at strongly.
Consumer preferences would be the strongest for what kinds of products-handmade, functional, sustainable, ecofriendly? Which product lines do you plan to introduce in the near future?
There is a strong skewing of preferences towards sustainable, ecofriendly products. Our next big thrust is on bedding solutions that centre around health and wellness. We will be launching a new brand centring around this concept during the New York Home Fashions Market Week in March 2019. Stay tuned.