Korean textiles industry has to maintain costs due to rising wages and power tariffs
Korea-based Gum Kwang Hi-Tex Company Limited, founded in 1992, is one of the leading manufacturers of fabrics for backpack, bags, tents, and mesh. Channy Hur, General Manager, talks about challenges in the Korean textile industry and prospects in the outdoorwear segment.
What is the size of the textiles industry in Korea? At what rate is it growing?
The textiles exports of Korea during first half of 2017 increased by 0.7 per cent compared to the same time last year (to USD 6,850 million) and the import also increased by 6.3 percent (to USD 6,843 million). Accordingly, the balance of trade is around USD 8 million. The export of fibre, yarn and garments grew, but the export of fabrics decreased continuously. The export of textiles to Vietnam, the EU, Indonesia increased, but that to China, the US, and Japan decreased.
How big is the global sportswear market? What is the expected growth rate in the next few years?
The demand for outdoor sportswear between 2011-2016 is show below in terms of million pieces:
Source: 9 Dimen Research Outdoor Sports Apparel Research Center , Mar 2017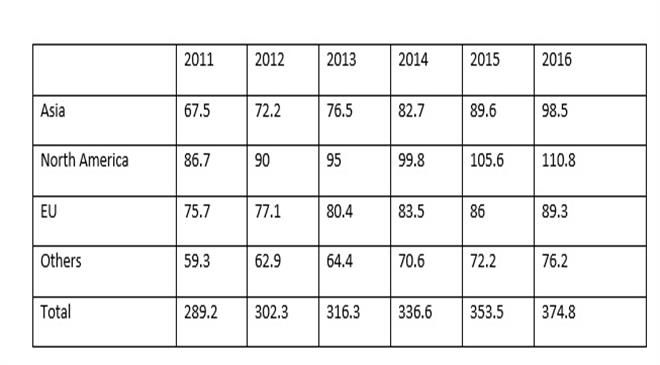 What is the annual production of fabrics at your company?
We manufacture polyester and nylon oxford, twill, dobby, and ballistic fabrics. These are used for making bags, backpacks, tents, motor-cross pants, jackets, army vests and outdoor equipment. Now that we are operating a weaving and coating factory in Dae-Gu, Korea, the annual fabric production is 4,320,000 metres on an average.
What kind of government support does the Korean textiles industry get? What are the strengths of the industry?
For the last 15 years, there have been export drives backed by a financial policy. Recently, the industry participated in the Overseas Exhibition and Trade Mission. Above all, every textile company has been controlling quality standards and working towards R&D of new materials and operations.
What are the disadvantages that the Korean textiles industry suffers from?
The textiles industry in Korea has to maintain costs in the face of increased minimum wages and industrial power tariffs. The minimum wages will be raised by 16.4 per cent and the industrial power tariffs by 16.5 per cent in 2018. The export volume is expected to be hit.
What are the latest innovations in nylon and polyester fabrics used in sportswear and industrial materials?
The market trends among Korean manufacturers are: (i) developing highly functional and environment-friendly textiles for fashion; and (ii) making functional outdoor fabrics that are super-light and thin. Fabrics with water absorption, quick dry, heat generation, moisture transfer and water proof abilities are trending.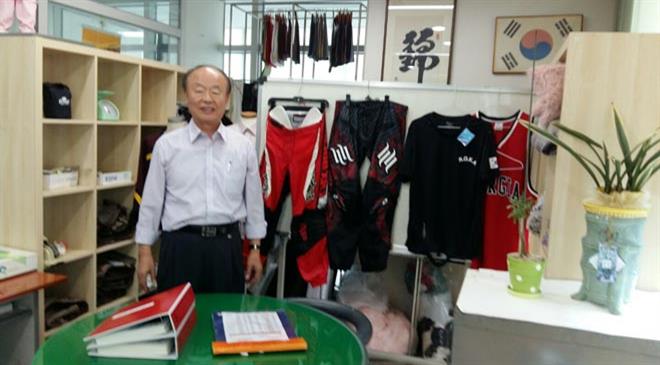 Which are your major markets?Which are your major markets?
Gum Kwang's major products are exported to Australia, Malaysia for auto roller curtains, and Pakistan  Russia, Kazakhstan and India  for army bags and vests, and Canada and the US for canopy, tents and outdoor equipment.
What is the annual budget allocated towards R&D? What is the size of your R&D team?
Our annual budget for R&D is 8 per cent, and we have five people in the team.
Please share details of your last two fiscals and the expectations for the next two.
We achieved sales of USD 6.2 million in 2015, and USD 5.7 million in 2016. Over the next two years we will increase sales by 10 per cent.
What are the future plans at Gum Kwang Hi-Tex?
We will be developing new high-quality fabrics with improved functionality that are eco-friendly. The focus of our R&D will be on making super-light and thin fabrics for outdoorwear. We will be making fabrics with water absorption, quick dry, and heat generation along with polyester dope-dyed fabrics 
We specialise in R&D of nylon and polyester woven fabrics. As mentioned, our products are facing high costs due to increase in wages and the price of industrial energy.  In order to have a quick response to global customer requirements and develop high-quality inventive merchandise, we need to set up FTAs with the US, EU and Chile so that we can compete with other countries.