What are the challenges that this niche (Chemicals for Textile- end uses) faces on the global front?
Whether it is producing high fashion garments, practical work attire and active sportswear or reliable technical textiles, our customers demand highly versatile, comfortable, colourful and durable materials that look and feel good. Across all these key segments, mills need to adhere to the Restricted Substance Lists of the world's most demanding brands, while saving water and energy and reducing production time to lower costs. Regulators are enforcing environmental laws more strictly, with mill closures and restrictions contributing to raw material price volatility.
What are the latest innovations taking place in this industry?
Consumers are increasingly looking for textiles that are not only sustainable but which provide comfort and performance levels required for an active lifestyle. These demands will continue to drive innovation in the development of products designed to meet multiple requirements. Textile Effects helps brands differentiate to capitalise on changing consumer preferences with technologies that support creation of innovative textile products with intelligent effects. These include durable water repellence and built-in freshness and sun protection.
For example, Huntsman's Avitera is the first para-chloro-aniline (PCA)-free reactive dye range. Avitera SE dyes ensure rapid and high exhaustion for cotton and other cellulosic fibres and their blends. More dye is absorbed by the fabric, using less salt. Less than seven per cent of absorbed dye remains unfixed compared to between 15 per cent and 30 per cent of conventional reactive dyes. Unfixed dye is easier to remove at lower washing off temperatures as it is not bound to fabric fibres in a high-salt solution.
As a result, processing mills can dramatically increase productivity and save since dyeing and washing off cycles are substantially shorter. Less energy, water and salt are required, and carbon dioxide emissions are greatly reduced because water used in the dyeing and washing off process does not exceed 60°C. This helps our clients reduce their carbon footprints. 
*Current detection limit 5ppm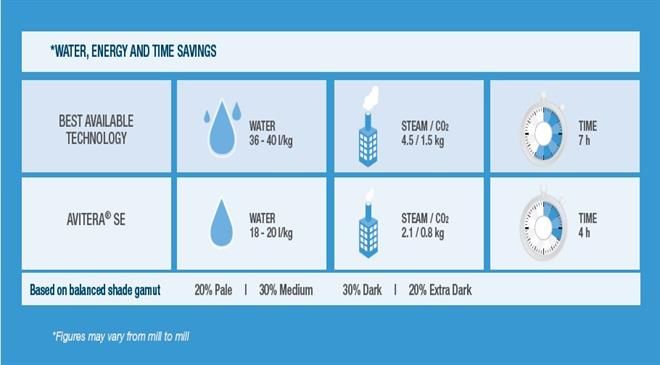 What are Huntsman's textile division's future investment/expansion plans?
Huntsman is expanding its markets worldwide by focusing on delivering innovation with purpose. Our products address customers' needs to meet global textile trends and provide solutions to some of the world's greatest challenges. We focus on meeting real challenges and addressing economic and environmental sustainability, creating differentiation with our innovative products. For example, with our garment differentiation, this level of commitment and support is behind all our market development efforts. For example, Huntsman Textile Effects is at the forefront of developing sustainable, eco-friendly dyes like Avitera SE  that are not only cost-effective but allow substantial reduction in the amount of water, carbon dioxide emissions, time and energy required in the dyeing process.  
On the chemical front, we have developed a range of intelligent effects. These include durable water repellents involving a technology shift from harmful PFC to PFC free/non-fluorinated alternatives in apparel and outdoor textiles, freshness, colour fastness and sun/UV protection. They offer maximum safety and stringent quality. These innovations make TE uniquely positioned for value creation.
Our digital inks are used in the largest digital printing mills and machines globally. We are certified and recommended by major print head and machine manufacturers helping our customers to be more eco-friendly, deliver higher value and cost-effective  products. We are constantly helping mills optimise and standardise dyeing processes to improve output and profitability through our Productivity Improvement Programme. We are committed to help customers solve their toughest challenges, maximise productivity and achieve sustainable growth.
The textile industry is striving to create cleaner and more transparent supply chains to meet regulations and consumer demands. Brands require textiles that combine excellent performance aesthetics to meet the latest trend and demands across end use markets in apparel, home and functional textiles. With Huntsman textiles, we are well equipped to offer a comprehensive range of products and services that deliver on performance and end-use requirements.
What is the percentage profit spent on R&D? What growth has this figure seen in the last five years? What new is being worked upon?
Innovation has always been absolutely critical to the growth and sustainability of the Huntsman business. We have a proven record of scientific and technological innovation. Today, the Huntsman Group has nearly 5,000 patents, granted and pending, which translate into an expanding inventory of products and an increasing presence in worldwide markets. 
At TE, we have approximately 700 patents. Over 50 per cent of projects are related to environmental sustainability and 25 per cent of our products are less than five years old.  We consistently invest around five per cent of turnover in research and technology. While many in our industry are cutting back, we are investing more in dyes, smart processes in our dyes, intelligent effects and more environmental friendly digital inks. We believe in delivering innovation with purpose. As emerging technologies redefine customer needs, we have to remain agile to meet their ever-changing demands in an extremely competitive marketplace.  
What about your own facilities? How big is the carbon footprint there? Do share at length.
Huntsman Corporation releases an annual Sustainability Report in which it shares global performance of all facilities across its divisions. Total carbon dioxide (CO2e) emissions in 2015 were below the 2006 baseline and decreased relative to the prior year. 
Huntsman's 2016 Sustainability Report is available online at: http://huntsman.com/corporate/a/Sustainability/Sustainability%20Reports