Half of exhibitors at Interfiliere HK'19 showcased sustainable efforts
Started in 2007, Interfiliere Hong Kong is one of many Eurovet trade shows for intimates and swimwear. The two-day annual event has reinvented its conventional trade fair format into a selective networking platform since 2017, focusing on body fashion, bringing together buyers, select innovative mills, accessory suppliers and original equipment and design manufacturers (OEM/ODM) from all over the world. Show director Marine Veillon briefs us about the highlights of the show held on 20-21 March and shares insights into the trends in the lingerie, swimwear and activewear markets.
What was the theme of the recent Interfiliere Hong Kong?
Interfiliere shows cover several themes, thanks to the variety of events like networking meetings, forums, conferences and onsite events. 
This year's show focused on sustainability and circularity, through dedicated conferences and panel discussions, and the presentation to the industry of a public-private partnership (PPP) project we launched with support from the German ministry for economic cooperation and development and four Indonesian lingerie manufacturers. The underlying idea is to work with these four companies and a specialised consultant to go a step further in their sustainability initiative and in reducing waste. 
Innovation plays a big role in Interfiliere Hong Kong. With the help of a steering committee comprising key brands' sourcing and design directors, we select only the most innovative exhibitors for the show. We also give the stage to some exhibitors to showcase their latest developments.
We dug into Gen Z consumers and emerging consumption patterns through conferences by Tmall and Daxue Consulting.
And finally, trends are always a key theme in our events. The Creativ' Lab presented the fall-winter 2020/21 trends and cast the light on the designers and 'makers' of the body fashion industry. Vanessa Causse decoded the coming fall/winter trends and inspirations.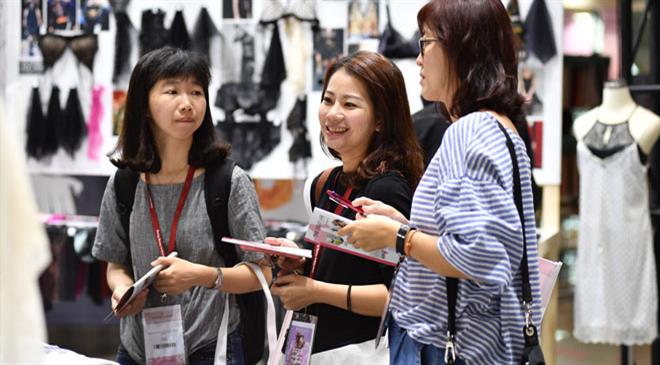 What were the key highlights of the show? How different is the show compared to Interfiliere Paris?
Interfiliere Hong Kong is a unique event in the Interfiliere family. We have developed it as a selective networking platform at human scale. Furthermore, all our exhibitors are confirmed by a steering committee gathering influential buyers like Lululemon, Puma, Aimer, Etam-Unidz, Neiwai, Decathlon, John Lewis, Marks and Spencer, Gourami, Charmante and Wacoal. The aim of this committee is to assist us in curating the most relevant offer for our visitors. Our visitors are invited by our team and we give priority to decision makers, designers and new brands.
One of the highlights of the show would definitely be the Gallery, a space accessible only to visitors,  where they can see, feel and gather digital information about each exhibitor and its latest samples, as well as the most representative of their know-how and collection. 
We were also extremely happy to host the Poly-U final year students catwalk show. The 12 best students of the Intimate Apparel class each presented three garments to the public, and a jury of professionals picked six of those for the next step-developing three more garments and showing their collection to a major catwalk show in June.
And the Creativ'Lab, of course, was impossible to miss. A mighty structure with a roof made of a myriad of coloured paintbrushes, and under this roof samples are exhibited and shopping illustrates the trends.
From which countries was the representation strongest? Companies from which new countries exhibited?
Most companies exhibiting in the show are from Asia-Hong Kong, China, Taiwan, Indonesia (with two new exhibitors), Japan and South Korea (both with new exhibitors in fabrics), and India. But we also had exhibitors from France and a new exhibitor, 3T Transfers, from Lithuania. 
Visitors are mostly from Asia as well, with Hong Kong and China ranking high, followed by Australia, New Zealand, Taiwan, Korea, Thailand, Indonesia and India. But buyers from the United States, the United Kingdom, Spain, France and Russia also visited the show.
What is the percentage of fibres, fabrics, accessories, laces & embroideries and OEM/ODM exhibitors at the fair?
It is always difficult to be precise as some companies and exhibitors are able to produce two or more of the product categories you mentioned. Innovative producers sometimes explore new fields.
Around 30 per cent of our exhibitors were OEM/ODMs. Fabric producers accounted for 28 per cent, followed by lace manufacturers at 22 per cent. Manufacturers of accessories and embroideries made the remaining 20 per cent.
How would you describe the market for innerwear and swimwear in Asia? What factors are shaping the industry?
We see a clear growth in consumption of both innerwear and swimwear in Asia, led by China. Growing disposable income, popularisation of water sports, fit figures and the development of athleisure have been supporting the market. In addition, innerwear and swimwear have ceased to be merely 'functional' purchases; those are now considered fashion, and consumers in this part of the world buy more pieces than before. 
Today in China, the lingerie market is rather fragmented, with the top 10 brands holding around 20 per cent cumulative market share, whereas in the United States, the top five brands control 70 per cent of the domestic market. This enables numerous new brands to enter the game in loungewear, lingerie, swimwear, yoga/activewear, not only in China, but also in Malaysia, Thailand, Singapore, Hong Kong and Japan. They are ultra-creative, play with lingerie, sports, fashion codes and their online presence facilitates distribution. It is estimated that within a few years, half of the lingerie, swimwear and activewear purchases will be made online in China.