We encourage weavers to be designers
Jaipur Rugs is one of India's largest manufacturers of hand-knotted rugs. Headquartered in Jaipur, the company's operations span across over 20 branches, six states and 600 villages. Based on the principles of equity, empathy and dignity, the company has transformed into a globally-conscious brand connecting 40,000 artisans, with clients across 40 countries.  Company director Yogesh Chaudhary speaks to Fibre2Fashion about perfecting the timeless art of handmade rugs.
What is your growth story since you began?
We started when my father NK Chaudhary borrowed Rs 5,000 from his father and started work with just nine artisans and two looms in 1978. That eventually gave shape to Jaipur Rugs in 1999.
Jaipur Rugs is a family business. After completing a two-year graduate programme at the Boston College in the United States in 2006, I joined the family business, where I began working with the finance department. Soon after, I got into operations and sales and became the director. When I had joined, we were a relatively smaller company growing at a phenomenal pace, and hence, largely scattered in terms of processes. The foremost challenge was to streamline different functions, systematise the processes and hire talented employees under each vertical. To give you an example, we had no manpower in the sales team then. But now, we have a robust team of some brilliant sales experts, who work with global consumers in more than 135 cities.
How are you dealing with the revision in the GST rates?
To unify the complex taxation system under a central umbrella was a brave and much-needed reform. At Jaipur Rugs, we have taken all necessary measures and made the necessary changes to adhere to the reformed taxation system.
How innovative are your handmade rugs?
Our innovation lies in carrying forward a legacy and encouraging creativity. An example of this is our collection 'Manchaha', fondly known as the Artisan Originals collection. As part of this collection, weavers were encouraged to become designers and they use an unassuming loom as a canvas to weave a rug art. For weavers in rural Rajasthan, creating something entirely on their own on a loom was something they never imagined would ever happen. This initiative taps into the untamed fashion from the villages of India. It experiments with the originality of rural craftspeople and nurtures their creative potential, which remains unexplored at a global stage. For the first time ever, weavers get to be designers of their own rugs. Each rug in the collection is a masterpiece of design inspiration. It is imbued with the individuality of its artisan, which is evident in unique artistry. 
Each rug in the 'Manchaha' collection is a one-off piece and a treasure for those who connect with it. Our rugs are inspired from rural India, which is also what gives us a unique identity and is a pull for eminent influencers to collaborate with us.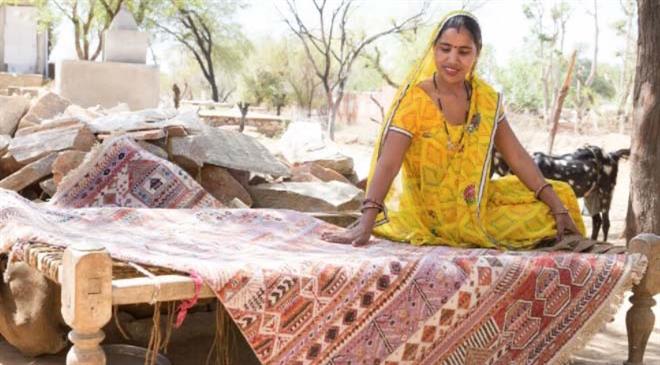 What made you to foray into designing rugs?
The ultimate objective of Jaipur Rugs is to bring dignity back to the age-old craft of hand-knotted rugs. We communicate to the consumers the stories of more than 40,000 artisans, 80 per cent of which are women from scheduled caste and scheduled tribes. We bring out the highest quality work from them and we deliver this to the consumers across the globe, which is truly unique.
How much time does one rug take to be released as a final product?
There are about 83 processes that come together to create the final product. Each of our rug passes through 180 hands, perfecting the timeless art of handmade rugs. Jaipur Rugs continues to work with over 2,500 women yarn spinners from Bikaner to spin yarn on a rudimentary 'charkha', consciously choosing not to replace hundreds of hand-spinning jobs with machines.
The time needed to hand-knot a carpet usually depends on its quality and size. To complete one row of knots, on a loom, a weaver can take many hours, depending on the size of the rug. A rug that is 6 feet by 9 feet can take 6-9 months to complete and that is when the weaver is weaving for hours every day. A weaver can tie up to 196 knots in one small square inch. A regular area rug in a living room can have close to two million knots.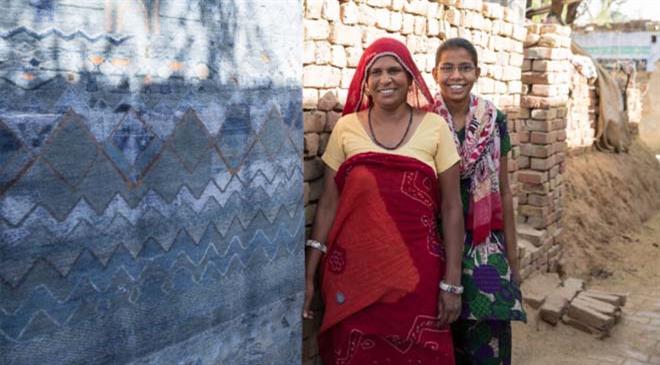 What is more difficult to design - clothes or rugs?
Both, clothes and rugs have their own set of challenges, hard work and beauty. There is no comparison. Irrespective of what the final product is, it requires the same kind of attention, care, creativity and emotion.
Where do you source the materials from?
Our supply of wool majorly includes bulk purchase from Bikaner. Wool can't be procured throughout the year. Sheep shearing time leads to change in the colour. In India, the sheep are shorn twice a year, during spring and autumn. 
We also import wool from Argentina, Greece, China, Saudi Arabia, Pakistan and New Zealand.
Wool procured is a blend of different colours. Sorting is done to achieve same coloured wool. Also, a complete manual sorting is followed to assemble the required fleece considering colour, type of fibre, length and thickness.