The #iwearhandloom hashtag brought an entire community together
Kalaneca was launched by a mother and her twin daughters to showcase the artistic weaves of Andhra Pradesh, with a focus on promoting handwoven saris from Uppada. In a chat with Fibre2Fashion, founders Ramya Rao and Kavea R Chavali describe their journey in launching the brand, the initial challenges in Kalaneca understanding the supply chain, and their plans ahead.
When and how did you launch Kalaneca? What gave you the idea to work with handloom saris?
What started out as a hobby in 2014 turned into a passion in 2018 with an intention to celebrate the essence of a sari. Kalaneca (kala: art, neca: nikaah, or marriage) was born out of a desire of twin sisters helping their mother promote the weaves of Andhra. We were always exposed to handwoven weaves. Belonging to a defence family, our parents would encourage travel to understand the culture of a place and every time we travelled, we would bring back something handmade or handwoven from that place. We also realised soon that a powerloom sari might be easy on our pockets but would also be highly uncomfortable to drape and still be yourself. After engaging conversations and watching the sari being handwoven on a loom, we realised that every handwoven weave has a story and a touch of love.
What were the initial challenges after launching the brand?
The initial challenges were all about understanding the basics of the supply chain, the target audience as we didn't come from a business family. Everything-from speaking to the weavers to creating the sari to shipping it-was done by us. So, there was no concept of a weekend because we were practically working every day and managing every tiny bit by ourselves.
What is unique about the weavers of Uppada? How many weavers does Kalaneca employ?
The uppada weave is unique as every sari is woven on the loom at one go. Unlike some other handwoven saris where the border is attached, an uppada sari is woven in one stretch. Uppada saris are also lightweight in nature and are popularly known for the uppada jamdani work of art. There are about 1,500 weavers in the tiny hamlet of Uppada and each family proudly creates some stunning work on the loom with sheer passion and skill. We have more than 20 looms in Uppada and we work with around 30 weavers. 
Which other traditional weaves of Andhra Pradesh are the weavers working on?
While the uppada is our central focus, we have recently moved to exploring weaves from other parts of Andhra. We will be travelling to some smaller parts of Andhra to bring their beautiful weaves and try to popularise them just like we did with the uppada.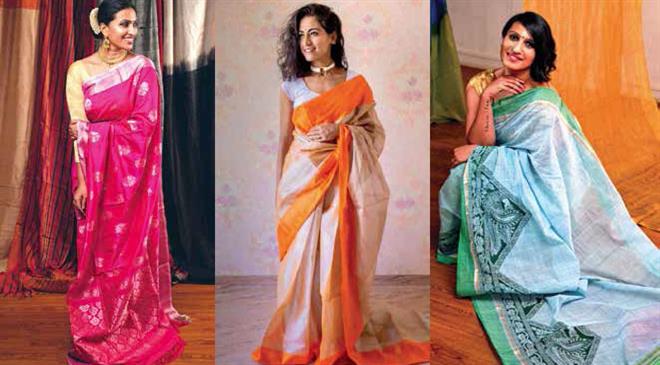 How do the weavers benefit from working with Kalaneca?
Since we design the saris and share those with our weavers, it also gives them an opportunity to challenge their reative faculties and craftsmanship. We have created some stunning customized jamdani saris which the weavers were very proud to be part of. The smiles on their faces are priceless when customers thank them for their art and skill. The weavers are benefitted not just monetarily, but there is also a sense of pride when a customer wears their creation.
What is your design strategy?
While weavers in Uppada focus on the generic motifs, our design strategy is to create contemporary designs on a traditional loom. For Kavea's winter wedding in 2018, I (Ramya) designed her uppada sari with the pallu featuring her childhood image of a dancer. It took four weavers, one month to try and then replicate the picture which was woven unlike just digital printing on a sari. Kavea's sari pallu featured the work of a Raja-Rani with horses which is not a conventional South Indian design. Otherwise, beautiful motifs of flowers are common in most of our regular designs.
Where are your sourcing bases in India?
We would not like to reveal the sourcing bases, but those are across Andhra Pradesh and Telangana.
What is your production schedule like? How fast can you deliver the orders?
A silk sari takes 2-3 days to weave if it is a simple plain sari. Depending on the design, the production schedule changes. Every sari creation begins from scratch which includes the sourcing of threads, dyeing of the threads, placing them on the loom and then creating the sari. However, once a sari is ready, it gets delivered within India in 3-5 working days and worldwide in 7-14 days.