How are the SMEs responding to this shift in the market place and how are they placed now?
SK: To be fair to the SMEs, the emerging technologies are not only capital intensive but also highly skill intensive as the level of skill needed to operate high-end technologies naturally need operators with matching knowledge and skills to take advantage of the technology he/she is required to operate. The ESG - Environmental, Social and Governance - is another dimension that has only worsened the case for SMEs as the standards to be met require substantial capital and their operating costs are very cost intensive. The unfortunate part is, there is no premium by way of higher price for having a better ESG credential and the difficult part is there is no one standard and one certifying body that the buy-side believes in. This is a huge burden that the SMEs are forced to carry to be in business. 
The scenario now is fast changing from "technologies as enablers of business" to "technologies as disrupters of businesses". Again, to be fair to the SMEs, these changes are happening faster than the SMEs can cope with given their meagre resources and risk profile. 
There is no doubt a realisation among the SME communities that the model and economic framework that once worked very well for them and their customers isn't good enough to square up with current market dynamics and the factory standards that are now a must under the ESG standards followed by global mainstream players. The definition of Manufacturing Real Estate and Factory standards has undergone a sea change, the language of performance metrics is no more the same; likewise, the margin for error in any area is next to nothing and last but not the least, the buyers are averse to accommodating inefficiency costs and rightly so in the products they source. On the buy-side, the focus has shifted to working with strategic partners than with vendors.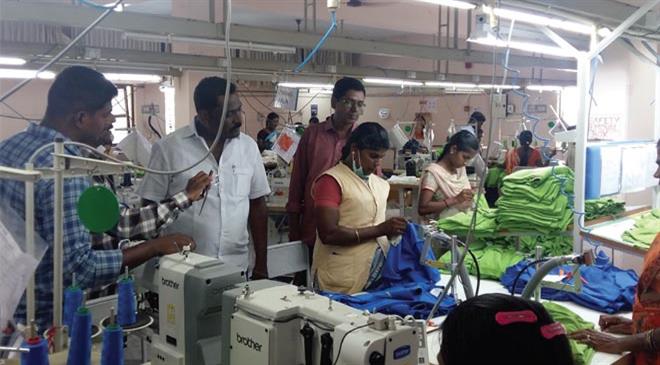 What are the interventions needed?
SK: The gap in the capacity of SMEs to function in a volatile environment and with resources that will stand the ESG scrutiny of global brands has widened over the years. The governments of the day came up with a slew of interventions ranging from TUFs to cluster development schemes like SITP helping clusters to overcome the infrastructural gaps. Despite these overarching and well-intended policies of the Central and state governments, large scale transformation is yet to be witnessed and that is because there is still one major factor that stands in the way of not only creating a level playing field for the SMEs but also putting them on an equal footing with their larger counterparts in the market place. The limited gains that the SMEs were able to achieve were largely confined to the disadvantages they faced in the area of infrastructure. Under a cluster model, the SMEs were able to overcome the infrastructural gaps with real estates enabled for high quality manufacturing but still fell short of the 'scale-centric' economic advantages that were found to be crucial in helping them to compete on an equal footing with systems that were better integrated with viable economies of scale and plant size. 
SS: The roles of trade bodies and associations should also become solution-centric. The tendency of representative bodies continued to rely on subsidies, grants, subventions and other financial offsets to keep their heads above the water. Against the back drop of commitment to reduce subsidies, especially in the context of WTO rulings relying on such support is not only unsustainable but also economically disastrous. In my view, it is important for an entity to stand on its own economic legs to insulate its business from political risks. Financial offsets of this kind will most certainly skew our financial structures and without any doubt can leave an organisation in the red in a flash for all it takes is a change in policy for the house of cards to come crashing. The point is the growth of an industry or sector depends on the innovation it is capable of producing at every single value link that drives it and this should not be sacrificed at the altar of easier options like a handout or financial offset. Financial offsets will have to be used selectively and only as short-term measures and only for offsetting global skews such as a GSP where duty waivers of an importing nation where it creates an undue advantage for a beneficiary nation even if its products arrive with a greater price than other competing nations. 
Where should this journey begin?
SK: Process standardisation and workflow automation is still a big missing piece in the industry and that's where this journey should begin for without this the question of enablement doesn't arise. The ability to collaborate seamlessly on a real time basis puts an enterprise at a different level and for an enterprise to acquire this ability process standardisation and workflow automation is the first matter it has to attend to. This is essential for setting the stage for other business applications such as Enquiry Management, Tech Pack compiler, OME (Order Management and Execution System), Decision Support Systems, WMS and Big Data Analytics to name a few to fall in place. This transformation is critical for enterprises to become more agile, precise and fast in responding to events as they unfold in a collaborative environment. The communications as they happen today are done over phone, email and personal meetings. This unstructured format leaves many critical data points, decisions and information outside the analytical scope of an enterprise which they could have otherwise used for being more proactive than reactive in their operations. Many would like to argue that process standardisation and workflow automation  is impossible to achieve in textiles but deep within this chaos of countless loops and iterations, there is a structure that is waiting to be recognised. The fraternity should realise that this standardisation does not include the "creative spectrum" that designers use.
What's in store next?
SS: We firmly believe that technology is not only an enabler but a differentiator as well for businesses. It changes the competitive and strategic quotient of an enterprise when well designed and deployed. Most of the competitive and strategic advantages that an enterprise is likely to find now lies mostly in the technology space and SMEs are the worst affected on account of poor scales in adopting technologies that is becoming common place even in our personal lives. 
SK: Keeping this point in mind, Hydra has put in place a blueprint that will see the ACI framework riding on a highly advanced tech architecture making the job of establishing context aware ACI manufacturing ecosystems that much easier. 
The arrival of new technologies such as IoT, blockchain, cloud computing, AI-machine learning -deep learning, big data analytics and GPS to name a few has brought in its wake many exciting possibilities to work with. We see substantial scope for these technologies to affect a paradigm shift in the way we innovate, create, manufacture and deliver values to end consumers. It is a new Industrial Age where the opportunity to excel is limitless and Hydra ACI intends to use this opportunity to bring a new definition to cluster, especially in the developmental space that looks at strengthening the socioeconomic status of the weaker section of the societies in our country.