Customer service needs to be flexible, responsive
Kern-Liebers Textile comprises Kern-Liebers Knitting Parts, Saxonia Textile Parts and Bayerische Nadelleistenfabrik Leistner. The group offers a complete range of needles, sinkers and components for weft and warp knitting machines. It also offers a range of pinned for stenter frames and combing machines. Managing director Johan Steeghs shares details about the potential markets for this ancillary industry and the challenges that it faces.
What is the global market size of textile machinery components and parts? What is the growth rate expected by 2020?
The latest market reports indicate that the global textile machinery industry is expected to grow about 14 per cent from 2015 to 2020. The main growth markets are in Asia, particularly China and India.
What is your share in the global market for textile components and parts?
Kern-Liebers Textile is the global market leader for parts like sinkers, guide needles, trick walls, and selectors, etc, for the circular knitting, flat knitting and warp knitting sectors. Additionally, we are expanding our product range for needles in the various market segments as fast as possible.
Which are your major markets for needles, pin plates for stenter frames, and technically demanding parts? Where is the potential growing?
The Asian region still is by far the major market for our main OEM partners in Europe as well as for our products in general.  Many European machine builders are already producing textile machinery through own subsidiaries in their biggest market-China. At this moment, we see a very strong demand for our sinkers and guide needles for the warp knit market as well as a continuously high demand in the flat knitting sector. The strongest growth that we are expecting is for elements and needles for large diameter machines.  Looking at pinplates for stenter frames, as the worldwide leading manufacturer of high quality pinplates for stenter frames, our main market is still Germany through our close cooperation with main OEM`s like Brückner and Monforts. The Asian region will remain-in the near future-the biggest growth market for textile machinery parts for various market segments.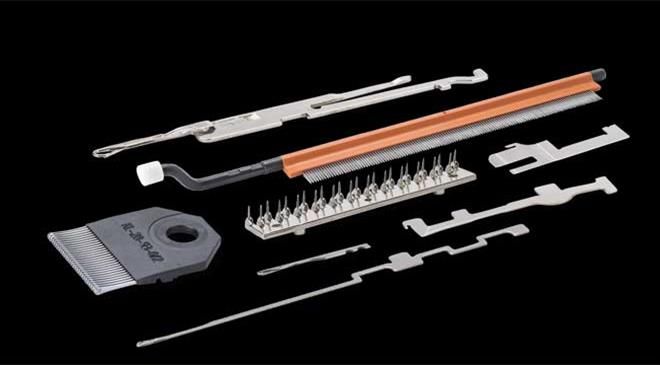 What are the major challenges that the textile machinery and accessories industry faces? What would be your suggestions to overcome them?
The real challenge will be in being able to have a highly productive and cost-efficient lean manufacturing in order to face the growing low-cost competition from Asian producers. A very flexible and responsive customer service is absolutely necessary to meet customer demands. The markets are developing faster and faster. New trends come up in ever shorter intervals.
Which major machinery manufacturers do you work closely with?
We work closely together with all main machinery manufacturers worldwide in the circular knitting, flat knitting and warp knitting industry. Examples are well-known manufacturers such as Stoll, Shima Seiki , Lonati, Karl Mayer, Mayer&Cie, as well as all big manufacturers in Asia.
What is the kind of after-sales service you offer?
A complete range of spare parts and strong growing of needle programme comprise our after-sales service. There are more than 80 exclusive dealers and subsidiaries worldwide who have their own stock of the most important elements and needles for their respective countries, besides offering technical services through our technical application department.
How have the last two fiscal years fared and what are your expectations from the next two.
In the last two years, Kern-Liebers Textile has seen a steady growth and we expect the same in the next few years mainly through the expansion of our needle programme.
What are the top three sustainable policies followed at Kern-Liebers?
Our environment is in need of protection. That's why we're committed to sustainable use of the resources available to us. We have introduced an environmental protection management system, a system we also live by in our daily work. We constantly focus on the reduction of energy and water consumption while using alternative energy resources (like solar energy), the reduction of waste and waste water as well as the substitution of hazardous materials and substances.
Do you plan to expand your current product offerings? What are your future plans?
Kern-Liebers Textile is constantly expanding its product range and has the world's leading range of high-quality parts and components for high-performance knitting systems in the textiles industry. As a global market leader, we want to offer our high-quality products at competitive prices. We are a reliable, highly competent partner for all our customers. We are constantly testing new methods and materials to achieve the best possible results. Innovation of new products is a must in order to stay a market leader and be an attractive supplier.  (HO)