We forecast significant expansion in Greenwear
From its headquarters in Frosinone, Italy, Klopman has become Europe's leading manufacturer in the production of special blends for the protectivewear, corporatewear and workwear markets. Alfonso Marra, CEO, Klopman, dicusses with Paulami Chatterjee about how the company was impacted by the corona pandemic, the trends for 2021 and its expansion plans for Greenwear range of products.
How has the Corona pandemic impacted fabric manufacturers like you? What steps have you taken to tide over the crises?
The Italian government recognised the priority of Klopman activities, so the company was not affected by the lockdown. Many suppliers were able to work thanks to their strict relations with Klopman, guaranteeing the continuity of production process. Klopman took the pandemic extremely seriously, quickly adopting all safety measures required by national laws against Covid-19 and planning the reorganisation of employee presence in the plant to avoid risk of contamination. The construction, in record time, of a specific supply chain dedicated to mask production was another step the company took to face a difficult situation.
How has the sourcing of raw materials been affected?
All the supply chain was recognised as essential activity by the Italian government and our partners were able to work as usual and deliver to us.
The virus is here to stay. What steps have you taken to mitigate its impact - be it at the supply chain level or sourcing of raw material etc?
Our supply chain did not stop its activities during the lockdown and our partners gave us continuous support thanks to a consolidated relationship with Klopman. This cooperation was crucial for the continuity of our business and suppliers' activities.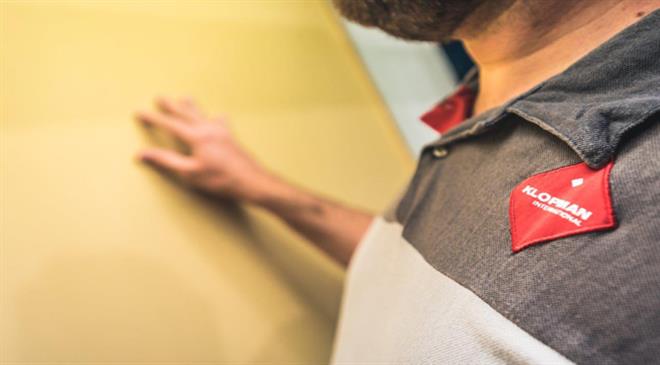 What steps are you taking or have taken to face the challenges like order cancellations?
We noticed a slower demand from the market and some changes in orders, but the great majority of our customers confirmed orders.
What are your strengths as a fabric manufacturing company?
Klopman International has been a European leader in the production and marketing of technical fabrics for workwear for over 50 years, with three business areas dedicated to different fields of application: workwear, protectivewear and corporatewear. The company was the first to introduce the use of polyester/cotton, gaining a third of the European market in some sectors and producing fabrics in over 130 styles and different colour shades, some even designed ad hoc for the individual customer. Advanced technologies and centralised process control, which monitors and simultaneously corrects 3,800 machine stitches, are just some of the advantages that make Klopman an industrial reference for the sector and its fabrics more resistant to shrinkage and colour alterations. The great commitment and trustworthiness of our employees is, for us, a crucial factor of success.
Who are your competitors in the international market?
Our competitors are the most important producers of technical fabrics in the world.
What percentage of your products is set for the domestic market and how much do you export?
95 per cent of our production is dedicated to markets outside of Italy.
Which are your major export markets?
European markets take the main volume of our production, but we are growing very well in South East Asia in recent years.
What are your core competencies for the export markets? Which fabrics and blends are popular in them?
Our core business is the production of fabrics in the ratio of 65 per cent/35 per cent polyester-cotton, the most important blend in workwear still in use today; a blend that Klopman introduced for the first time in the late 1960s. In the last few years, our customers have required more and more protectivewear fabrics, like K-Flame, our inherent flame-retardant fabric range, or our stretch solutions that guarantee the highest level of protection and comfort. An important trend is the rapid growth of our Greenwear fabrics, which are made with sustainable raw materials like recycled polyester and organic cotton. We are offering pioneering solutions in this kind of market and this decision has proved successful since production has quintuplicated over a period of three years. Now our customers can choose sustainable raw material for any kind of Klopman fabric.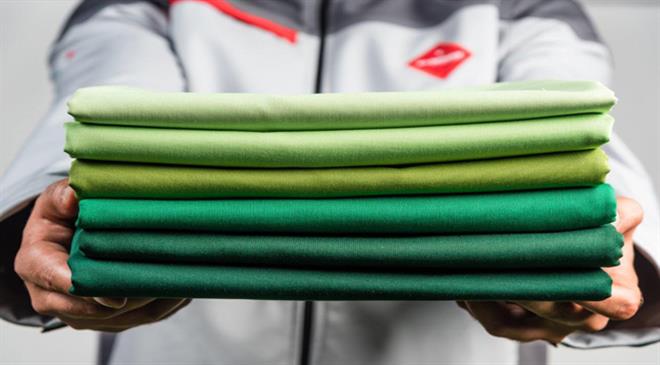 What types of fabric varieties are popular in protectivewear and workwear?
A very popular variety in our protectivewear range is K-Flame: flame-retardant fabrics designed to offer resistance to heat, flames and welding as well as giving antistatic and electric arc protection. Independent analysis has demonstrated the excellent performance of the fabric in terms of protection and also in breathability and absorption of body moisture. In fact, the K-Flame PRO 175 fabric, with a modacrylic base, has proved to be the most breathable product compared to its competitors and ensures a greater feeling of freshness to the wearer. Likewise, K-Flame Xtra 165 is the ultimate choice for warm, humid environments, as it has proven to be softer and more comfortable than other fabrics because it does not stick to the skin. The fabric also limits the risk of skin irritations reaching the highest values in working conditions and quickly absorbs sweat like no other in its category.
In the workwear market we obtained excellent results with our stretch fabrics that offer greater freedom of movement and total ease of wear. We have three ranges of fabrics: Star-Line - polyester/cotton blended fabrics produced using Klopman's advanced fabric construction technology, with a weave that gives them a 'natural' stretch without the need for any added fibres to enhance their performance; Indigostar - a completely new collection of poly-cotton mechanical stretch fabrics with a denim look designed to offer the wearer superb comfort and freedom of movement; and K-Flex - a completely new range of fabrics which include the Xlance fibre in the blend, an innovative and advanced elastomeric fibre that bring new levels of performance.