Can you give us more details of Megatec, the multi-functional protectivewear fabric?
We believe workwear with multiple protective capabilities is safer for wearers and better for businesses. Klopman fabrics offer multiple levels of EN-accredited protection based on a wide range of Personal Protective Equipment (PPE) fabrics: flame-retardant, antistatic, high-visibility, barrier and chemical splash, water, oil and soil protection. The range of Megatec fabrics all produced and engineered in the Klopman facility in Italy, are developed in antistatic cotton-rich blends with a flame-retardant treatment. Megatec is ideal for applications requiring multiple levels of EN-accredited protection, from heat and flame protection (ISO 11612 – ISO 14116) to antistatic properties (in compliance with the standard EN 1149-5, EN 1149-3 and ANSI/ESD STM 2.1). Welding protection is also guaranteed (ISO 11611 and IEC 61482-1-1), as well as electric arc protection (EN 61482-1-2 and IEC 61482-1-2), chemical resistance property based on standard EN 13034 Type 6, and a high-visibility yellow option available according to EN 20471. Megatec is available in different weights to suit different clothing needs, all of which are exceptionally comfortable, durable and cost-effective.
Who are your customers in general?
Our market is focused on workwear, even if we have some clients that cover other sectors more linked to apparel and corporatewear. Workwear fabrics are more and more used by fashion designers for streetwear as it is very appreciated by young people.
How does your supply chain network work? What regions of the world are parts of your supply chain?
Klopman has been able through the years to build strong and long-lasting relationships with all our suppliers thanks to mutual trust and openness. The company has a lot of European suppliers and 695 of them are based in Italy. The presence of several international partnerships and projects is a warranty of reliability and continuity in our production process.
What is your annual production capacity of fabric?
Klopman produces around 40 million metres of fabrics in its Frosinone plant annually, the equivalent of the Earth's circumference, while the Jakarta plant can produce up to 15 million metres to serve the Asian market directly.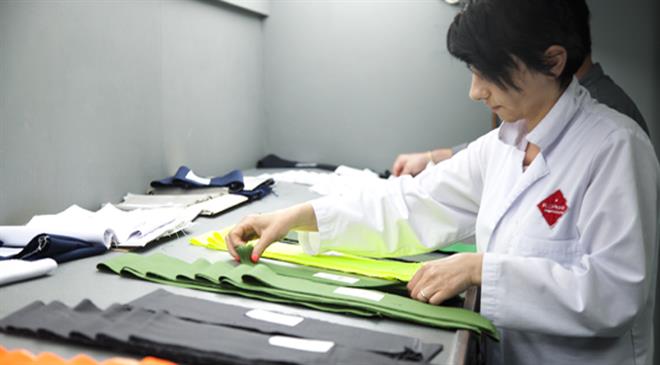 How are you bringing innovation to your products? Which new fabric technologies are you experimenting with?
R&D is crucial for Klopman and our commitment is focused on the development of a new business model based on circular economy and sustainability. We are improving technologies related to the use of recycled raw materials with the aim of producing more and more sustainable fabrics, without any compromise in terms of quality, comfort and reliability. Klopman was a pioneer in the development of a Greenwear range and we are working to minimise the impact of textile industry on the environment, hoping to be set a best practice standard for the entire market.
What steps do you take to ensure sustainability across your value chain?
The last Klopman sustainability report, the company's third, certified Klopman's determination to make corporate social responsibility, respect for the environment and its local communities and attention to its employees all critical success factors. In fact, the entire production process is aimed at minimising energy and resource waste, with immediate benefits not only from an economic point of view but also, and above all, from an environmental perspective. For example, the company reduced consumption of electricity and water by 17 per cent and 12 per cent respectively in one year, 99 per cent of waste was managed in a sustainable manner through recovery, reuse and recycling procedures, and the production of fabrics made with ecological materials reached 2.3 million metres with an increase of 77 per cent compared to 2017 and quintupled over the past three years. One example of this approach is Klopman's pioneering commitment to the continuous expansion of its range of sustainable fabrics, giving its customers the opportunity to choose recycled polyester, made from PET plastic bottles, throughout the entire product portfolio. It is a decision that has been welcomed by the market, with production volumes increasing by about five times the quantity since 2016. Klopman built an innovative cogeneration plant, which uses the latest technologies to reduce both energy production costs and the impact on the environment. In a single year, the new plant will enable a reduction in CO2 of more than 5,100 tons, -72 per cent in nitrogen oxide emissions, -58.9 per cent in carbon monoxide, -59.5 per cent in dust, and a reduction in consumption of water equal to 33,120 cubic metres per year, as well as the elimination of chemical substances used for the demineralisation of the water in the old power plant. Klopman won the "Sustainable Enterprise 2019" title promoted by influential local associations, recognising the value of the new cogeneration plant project. Klopman has also been awarded level 3, the highest level, of the STeP (Sustainable Textile Production) certification, the most authoritative certification on the market for the textile industry.
What will be the trends for the summer of 2021?
We think that the market will favour light fabrics with a high level of comfort and outstanding antiviral/antibacterical protection. One of the main consequences of the pandemic is a growing attention to human needs and we think that this trend will influence even workwear.
What kind of capacity expansion plans do you have for future?
We forecast a significant expansion in Greenwear, which has continued to grow in the past few years, and a good performance for protectivewear. Sustainability and protection, we believe, will be the main drivers in the years to come. Geographically, we also expect to strengthen our position in Asia, where we expect a growing market in the next years.
What are your growth expectations from the company for the next two fiscals?
It is difficult to make forecasts, but we hope for fast growth after the crisis, a scenario that is a very real possibility according to economists. Klopman is an export-oriented company and we are always committed to the search of new markets. We think that this characteristic will help the company to face the crisis better. (PC)