As the chief designer at Kumbaya, share with us something about how the function of designing shapes up at your enterprise.
Although the designs are made by me there is a constant effort to teach the design process to the local team. Kumbaya's design principles derive from being rooted in a remote, rural, backward region with a lack of skills, raw materials, roads, transport, electricity, buildings, markets, money and traditional craft, and with no way out for poor women. 
Right from the start, before it became fashionable to 'upcycle' and to do 'jugaad', Kumbaya got into recycling scraps of fabric into striking patchwork designs. The signature patchwork designs are made by differently-abled producers as they find it much easier to handle smaller pieces of fabric, completing their work without having to leave their machines to iron a collar or placket, or to cut or fetch. Patchwork also enables women to earn more in less time. And it uses up all the waste cloth generated from garment production. 
Kumbaya works towards zero-waste. Every scrap of fabric finds its way into patchwork. Even pieces made during training are re-designed into useful products. Goods are transported in recycled cardboard cartons. Packaging is made of newspaper stitched into a carry bag with the Kumbaya logo photocopied on reused paper.
Like the patchwork bedcovers, the Kumbaya bag made of newspaper by differently-abled producers has now become part of our brand identity. Orders are received even for the newspaper bags. 
Kumbaya is of the view that design must address fair practices, particularly in India, where multitudes of fabricators and craftspeople are unable to earn a minimum wage, while designers earn the premium for using their skill. We believe that it is in the realm of responsible design to create products that not only ensure appropriate incomes to producers, but also reduce tedium while enhancing skills and capabilities. We are also applying for fair trade certification to improve standards, strengthen the brand and reach out to a more cognizant international market. 
Kumbaya's concerted effort at refreshing its design directory is with a view to cater to a wider clientele while at the same time coming up with ideas that provide work to producers with varying skill levels. The governing principle of product design is that it should be possible for the women to execute perfectly within the shortest possible time. The process of arriving at the final design is by making samples or prototypes, again and again, if required, till it fits perfectly, washes well, falls gracefully, looks good, is easy to use, and, most importantly can be impeccably executed by the producer.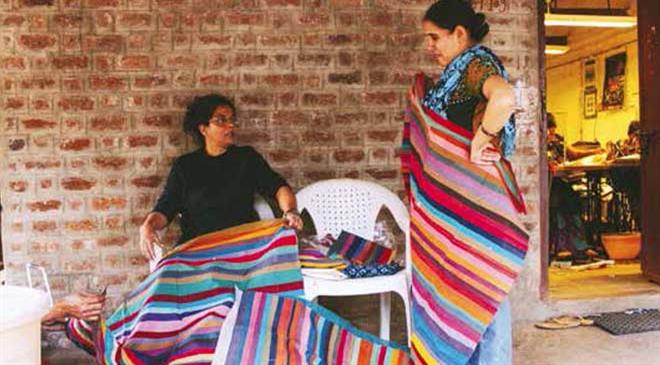 What does Kumbaya make besides apparel?
A range of Indian and Western casualwear for women, men and children are made on a regular basis. Besides this, a collection of home linen by way of patchwork cushion covers, table and bed linen, curtains, and wall hangings are also made. A variety of bags such as shoulder bags, toilet bags, shopping bags, duffle bags, rucksacks and gift bags also form part of the Kumbaya merchandise. The emphasis is on wellcut garments, and classic styles and silhouettes made of good quality fabric, and on innovative patchwork designs.
How are prices fixed for the products?
It is the producers who fix the value of their labour. Based on the complexity of the designs the women negotiate the price for their skill and time. They are informed of market rates as well; so, they learn to negotiate competitively, neither being exploited nor losing out on orders by over-charging. Kumbaya has now been incorporated as a producer company, and is called Kumbaya Producer Company Limited. The producers are the shareholders, directors and promoters of the company.
Where do you sell Kumbaya merchandise? And how is it received?
Kumbaya products are available at several Tribes India outlets across the country. They are also available at KritiEcoboutique in Puducherry, Maya la Boutique in Mysore, Saazpaar in Jorhat, Gram Bharat in New Delhi, Sasha in Kolkata, and Serenity, ReMade in India, and The Ant Stores in Bengaluru. 
Participation in exhibitions is a very important part of the brand-building and marketing approach. By participating in wellknown exhibitions, in Delhi, Bengaluru and Cochin, located in landmark areas, with high footfall, the team gets to directly interact with customers, and invite them to have a look at their work, products and purpose. Face-to-face interaction with customers also offers a rich scope for learning for the local team. Travelling out of a remote area, they are exposed to urban sensibilities as also to prices, competition, quality parameters, bargaining, criticism, praise, questions and trends. The market response they receive serves to inspire and energise them, and to improve their work further.The quality, design, cut, fabric, stitch, and range of apparel has been appreciated by the customers from India and world over. Our patchwork designs are very sought after. Our value proposition to the discerning urban buyer is an affordable, aesthetic, distinctive, quality finished product in line with international trends