India accounts for 13% of global footwear production
The footwear range of Leayan Global Private Limited was launched under the brand name Red Chief in 1997 to meet the growing demand for high quality leather footwear. Manoj Gyanchandani, Founder, Leayan Global Pvt Ltd, speaks to Fibre2Fashion about what defines Red Chief as a brand and the innovations it is bringing in fibre, soles, and linings in terms of technology and production.
What is the size of the footwear industry in India? How is the domestic market for footwear versus the export market?
India is one of the largest footwear markets in the world. According to industry data, the current size of this industry is around ₹50,000 crores, including ₹32,000 crores for domestic market and ₹18,000 crores for exports. India is the second largest exporter after China, accounting for 13 per cent of global footwear production. India produces 2 billion pairs of different categories of footwear constituting almost equal percentage of leather and non leather footwear. India is the third largest footwear consuming country after China and US with consumption of nearly 1.66 pairs while average global consumption is 3.0 pairs.
Which are your major markets?
Red Chief has pan India footprints, but strongest regions are North and West, followed by East and South.
We originated Red Chief brand from Kanpur, wherein we have our state-of-the-art manufacturing units too, so initial focus remained in North thus strengthening our presence here, followed by rest of the regions.
What is the retail presence of your footwear range? How many EBOs, MBOs, and franchisee stores will the range be available in? What is the target for the next two years?
We have a robust distribution network and are available to our customers through 3000 plus MBOs across 25 states, 170 plus exclusive stores across 14 states and are present on all leading e-commerce platforms too. We will be expanding our MBOs in existing states and planning to add another 100 EBOs in next 2 years.
Going forward the plan is to take Red Chief brand to the next level of growth by enhanced penetration across all states with better focus among youth.
What is the retail distribution strategy for tier II and tier III towns in India?
Traditionally we have been quite strong in tier II and tier III towns and further wish to penetrate across all retail formats, while increasing our presence in metros / tier I cities.
How many collections are available at the store? Which are the best-selling products/styles? Which are the best-selling price points?
Footwear - 1500 - 2500 / store
Apparels - 1000 -2000 / store
Accessories - 700 -1000 / store
The highest selling range for Red Chief is our casual shoes whose price range varies from ₹2000-4000.
Who are your target audience?
Red Chief's positioning is rugged, tough and confidently stylish, so anybody or everybody from 20-50 years (male), who has the attitude to live their dream, dare to initiate and consistently want to discover the hero lying within, is our target audience who are present at every nook and corner of our country.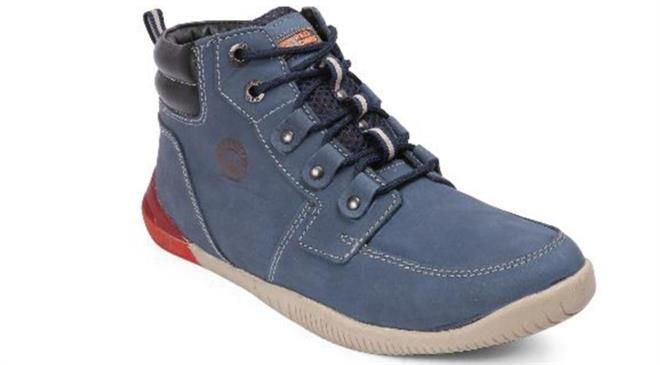 What innovations are you doing in fibre, soles, and linings in terms of technology and production?
In 2018, we launched Springer shoes with 'Hybrid Suspension System' and advanced cushioning with low density PU sole to provide a bounce effect, which keeps the user springing all day long. Since we got good response, this range is further being developed.
In 2019, we launched RC-30013 to provide our customers with ultimate comfort and style. RC-30013 shoes are made of 100 per cent genuine leather using the latest innovations to provide breathability and durability. They have light weight rubberised PU sole for better grip and PU insole for extreme comfort. This shoe is being promoted on all platforms through ongoing Vicky Kaushal 'Khel Gaye Chief' campaign.
What are the top materials that you use for casual/formal?
Genuine leather, which is core of Red Chief product philosophy.