Target at Lenzing to reach carbon neutrality by 2050
The Lenzing Group produces Lenzing lyocell and modal cellulosic fibres of botanic origin through environmentally responsible processes from the sustainably sourced natural raw material wood. Florian Heubrandner, Vice President Global Business Management Textiles of Lenzing AG, speaks to Fibre2Fashion about the company's latest breakthrough in Refibra technology and its vision to produce fibres with Refibra technology using up to 50 per cent recycled content from post-consumer cotton waste.
What is the world market share of Lenzing as a producer of specialty fibres made from renewable raw material wood? Who are your biggest competitors?
Lenzing's overall market share in wood-based cellulose fibres is roughly 15 per cent. Our specialty products Lenzing Ecovero, Tencel branded lyocell and modal fibres are one of the most sustainable branded fibres, possessing multiple functional benefits and versatility.
As awareness in sustainability becomes more prominent across the textile industry, more and more types of eco-friendly materials and companies have joined the market. We are really pleased to see more industry players joining in the value chain, making serious commitments to use more sustainable materials and embracing the eco-movement. At Lenzing, we have over 80 years of experience in producing wood-based sustainable fibres, making us confident that our high-quality premium products and forward-thinking commitments to the environment will keep us on the cutting edge of the sustainability movement. We look forward to continuing to build a more sustainable textile ecosystem for the future.
What are the major distinctions between your Tencel, Lenzing Ecovero and Veocel fibres in terms of composition and end use? What is your total production capacity of fibres?
At Lenzing, all our fibres are produced from sustainable sourced wood pulp and are very versatile when it comes to different applications.
For instance, Tencel branded lyocell and modal fibres are adopted across various textile subsegments from denim, innerwear, activewear, outerwear and home textiles. We also offer lyocell fibres with Refibra technology as a special category, which adopts both pre and post-consumer waste for recycling. Lenzing Ecovero branded fibre is a new type of clean viscose, which is an ideal sustainable alternative to conventional viscose used in textile production. Lastly, Veocel branded fibres are used in the nonwoven segment and are ideal for adoption in hygiene and personal care products, predominantly. 
Our total fibre production capacity reached over 1 million tonnes in 2018 and we will continue to expand, producing comfortable and high-quality preferred fibres for different industry usage, setting the benchmark for industry sustainability.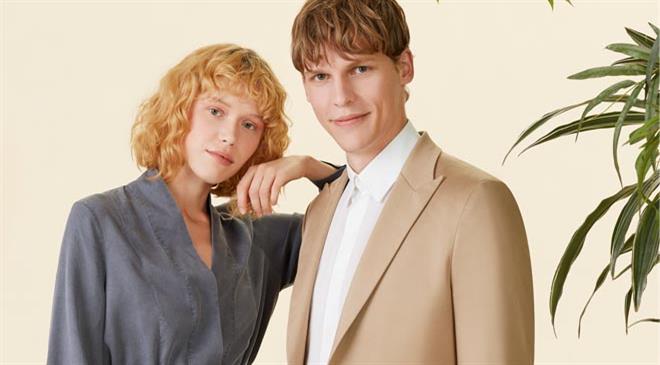 Which of the above 3 fibres is in most demand?
All three fibres enjoy very strong demand as they cater to different segments and applications. In the textile segment, Tencel branded fibres have grown into a popular material for fashion and home wear. Lenzing Ecovero branded fibres are also used in the textile segment, offering a sustainable viscose alternative to the industry. For hygiene and personal care products, our Veocel branded fibres are the ideal sustainable alternative for the nonwovens. With sustainability in our DNA, we are dedicated to working with brands and partners across different industries all of whom are making commitments to work towards a sustainable future.
Where do you source your bio-based raw materials from?
Our fibres originate from renewable raw material wood, from sources including beech, spruce and eucalyptus. More than half of these trees are grown across Europe and processed in our own plants located in Lenzing, Austria and Paskov, Czech Republic. The remaining volume is sourced from international partners, certified according to recognised criteria such as the FSC and PEFC standards.
You recently upgraded your breakthrough Refibra technology. What drove you to further upgrade it? How is it going to further strengthen your commitment to the circular economy in textiles?
By launching Refibra technology in 2017, Lenzing executed the concept of recycling with a new generation of specialty fibres. Since then, we have been driving towards a recycling process which also incorporates post-consumer waste.  
With increased public awareness of circular economy and the booming demand for sustainable solutions, we have been continuously innovating our recycling technologies to meet the pace of the industry's eco-movement. As a result of ongoing research, in September 2019, the first phase of the Refibra technology upgrade saw an increase in the composition of recycled pulp to 30 per cent. Given the recency of this achievement, we are incredibly proud to launch a second upgrade in which up to 10 per cent of the 30 per cent recycled raw material content can be made from post-consumer cotton waste.
By leveraging the Refibra technology breakthrough, Lenzing has also been working closely with brands and industry stakeholders to pursue a more collaborative transition towards greater inclusive and circular economic growth. We will continue to stand at the forefront of the industry to assist businesses with the implementation of eco-practices in their operations.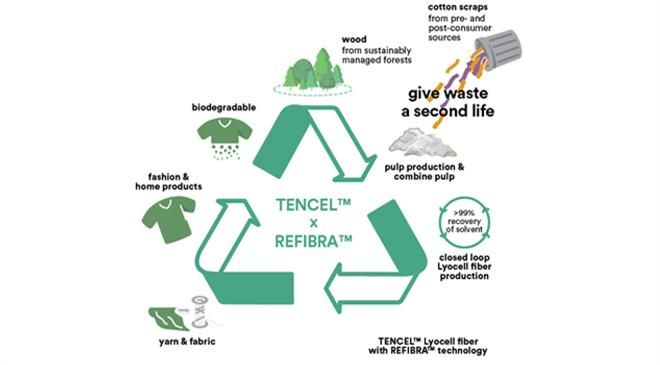 What positive impacts are expected after upgrading the technology? What will be the carbon footprint?
Currently, most of the textile waste still comes from clothes thrown away by consumers and finding a practical way to work with post-consumer waste is a significant step towards circularity. The new generation of Refibra specialty fibres features 10 per cent post-consumer waste in its recycled component, a significant development and the industry's first move to produce on a commercial scale. 
Carbon footprint during the Refibra production process is minimal and is recommended by the World Economic Forum as a pioneering solution to tackle the textile industry's waste problem. During the recycling process, liquor streams are internally recycled to ensure efficient use of energy and chemicals and the recycled pulp is used as a raw material to produce lyocell fibre in an efficient closed loop production process.