Which are your major markets for 3D printing in fashion? Which geographies are still warming up?
Couture projects are focused in Europe, and we also work mostly with European eyewear designers. 3D printing in fashion will grow in the future and more countries will become relevant.
What kind of fabrics and materials are used for 3D printed garments? What are the challenges in terms of designs, aesthetics, fabrics?
One of the most common materials used with laser sintering is PA12. This polyamide material is flexible and yet very resistant-it doesn't break easily. To illustrate the advantages of this material we can say that in traditional eyewear there is a 5 per cent of remakes of glasses due to broken or damaged pieces while for 3D-printed eyewear this is less than one per cent. The main challenges in terms of design for 3D printing come from understanding the process and what's possible with the technology. We must break the "mindset silos" and designers have to see that 3D printing is not just a different way of doing what's been done before or a replication technique. 
In terms of aesthetics, the biggest challenge is that the 3D-printed parts, off the printer, don't meet the requirements of the market and they have to go through a finishing process. We have already changed the mindset of our company, that has an industrial background, and now we must make sure that we offer quality consistently. This will change in the future because new materials will be developed for 3D printing. We have a design and engineering team and an R&D department focused on the development of new materials and finishes to reach a market with more diversification. We also signed a collaboration with the BASF in 2018 to develop new 3D printing materials. This will have a huge impact on the possibilities of 3D printing in fashion.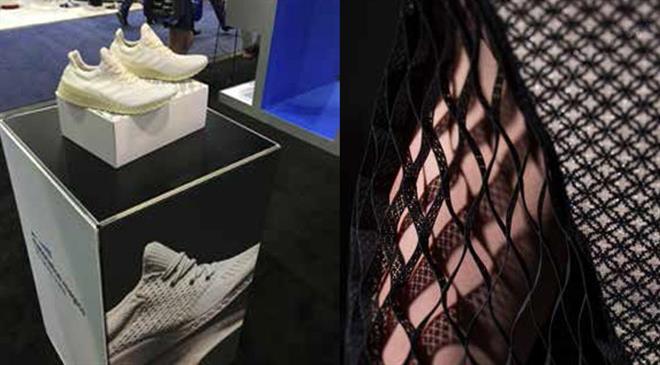 What is the level of adoption of technology especially in apparel and footwear? Has it moved beyond prototyping?
The adoption of 3D printing in fashion is way beyond prototyping. A good example of this for 3D-printed eyewear is the fact that when we started some years ago, opticians and end-users were not used to the materials for 3D printing because they always worked with acetate and titanium. Back then, we used to add titanium pieces on the frames so that they would look more familiar. Nowadays, 25 per cent of the independent eyewear brands have established a 3D printing production line; so, it's an established technology, well integrated into the market.
Are 3D printed garments wearable or just high-fashion runway items? Are they washable?
As I mentioned, 3D printing is a great technology for 3D-printed couture, but it can be used also as part of other fashion pieces produced with traditional methods or as customised accessories, like eyewear. We make sure that the 3D-printed garments and accessories are adapted to the purpose of use. For example, eyewear needs to be washable because it's always in contact with the skin. So, we process it for this purpose with a special finish.
Any major experiments or collaborations in progress in fashion and textiles?
This year we started a collaboration with designer Julia Koerner. Ruth Carter won an Oscar for her work in Black Panther, a film where we also collaborated with Julia to create a 3D-printed crown and a mantel for the character of Angela Basset, who plays Queen Ramonda. For eyewear, we have many collaborations with well-known designers like Hoet Design Studio, Lasnik, Impressio, and Safilo. We are working on other 3D printing fashion projects at the moment, but we can't talk about them yet. (HO)