What is the market size for luxury footwear and other accessories?
According to industry reports, sales in the luxury footwear segment alone for Germany in 2019 amount to around €1.4 million. In addition, a market volume of €1.6 million will be achieved in 2023, corresponding to annual sales growth of 3.8 percent. The global market for luxury shoes will be around €28.6 million in 2019. Buyers in the US, Japan and China are the main players. China, with its tremendous purchasing power, has established itself in the international luxury business. The forecasts for China are better than good, since the Asian consumers' desire to buy appears to be unchecked.
Which are the best-selling styles?
The products that generate the largest turnover for us are still sneakers and pumps in the price category between €350 and €500. Pumps are clearly very classic products that fit both the business and casual look. Sneakers are currently more popular than ever, and the limited editions are usually sold out very quickly.
Who is the target audience?
In the beginning, it was the qualityconscious high earners from 35 upwards who we wanted to address. But since we have expanded our range and rejuvenated it in line with market developments, we can now reach a much younger audience. Our current customers of Mybudapester are quality-conscious fashion lovers mainly from the DACH (Austria, Germany, and Switzerland) region and a rapidly growing group of buyers mainly from Asia and the US.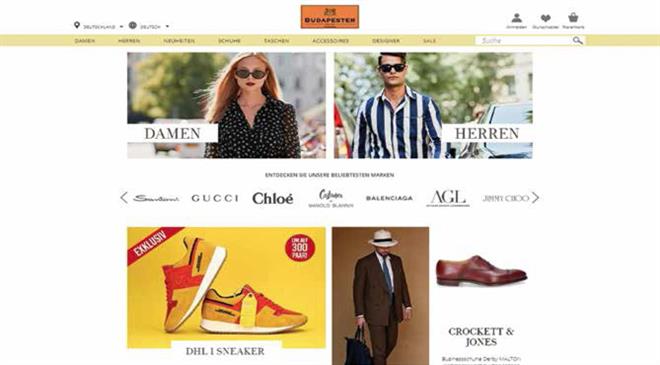 What is the best performing category?
The sneaker has become an indispensable part of women's and men's fashion. This year again, sports shoes are generating the most sales. We do not see any end to this trend at the moment.
Which designers and luxury brands are popular in the EU (for men & women)?
The Gucci, Balenciaga and Valentino brands are the most popular with our customers, whether male or female.
What trends do you see in the EU?
Sneaker, sneaker, sneaker-this shoe will not lose its popularity for a long time yet. The shoe is comfortable, fits every outfit and is always put in the limelight by designers with new looks and new ideas, such as the new models from Balenciaga. But also, Hikmet Sugoer can inspire customers again and again with his exclusive models.
What are the challenges?
The luxury market will have to face several challenges today and in the future. On the one hand, the buyer group of luxury goods is becoming younger and younger. The purchasing and consumer behaviour of the millennials and generation Z is already changing product development and marketing. Traditional luxury fashion only plays a subordinate role, the so-called casual look not only gains in importance, but also in acceptance. This is particularly evident in the developments in the streetwear and, above all, sneaker scene. There, price levels have risen significantly and even the long-established brands are gradually launching their own limited edition sneakers on the market. On the other hand, marketing and targeting is already changing for the new consumer group: companies need to provide much more budget for digital channels. Those who oversleep the path to online sales and social media marketing will soon have to reckon with falling sales. Buyers are already finding out about products online; they are following so-called influencers who draw attention to products and influence their purchasing decisions. Whole advertising strategies have to change permanently in order to be able to play a part in the market, for example through exclusive product cooperations and participation in product design. The third remains product piracy. Customers look for dealers and companies they can trust and who are serious. They want real products, not counterfeits. Here it is important to build up and maintain trust.
Please share details about the last two fiscals and your projections.
In recent years we have expanded Mybudapester.com from a pure online shop to a platform, as mentioned at the beginning, in order to further strengthen the stationary luxury trade. The concept has been fully implemented and we have meanwhile convinced 14 shops of our idea and our approach. As a result, we have been able to increase our warehouse and turnover by almost 100 per cent. In the coming years, we plan to expand into China. There we already have our own office with employees watching the local market, and the online shop will follow soon. Next year we want to double our turnover again. For further planning and investments, it is quite conceivable to get a strategic investor on board.
Any announcements to be made in 2019?
We intend to take the Asian market to the next level and step on the gas there. There are reports that predict that Chinese consumers will account as most buyers of luxury products in the future. But we will also focus more strongly on the Eastern European markets in our internationalisation strategy in the coming years. For the platform itself, we will continue to connect stationary dealers and, as a strong partner, make it easier for them to enter the digital world. It is also important for us to make our own brand more visible and bigger. We will promote this, for example, through our own collections and exclusive cooperation, but also through design competitions for upand-coming fashion designers. (HO)