The future of fashion is collaboration
Neffa translates technology and microbiology into tangible results in textiles. Neffa develops personalised fashion and textile products based on newly developed material and production techniques. It also researches old materials, dyeing and production techniques to combine those with current technologies. Founder Aniela Hoitink converses about body-based modelling and developing biomaterials like MycoTEX,a sustainable fabric from mycelium, the roots of mushrooms.
When and how did you start Neffa?
Neffa was founded in 2008 to work on fashion innovation. Neffa means "net effe anders" in Dutch, wanting to do things just that bit differently. I believe that distinctiveness, individuality and diversity in people and planet are the elements that make the world a better place. My goal is to create the ultimate personalised garment for mass production. 
At Neffa we are looking into changing material and production techniques, instead of changing human behaviour. By looking at nature's own consumptive behaviour we find solutions for the problems we're currently facing. These solutions are on the crossover of textiles, technology and microbiology. We also research ancient materials, dyeing and production techniques to combine those with current technologies. We are re-thinking the future of fashion by developing personalised fashion and textiles projects based on newly developed material and production techniques.
How are you funding projects at Neffa? How many projects has Neffa worked on so far?
Neffa is always working in collaboration with others: companies, research institutes and universities. We help them with the integration of (bio) technology into textile prototypes and designs to make them more appealing for a specific target group or a wider audience. My extensive background in the commercial fashion industry helps in translating (bio) technology onto the fashion market. We are available for research, (material) development and prototyping, consultation and mentoring. Next, we develop our own projects and look for partners and/or grants to realise these innovative projects.
What new projects are you working on currently?
MycoTEX has currently been our focus. We truly believe we have something exciting that can disrupt the fashion industry. MycoTEX creates sustainable fabric from mycelium, the roots of mushrooms. With our 3D-modelling process we create seamless garments of this new textile that perfectly fit your body without the need to cut and sew! Our shorter supply chain eliminates the need for chemicals and pesticides. We reduce water usage by 99.5 per cent and local production reduces transport. We only grow what we need and have no textile waste during the production phase. And after wearing, you can simply bury your garment in the ground, and it will naturally decompose. Which does not mean you can only wear it once.
Tell us a little bit about body-based modelling for sustainable fashion.
The current fashion supply chain is based on 2D, making and cutting patterns in 2D and then sewing the pieces together to create a 3D garment. We thought why not create a garment directly in 3D? 
In the future, we will all have our body scanned for different reasons (staying healthy, buying fashion, etc). Based on these measurements we can adapt our mould, meaning we have a 3D mould in the shape of a body. On this mould we then create the garments. So, body-based modelling means that we use the wearer's body to create the mould on which we make our garments. And the best part is that we then can create garment for anybody, whether your western, Asian, African, etc-as our mission is to empower all people by developing personalised clothes.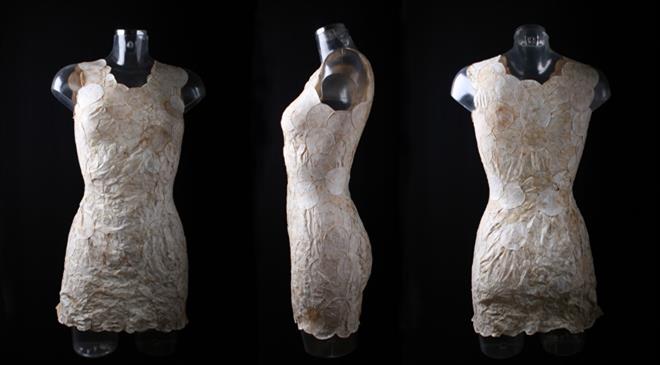 What are the challenges of working with biomaterials? Can such clothing be mainstream?
These challenges depend on the production technique of the specific biomaterial. In general, you could say that creating a strong material that is longer lasting next to finding the right biodegradable coatings is a challenge. The biggest challenge will be the scaling up of these new processes, although most of the techniques exist already in other industries. Clothing using biomaterials can become mainstream. This depends on the purpose of the garment, of course.
What is the future of fashion? Is it disposable fashion using biomaterials or is it slow fashion?
Actually, the future of fashion is collaboration. Together we can change the industry for the better, meaning we need everyone involved, from consumer, to brands to production facilities, etc. What matters is that we need to create fashion that is better for the environment and that supports diversity in nature. And this can be disposable as well as slow fashion form or anything in between. (HO)
How and from where are you sourcing the various bio-based materials?
The biggest source can be found in nature. With only a small piece this can then be cultivated in a lab environment to not destroy the nature itself. There are also institutes where you can buy specific strains.
What are the application areas of the special fabrics?
The application areas are numerous-from fashion to cars, from shoes to interior.
Are all the products patented?
No, some are patented, some not. Sometimes we have just developed an application for the fashion industry. Also, when collaborating with industry, they might have patented the technology.