What is the commercial viability of products developed at Neffa? Where are they sold?
Neffa is a research, design and development company. It is our strength to develop innovative products that consumers see themselves wearing. My experience in designing fashion collections and products with a certain target consumer and/or brand feeling in mind has helped in creating great products and finding potential partners.
We help, for example, research institutes by creating products based on their research. In this case, the goal is to sell their research and not the product. By creating a great product or prototype we show what you can do with these innovative technologies and this helps in convincing companies to start working with these technologies. We also develop prototype for innovative companies who want to enter the fashion/clothing industry, as it is very important to work with designers who can understand the technology and at the same time can think about the consumer and the design.
In the particular case of MycoTEX, it is our goal to bring it to the market with production partners. Currently, we are investigating which (production) companies are interested in collaborating with us.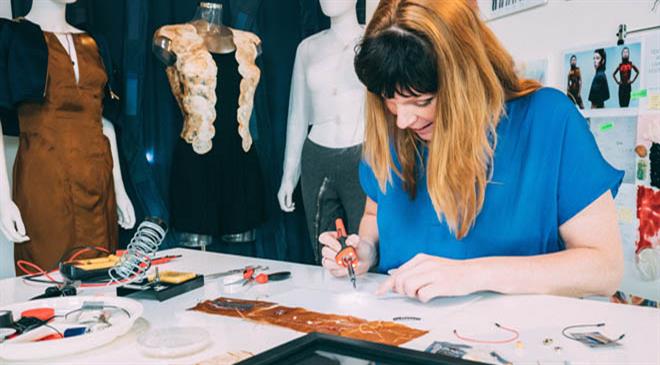 Any major brand collaboration? If yes, please share a few details?
At the moment we are having first discussions with brands and we are researching what the best strategy is to launch MycoTEX in the market. This also could be with a smaller brand. For us, it is important to find the right collaborator as these new innovations take time to implement and not every brand is ready for this.
How cost-effective will this be and how readily available for mass production?
With MycoTEX, we are developing a new supply chain by taking elements from microbiology, technology and textiles. This way we are shortening the supply chain, eliminating the need for hazardous chemicals, pesticides, farmland and its seasonal influences, and reduce water usage, transport and waste. The industry has spent more than two centuries improving the cotton industry, but expect these new innovations to be in the market within years. We believe we can be cost-effective, but that takes a bit of time.
Smartwear is the future. How easy or difficult will it be to adapt technology into your materials for apparel specially?
Body-based modelling is making this easier as you can specify directly on the body where the tech should come and you don't have to weave it in, which is quite a challenge now. We have been working on initial prototypes with technology; so, have already some experience with this. Biomaterials and wearable technology can indeed be a great combination. For us, it would be even more interesting to incorporate biodegradable wearable technology as our goal is create garments that are biodegradable or even (home) compostable. (HO)