Relaunched in June 2021 with Otero Perfect Fit Journey
Otero Menswear is a men's fashion brand that provides the Perfect Fit for men under 5'10." Each piece is designed with visibly leaning and lengthening techniques that are unique to Otero. Founder Steve Villanueva spoke to Paulami Chatterjee about the challenges he faced while choosing stylish shirts for himself that eventually led to founding of the brand.
What inspired you to found a menswear brand that fits the shorter man? What are the challenges you think shorter men face while choosing garments?
I started Otero out of personal frustration. Being a shorter man (5'-7"), I found that finding stylish shirts that fit was often next to impossible. Typical off-the-rack t-shirts and polos are designed for the presumed average of a 5'-11" man. Therefore, for the shorter man, most shirts are too long, too wide, with oversized details (like pockets, collars, and plackets). And different body types aren't even considered.
In starting Otero, I knew exactly what I wanted to achieve--clothes that fit not just my height, and size, but most importantly my body type. And like most men, I did not want to take measurements or photos for someone to guess at, I just wanted to point-and-click my way to the best fit possible.
Hence the Otero Perfect Fit. The magic is in the body type measurements. 93 per cent of men have a bone structure that is either an upside-down triangle or a rectangle. This structure drives a completely different fit regardless of muscle or fat mass (which is more a measurement of size). Accordingly, Otero shirts are designed to 1) a specific height, 2) to a specific body type, and 3) to a customer's size, guaranteeing the perfect fit.
In additional, all design elements (collars, cuffs, plackets, pockets) are sized in proportion to a man's height, giving each shirt a custom-made feel. We call this our Otero 3D Proportional Sizing system.  
Is it only polos and t-shirts that you sell in menswear or are there other categories you are into?
At this time, we sell only polos and t-shirts, but we have completed designs for other categories of clothing. We also have a select number of full-grain leather men's accessories which we use to help promote Otero, including branded belts, bags, backpacks, bracelets, and wallets.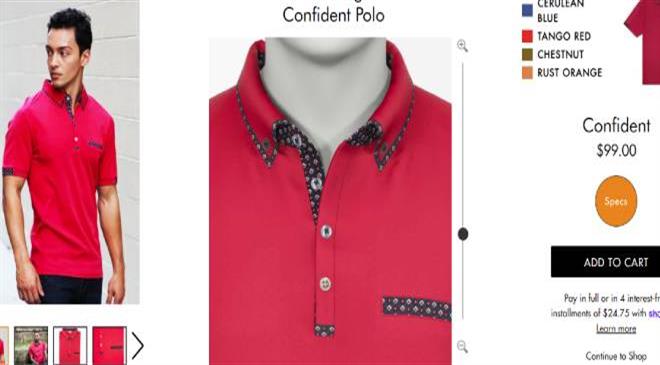 There are a lot of companies which provide virtual fitting options. What made you choose Perfitly's virtual fitting room technology for your website? What has been the response from end customers so far?
It always comes down to the people first and then the technology. The Perfitly team is outstanding, flexible, willing to be challenged and then always rises to meet the challenge. This rare team attitude and their overall amazing technical performance begins with the Perfitly executive leadership and flows all throughout the organisation.
At Otero we had the vision for Perfitly to replicate an instore experience online. Thus, after a few questions down the Otero Perfect Fit Journey, a customer gets to see themselves in an Otero shirt on their own personal avatar – it's just like walking into a store and trying on a shirt.
To create the avatar, there is no need for a customer to submit selfies and nothing for them to go and measure because Otero and Pefitly share a deep database of measurements by men's height, size, and most importantly, body type. Then add to this data the magic of Perfitly's algorithms and technology and a customer sees themselves front and center. Then with a click, they can try on different shirts, styles, sizes, and the avatar responds instantly.
Where is the designing and sourcing for the garments done from?
All products are designed in Boulder, Co and manufactured in Thessaloniki Greece and Ningbo China.
Which international markets are you currently present at? Which new markets are you exploring?
At this stage we are only marketing in the US, but logistically, we are set up to sell in Canada and the UK.
What newness would you like to bring in your men's garments? What are the styles that are trending?
We would like to continue to expand our product line always incorporating the Otero 3D Proportional Sizing system. We intend to stick with the standards that men love, which is why we started with polos and t-shirts