What is the carbon and water footprint of the production processes of your company?
Perpetual 's water consumption is 86 per cent less than conventional PET manufacturers 
75 per cent less energy consumption than conventional PET manufacturing
Our process results in zero discharge of liquid effluents. 
Saves around 0.7 barrels of oil and 0.20 cubic metres of landfill by recycling every 1 ton of PET waste 
What are your thoughts on circular economy and block-chain?
We have been strong supporters of the circular economy.  In fact our Perpetual  technology is such that we are able to convert used plastic bottles into ester, then to textiles, then back to ester and then transformed into other PET products repeatedly (shown below).
There are several companies that have started creating applications using blockchain, which assist us to be able to track our manufacturing processes and products from end to end. We have trialed a couple of these applications but there is more work to be done.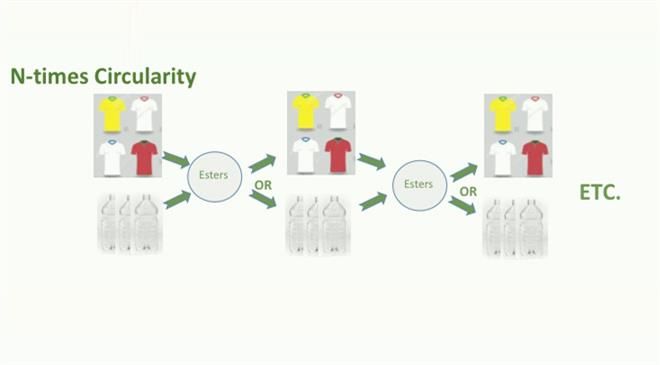 How did you fare in the last two fiscals?
Perpetual  Global Technologies is a privately held company and our financials are not publicly disclosed.  Nevertheless, our revenues have increased more than 30 per cent over the past 12 months and profits have more than doubled.  
Demand for Perpetual yarns currently exceeds our ability to supply; hence expansion and growth is our key area of focus.  We are on continuous lookout for both financial and operating partners to roll out the Perpetual technology. 
What are the top three human resource practices followed at your company?
Most of our employees have been with us since the start of the company for over ten years.  This is due to the passion and the knowledge we all have that the Perpetual technology can truly make a material difference to the reduction of plastic pollution in the world.  
We have a very open and transparent company and employees are kept constantly updated on the company's progress and strategies.  All employees have direct access to the founders and feedback is actively encouraged to make Perpetual a better company to work in.  
As the company continues to grow, our teams will have all the opportunity to grow with the company and extensive training opportunities already exist and further work needs to be done to enhance this.
The company already offers all employees excellent medical coverage and flexible holiday allowances. We are seeking to introduce profit participation incentives. 
Tell us about the latest innovations and developments at your company.
We have successfully developed textile-to-textile (T2T) recycling in a batch process using the fundamental Perpetual technology process in which a polyester garment can be transformed back into an ester; this ester has been converted back into Perpetual  yarn and back into a garment.  We have recently launched doped-dyed yarns and fully drawn yarns (FDY). 
It is important to note that our sustainable ester can be used to manufacture any PET-based product and we are continuously looking at new innovations and applications in research and development (R&D) and we have successfully converted our sustainable ester into high quality biaxially-oriented PET (BoPET) film and new PET bottles.  (HO)