UV printing replacing old solvent systems or screen printing
Pigment Reklam is a leading provider of technology and service solutions in the digital printing industry. It offers Turkish printing industry ultra-violet (UV) printing solutions of swissQprint, Plamac and WIT-Color brands. Owner Serkan Çagliyan tells Fibre2Fashion about the fast-emerging UV printing market and how the company is trying to leverage its benefits.
Give us a rundown of what UV printing is and its benefits to garment manufacturers.
UV printing refers to drying the printed surface ink in less than a second using UV rays after printing. Being fade-resistant against sunlight and so on, UV printing has a wide range of applications. UV printing is used extensively in indoor and outdoor printing applications and direct material printing. We have been able to get out of the printing materials like paper, vinyl and tarpaulin that we are used to. Glass, metal, wood, leather and several other materials that were formerly unusable before became usable in production. UV printing is also applicable on fabric surfaces. These are primarily durable prints, resistant to environmental conditions. UV ink is also harmless to the environment and human health. UV printing makes printing more efficient and quick as there is no wait time for drying. On the other hand, though garment manufacturers are not currently actively involved in UV systems, we know that they are working on the topic.
What is the market size of UV printing globally? How fast is the technology growing?
Global UV printing is now replacing old solvent systems or screen printing. Due to both environmental and human health risks, solvent production was banned in Europe and the United States. Following this ban, the UV side quickly began to gain prominence. It continues at this rate in Turkey as well. Technology is developing very fast. Print head manufacturers and ink manufacturers are coming up with new products every day. With new system print heads and new system inks, the UV market continues to expand. The boundaries have been removed. According to a report, the market for UV printing inks is expected to reach $5.9 billion by 2025. Considering the machinery investments in the field of UV printing, we can say that it will increase its power as an important solution in the inkjet printing market.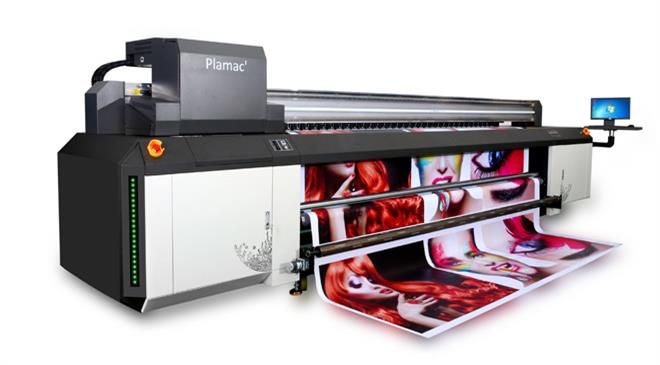 What are the various applications of your UV printers? What type of designs work best with them?
Among the most important applications with UV printers is Lightbox. This semi-textile application is backlit and framed. Among the UV printing applications are glass, wood and leather. With other advertising materials like classic forex, rebond, UV prints are still produced too much. In addition, the 3D droptix technology of the swissQprint company, which we represent, enables different applications with three-dimensional designs.
How are factors like mass customisation and shorter lead times affecting the digital printing industry?
In fact, the global market itself has accelerated and the demand chain from order to finished product is too short. Digital printing technologies have shortened the print production process like never before. Thanks to its expanding product range, more jobs are produced and delivered to the customer quickly, even in low volumes. Compared to conventional printing methods, costs have also been reduced. This is a process where everyone wins.
You introduced your new brand of UV printer called Plamac recently. How are Plamac machines technically superior to other machines?
Plamac became the new brand we represent in UV printing. This brand provides high print quality with user-friendly models. In terms of price, Plamac has machines from beginner to medium production. Plamac flatbed and roll-to-roll models have attracted great interest in the Turkish market as well as in the global market. In addition, the advantages of Plamac printing machines that do not require technical service are another reason of interest. We offer these machines with some special equipment to the Turkish printing industry.