Our revenue growth in India is likely to outpace that in other markets
Renfro Corporation, one of the world's largest producers of socks, recently landed a deal with Walmart that anticipates creating about 440 jobs at Renfro's manufacturing facility in Fort Payne, Alabama, as part of Walmart's January 2013 US Manufacturing Commitment to buy an additional $250 billion of US products supporting American jobs over 10 years. Renfro Corporation is a long time manufacturer of socks for Walmart under brands such as Fruit of the Loom, Russell, Dr Scholl's, Faded Glory, among others. With changes in energy costs and labour costs overseas, it is increasingly cost-effective and efficient to manufacture closest to the point of consumption, helping Walmart respond to trends and customer demand. Subir Ghosh spoke to senior officials from Renfro about the significance of the deal, especially keeping global trends and processes in mind.
Please tell us more about this new deal with Walmart. After all, if I am not wrong, Renfro has been selling socks to Walmart since the 1970s.
Yes, we have sold Walmart since the 1970s and have grown with them. We provide Walmart a variety of products, both branded and private label, across all departments, all genders. We have participated in Walmart's US Manufacturing Initiative since its inception several years ago. Renfro was one of the first companies to join this effort with Walmart. This latest expansion is the result of our bringing to Walmart better product, better presentation made in the US. Walmart recognised the value in this latest proposal. We believe it met Walmart's strategic goals.
Renfro Corporation has had a manufacturing facility in Fort Payne since the 1980s. Could you tell us more about the ups and downs with the manufacturing facility there?
The Fort Payne factory has existed since the 1980s. Over time, its capabilities have been enhanced, and it has been further automated to improve quality and to lower costs. Its capacity has increased.
Fort Payne itself was once known as the Sock Capital of the World, but over time the title seemed to have lost its significance. How do you react to that?
The closing of most of the other sock manufacturers in Fort Payne is unfortunate for that community. We chose a different path for our factory there, and have been able to identify and to manufacture products there that fits the factory's evolving capabilities and that can be done competitively with similar product manufactured outside the US.
US President Donald Trump wants jobs back in the US. But given your global presence, how do you plan to tread that thin line between manufacturing relatively expensive products in the US, and relatively cheaper products outside?
We do have a global presence and our resources outside the US are also critical to our total supply chain and critical to our total product offering. Both US and imported products are necessary for our company to supply all the types of products that our customers want at prices they are willing to pay.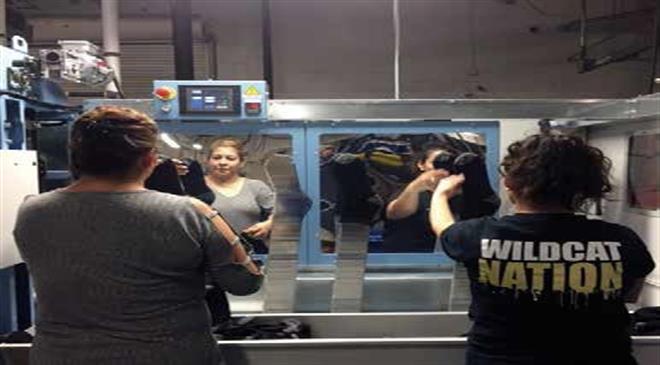 Four years from now, Renfro would be completing 100 years. How do you look at the past?
Yes, our 100th anniversary is approaching. We are proud of that continuous history-our ability to survive and to prosper through many economic and competitive challenges. We believe that we should honour the past, recognise and appreciate it.
And what about the future? Are you planning for the next 100 years, or are you looking only at the immediate future?
But, the future brings change. Always. So honour the past, but find the opportunity in change. That is how we will prosper for another 100 years. Of course, we are planning for more than the next year.
You have manufacturing and distribution facilities across the world. Do you have expansion plans charted out?
We do have expansion plans in the US, the rest of North America and in key markets outside North America. We also have plans for continuing product evolution.