Manufacturers must stay abreast of regulations
Founded in 1950, SGS India is a leading provider of inspection, testing, certification and verification services in India. Business Director (Consumer & Retail) Monika Sharma spoke to Fibre2Fashion about the company's testing, inspection, and certification services for textiles and the challenges Indian manufacturers encounter in meeting testing standards and compliances.
How would you describe the scope for testing, inspection, and certification (TIC) in the textiles and apparel industry in India?
The Indian textiles and apparel industry, although a dominant contributor to the economy through its significant contribution to the country's industrial output, employment generation and export earnings, is a hugely fragmented and unorganised sector.  Over the last many years, the industry has witnessed a gradual decline and is facing significant challenges on domestic as well as exports fronts. This is primarily due to factors such as inconsistent quality, lack of efficient infrastructure, technology, skilled manpower and social non-compliances. Adding to these challenges is the rising competition from neighbouring countries like Bangladesh, Vietnam and China. 
Taking cognizance of this fact, the government is making firm efforts to restructure and revamp the industry under the ambit of its highly ambitious 'Make in India' programme which envisages making India as a global hub for manufacturing and sourcing. These are favourable and very encouraging for industry and also for TIC companies as they provide an increased scope and role to ensure the quality of the product while also assisting the buyer as well as exporter in meeting the various compliances, certifications and product quality standards in the markets worldwide.
What kinds of inspection, testing, certification, and verification services does SGS India provide?
SGS provides an entire host of solutions to assist every player in the textiles industry. Our spectrum of services assists brands and retailers to meet the requirements of regulators and consumers, while also demonstrating their environmental responsibility and improving sustainability at various points in the supply chain, from the corporate level through manufacturing to finished products and packaging. We also partner with clients to identify and address the quality, technical, chemical and environmental challenges in their supply chains. Our services in the textiles and apparel sector include a full range of product testing, inspections, audits, certification, training and sustainability solutions for environmental management.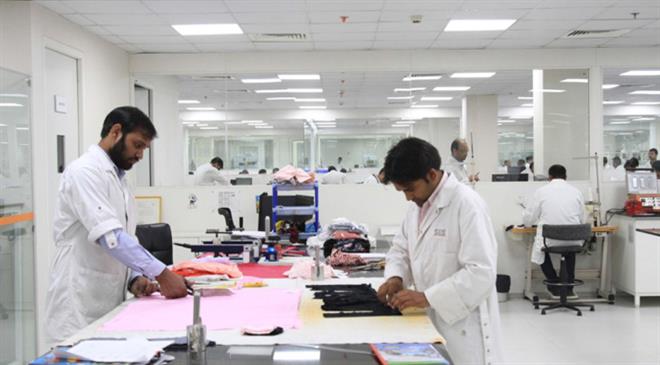 Which are your major markets for textile services in India?
We have one of the largest networks of laboratories, offices and sample collection centres covering all major manufacturing hubs in the geography. We are offering services in all segments of the textile value chain including dyes and chemicals, fibre, yarn, fabrics, apparels, made ups, home textiles, performance textiles, personal protective equipment (PPE) and packaging.
What are the main challenges that Indian textile and apparel manufacturers face when it comes to meeting checking standards, verification and compliances?
From raw material to retail outlet, brands and retailers are facing pressure to demonstrate and improve product safety, environmental performance and social compliance. The Indian textiles and apparel manufacturers are deficient in areas like consistency in quality of raw materials, technology, skilled manpower, awareness on labour laws and workers health & safety, sustainability of supply chain and environmental responsibility. Manufacturing bases in India are predominantly handled by SMEs and these are feeble and suffering from various infrastructural, technological, and credit related bottlenecks.
What would be your suggestions to overcome these challenges?
The supply chains require to have quality management system, which is empowered and effective, in place to mitigate issues related to inconsistent quality. Skilling and training of workers is very important and should be done routinely as an investment rather than being considered an expense. Manufacturers and exporters need to stay abreast with local and international regulations applicable to the textiles and apparel industry. Several government schemes are available for developing infrastructure related to environment sustainability like solar power, effluent discharge treatment, etc. Under the umbrella of "Make in India ZED scheme" the government has introduced several initiatives which should be leveraged by the production sector to upscale their efficiencies across the supply chain.
How is the consumer awareness of international TIC benchmarks in India, especially for textiles and apparel?
Stakeholders, including consumers in international markets, have high expectations. They want safe products and a holistic approach to sustainability. Consumer interest in environmental, social and health debates such as global warming, human rights and the risks posed by chemical substances has highlighted the need for strong corporate social responsibility. Consumers are increasingly conscious of their role towards sustainable development and social responsibility. The consumer protection forums, consumer law governing bodies / consumer courts and NGOs are instrumental in driving this ecosystem effectively in the matured markets. However, in the Indian context we are yet to reach those levels. Lack of a holistic regulatory framework for textiles and other consumer goods and additionally, lapses in enforcement of these regulations by agencies is responsible for an overall deterioration of the ecosystem.
Do you provide any customised solutions? If yes, please elaborate.
We deliver a full spectrum of textiles and footwear services throughout the supply chain, from raw material to the manufacture of finished products and their packaging. Unique service plans can be tailored and bundled as per the client's requirements for their needs of testing, inspection, audit, certification, verification, technical assistance and training.
What new do you plan to add for textiles and apparel?
There is an increasing thrust on environmental management in the supply chain. The manufacturing processes of dyeing and finishing are considerably water and chemical intensive. We address the environmental concerns with testing, audit and technical consultancy solutions designed as per industrial standards for ZDHC, REACH and EPA. Our laboratories are developing capabilities towards the latest test requirements in performance clothing and functional textiles as well as new fibre types trending in the industry. Our laboratory capabilities for testing of PPE is one of the best in the country. We test these PPEs for all types of industrial and domestic hazards. Further, we are adding the motorbikers category this year to the list of protective clothing tested by our labs. Operationally, our teams are constantly striving to reduce our turnaround time to be "faster than fast" - we are investing in automation, digitisation and globally acclaimed world class service (WCS) projects to achieve higher efficiencies.