Our clients desire personalisation
SS Homme - Sarah and Sandeep is a luxury Indo-fusion menswear label committed to new-age designs and geometric identities perfected with bespoke service. Co-founder Sandeep Gonsalves talks about the luxury footwear market and personalisation.
What do you say about GST on footwear?
The 18 per cent GST on shoes does tend to increase the price of the product for the end-consumer, especially in the luxury sector. In comparison to apparel which is at 12 per cent, the GST for footwear does seem unconventionally inflated for no good reason.
What are the challenges?
The biggest challenge faced by luxury brands like ours is that the consumers need to be educated further on the elaborate offerings that are currently available in India for custom footwear. We have a team of consultants in-store to ensure that every individual who walks into the SS Homme - Sarah & Sandeep store looking for footwear is informed of all the different variations available and the process involved in creating a unique final product that they can cherish for a long period of time.
Why introduce footwear in India now?
SS Homme provides Indian and western styles for menswear and we decided to add handcrafted shoes to the range as it has always been our aim to make the SS Homme flagship studio a destination for all menswear. Clothing signifies fashion, but it is footwear that completes the ensemble, which is why we have received a lot of requests from clients for introducing this range of formal shoes that can be teamed with our garments, but at the same time are versatile enough to be mixed and matched.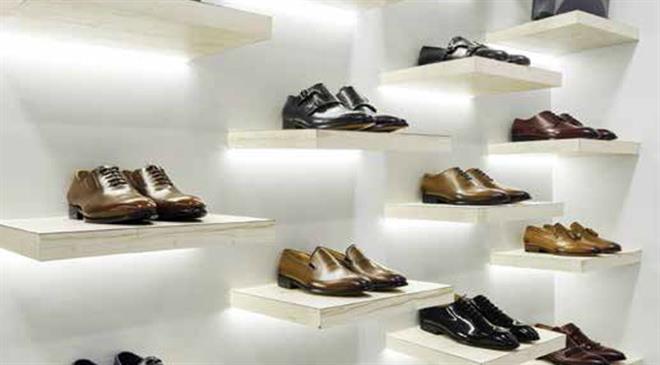 What is the retail presence like?
Our footwear range in the retail space has a retail potential similar to the accessories range. Currently, we have one flagship EBO in Mumbai where the products are available for purchase. 
Over the next two years, our objective is to consolidate our position in the formal luxury footwear market in India by launching and aggressively promoting our footwear products online. 
What is the retail distribution strategy for tier-II and tier-III towns in India?
In terms of tier-II and III towns, we are expecting a great return on investment through our Trunk Show concept. The consumers in this space are constantly educating themselves on the intricacies of luxury clothing and footwear, and as they become more aware, they expect more from brands in their vicinity. We do have some shows planned over the next few years across tier-II and III cities where we will showcase both bespoke clothing and bespoke shoes. Additionally, we will make the website for customisation of shoes as selfexplanatory as possible for consumers to purchase from outside Mumbai.
How many collections do you store?
We are working on a range that will be launched along with our Ceremonial Black-Tie collection in October 2019. This is already available in-store. We look forward to expanding on the success of our previous range of footwear and aim that our next range will be the choice for men who appreciate both craftsmanship and distinct styles.
Which are the best-selling styles?
There is a high demand for our patent leather good year welted oxfords since our clients are always keen on pairing them with their tuxedos. Additionally, our bespoke festive footwear can be paired with traditional Indian outfits and add a great deal of value for buyers who prefer to personalise their festive shoes. Our range of made-to-order shoes are priced upwards of ₹25,000.
What innovations are you doing in fibres, soles, and linings?
Our approach when it comes to designing footwear is very traditional. Everything from cutting the sole and attaching the layers to form a final product is done from scratch and is handcrafted. We don't use technology in the shoemaking process. Since we are a bespoke label, using technology makes it impossible to customise the shoe design as per the customers requirement.
Will the footwear be available online?
The range will be available online after January 2020 on our soon-to-be-launched state-of-the-art platform that will retail our Indo-western festive designs, customisable western clothing, shoes and accessories for men.
What are the materials that you use?
We use imported cow and calf leather, suede and velvet for our formal footwear line. For our traditional line, we use suede, velvet and jute. We don't use any other premium materials as they are banned in India.
What are your plans for the footwear category at SS Homme?
We have partnered with The A Members Club in One Indiabulls Centre, Mumbai to curate an event around our Ceremonial Black-Tie Clothing and Footwear collection. We have involved our shoe craftsmen to showcase the process of footwear creation live to the audience during the event. We aim to highlight to our discerning invitees how each pair displayed at our store is created from scratch.
What key consumer trends do you see when it comes to footwear?
Luxury footwear in India has enormous potential. Consumer trends suggest that our clients desire personalisation and prefer to customise their goods to their own specifications. Another key consumer trend is that consumers prefer a wide range of selections over a selection of specially designed limited edition formal shoes. It allows them to choose what they prefer accordingly since they are purchasing primarily for special occasions and they already have a garment in mind to pair the shoe style with. Finally, consumers of luxury footwear are educating themselves independently on the bespoke process of shoemaking and are keen on opting for the service where available. They want to make their purchasing experience as detailed and thorough as possible and brands must justify the price points. (HO)