Calling all Sneakerheads!
Superkicks is a multi-brand sneaker store in Mumbai which houses leading international sneaker brands like Adidas, Reebok, Nike, Puma, Asics Tiger, New Balance, Vans and Fila, among others. Founder Sangeet Paryani talks about the market for sneakers in India.
When did you start Superkicks?
The planning for Superkicks probably started about two years ago. We launched the first store in Mumbai on April 6, 2018. The initial capital was about ₹2 crore.
Why did you get into sneakers?
About five years ago, I joined my father's business, Mayank Distributors Pvt Ltd, which is a wholesale and retail company for various footwear and apparel brands in Rajasthan. Our business has always been in the category of footwear as our company is the master franchisee and distributor in Rajasthan for some of the leading sportswear brands like Adidas, Reebok, etc. As part of my family business, we were supposed to attend trade shows of different brands that showcase the sneakers that would be coming in the next season. These trade shows, especially those of Adidas, used to fascinate me a lot. It still does. It gives me a different rush to see what's in store for next year from all these global brands. This with the fact that I have always been surrounded by shoes all my life-my feelings towards sneakers was just a natural progression for me which pointed me towards opening Superkicks.
Globally the market for sneakers is huge. What is the scope in India?
The Indian consumer market has a lot of potential. Being home to a diverse audience there is something for everyone it has to offer. It's just the beginning for India. Sneakers have always been looked as a commodity in India, but of late it has taken a leap as a statement product in one's closet. 
The footwear industry in general is growing in India. Big brands like Adidas, Reebok, Nike, Puma and Asics are growing furthermore in an exponential way. The reason behind this is people in India are now more brand conscious and there is a natural progression of shoes, moving away from just being a functional commodity to a lifestyle product, an aspirational wearable product. People are ready to appreciate and pay a price for premium high-quality products that appeal to them. Especially, the younger audience, who are confident and travel so often, is more aware of international sneaker trends. They pay attention to the quality of products; they identify, understand and appreciate skill and craft. There has been a shift in the consumer mentality-from being restricted to only a few types of footwear styles to demanding different types of contemporary footwear styles for different occasions. Thus, over the years, we have seen an increase in consumer preferences in sneakers. You can pick the right pair for just any occasion, be it a casual outing, a formal dinner date or a quick run. They are comfortable, stylish and perfect for varied occasions.
How many brands do you house?
We have 12 brands currently: Adidas, Reebok, Nike, Puma, Asics Tiger, New Balance, Vans, Fila, Converse, DC, K-Swiss and Ylati (an Italian sneaker brand exclusively with us in India).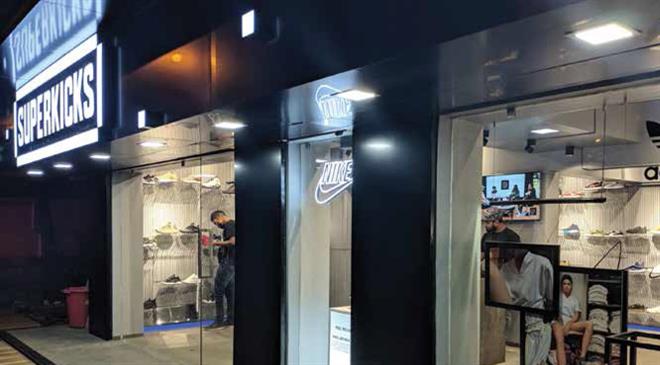 Does your store offer shelf space to an unknown or relatively lesser known name but high on deliverables?
Yes, especially local streetwear brands. We have a list of criteria to follow before shortlisting any shoe brand. The consumers today are more conscious and demanding about the latest trends. With the ever-increasing technological development and social media penetration, Indian consumers are aware of the latest fashion developments around the globe-be it clothing, gadgets or footwear. We currently house two Indian streetwear brands: Haute De Gamme and Strey.
How many collections are available at the store from each brand?
It differs for each brand, but Nike and Adidas currently form a big chunk of our collection.
Tell us about the launch of K-Swiss at your store.
K-Swiss as a brand has been in the industry for a number of years, but unfortunately never found its footing in India. Recently the K-Swiss global marketing campaign shifted its stance to target young entrepreneurs. Being a young entrepreneur myself, these chic and spunky Gary Vee 003 kicks are really close to my heart. Those align with our motto of constantly engaging our consumers and offering them the best kicks available. Also, these shoes are an inspiration to follow your dreams and conquer them. That's what we tried to incorporate in our launch, by launching a staple entrepreneurial shoe-GaryVee x K- Swiss 003 at our store exclusively.
Which are the best-selling sneaker brands? And price points?
Nike and Adidas. The average selling price would be ₹10,000.
Who is your target audience?
The uninitiated ones-people who are curious about sneakers, and are on the fence. My ideal customer is this group of people in the world who call themselves 'The Sneakerheads'. They sort of automatically become one of my ideal customers. Sneakerheads are that kind of people who are into sneakers, they collect sneakers, they live for sneakers. This is the first kind of customer that we would love to target and who we would love to engage with in all the activities we plan to do. And the set of people that are also very important, unlike the sneakerheads, are the bunch of consumers in India who are ready to explore something new in life and would love to have a pair of sneakers which has much more meaning than just style and comfort and colour. They are the ones looking for sneakers with a story behind it which they can cherish forever.
What are some of the criteria you consider before listing a brand?
Among 1,500 shoes, Superkicks offers blockbuster shoes, trendsetters and contemporary designs that are aesthetically relevant such as Nike's Air Jordan, Adidas Ultraboost, Nike Vapormax and many more. Currently, we have 12 brands under Superkicks. While selecting brands we look at rich history, special / exclusive offerings, and the range of options to choose from.
What marketing strategies have you adopted or wish to adopt in future to increase footprint?
Stick to your strengths. We are here to enhance the sneaker culture in India. We will intend to do that through our marketing strategy. It is the millennials we are targeting, and they have a language in which they are talking. So, we are trying to communicate with them in the same manner and ensure we create enough hype. We are targeting various digital mediums and social media platforms, specifically Instagram and Facebook. That's where most of our target audience visits. We are also connecting with the sneaker communities in Mumbai. In the near future, we will also be looking at cross-promotions and influencer marketing to get the word out to the right audience.
Do you plan to open another store or go online? Do you plan to expand?
We are already online on www. superkicks.in. We are keenly looking at Bengaluru and Delhi as potential second and third stores. Yes, if it blends with our strategy and synonymous to our existing product line.