Demand for PFY as cotton substitute increasing rapidly
Engaged in the manufacturing of draw warped and sized yarn beams of polyester and nylon, Supertex Industries Limited also exports yarns and trades in textile fabrics. With four major divisions of draw warping, sizing, texturising and twisting at Silvassa in Dadra and Nagar Haveli and Dharampur in Gujarat, it is among the first few companies in the world to adopt the draw warping technology. Director Mahesh Sharma talks about the process and cost efficiency in polyester production.
What is the global market size of sized beams for weaving? Which kinds do you produce?
There are two segments to the polyester filament yarn (PFY) industry. One is partially oriented yarn (POY) which requires further processing in a desired way, and the other is fully drawn yarn (FDY). The FDY is an improvement on the earlier two processes of drawing of yarn. In FDY, the produced yarn can be directly consumed or consumed after processes like twisting, sizing, etc. The Indian production of both POY and FDY is about 240,000 metric tonnes per month. About 35 per cent is FDY and the balance POY. Sizing is done of about 50 per cent of this yarn consumption. We size all kinds of yarns which are used in weaving. We specialise in special application yarns where the quality is critical.
What is the latest innovation taking place in the industry?
FDY producing technology was not up to the mark compared to the drawn yarn of similar specification on post spinning machines. This is constantly improving and the two are interchangeable in a majority of the uses. Similarly, dyeing by infusion of masterbatch has become far more superior than earlier. There are other developments like high tenacity yarns, fire retardant yarns and also anti-microbial yarns. 
What development has taken place to overcome the difficulties associated with the conventional processes of sizing?
Sizing cannot be substituted as a process because it is an inherent requirement of the weaving industry -it facilitates quality production with efficiency. However, the process is regularly improved with more dependence machines and gadgets than personal experience and human supervision. This is done by making the machines more reliable and attaching them with various gadgets to regulate quality online.
To which markets do you supply yarns and fabrics?
Of the yarn produced on spools, the company exports nearly 70 per cent of its production. Out of the beams, most of it is sold to fabric manufacturers in south Gujarat, but essentially the exporters aiming at superior quality are our regular customers. Our company exports mainly to Europe, especially Turkey.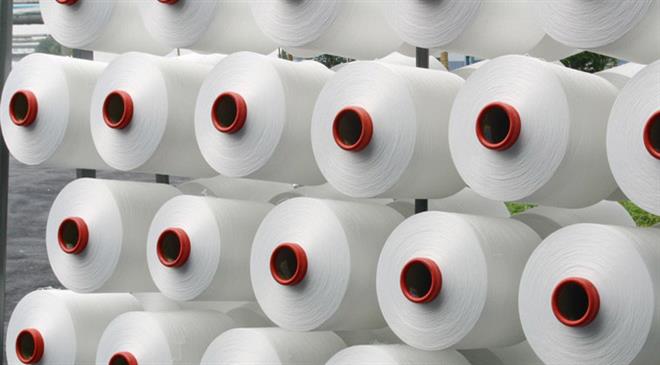 What is the latest innovation / technique in texturising, twisting, draw-warping and sizing of PFY?
There is more development on process controls and reduction of costs than technique. Speeds have gone up tremendously over the decade. More controls like online governing of yarn quality is more prevalent now. Developments like easy dyeing, anti-moisture, anti-microbial, fire-resistance, antiperspirant and other such qualities have been recently developed. Qualities to make synthetic yarns more like natural fibres have always been an effort, which is successful as well. Machine automation and regulating production of even quality is the constant aim. Machines that change the feel of the fabric like air texturising has made the yarn stronger, making it fit for many uses that hitherto were only forte for natural fibres. Higher tenacity yarns are developed that cater to belting and industrial use.
What factors are driving the growth of PFY?
The requirement of polyester filament yarn is increasing at a very fast rate. It is the chief substitute for cotton. The limitations of cotton are its low availability, durability and cost. Polyester is the cheapest replacement of the same with ample availability of the raw material, good durability and the applicability of the yarn for ever increasing purposes. It is estimated that the per capita consumption of polyester is likely to increase many folds in the developing world.