Demand for performance textiles, well-being products, anti-microbials rising
Tanatex, headquartered in Netherlands, is a leading manufacturer of innovative textile processing solutions from pre-treatment to finishing. The company works on products that add value to fabrics and helps optimise production processes. Ged Doyle, its director, global brand & retail, discusses the latest applications in textile processing.
Which are the top three major markets for your products? Where are the prospects growing?
Tanatex Chemicals sees several market opportunities. Next to apparel, we focus on home textiles, technical textiles and performance textiles. Till 2020, we see a compound annual growth rate (CAGR) of 4-5 per cent in these areas and even more in performance textiles. We keep a close eye on market developments.
What kind of applications do you see increasing in the apparel, home textile, and medical segments?
Performance textiles are winning ground. We have cosmetic textiles that we successfully apply not just to apparel, but also to carpets and other home textiles. The demand for well-being products is rising and it is interesting to look into other applications as well. Anti-microbials is another vertical that we see increasing. I feel there are also quite some opportunities in the medical segment, focussing on hygiene. We indeed look into specialties that add something to the textiles.
What are the latest innovations trending the processing solutions industry?
We are focussing on performance textiles as well-being products and customers increasingly demand more functionality. Last year, we launched Qi-tex technology, which increases the balance. It has great opportunities in the sports segment and in products for the elderly or recovery. Digitalisation is another aspect; especially digital printing is booming and developing finishes to be printed. I feel that digitalisation brings new opportunities for the textile industry. We can make more use of it.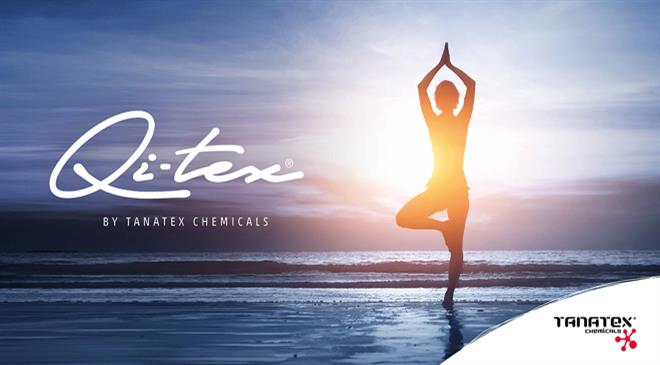 All finishes currently last about 20-30 washes. What is being done to make the finishes last longer in textile products?
This is not completely accurate. There are finishes that last till 50 washes and even more as we focus on high quality products that are lasting. How long the finishes finally last in home laundry depends on the manufacturer, the quality of the fabrics and the manufacturing process. And it would be good to create more awareness among consumers to stick to wash care labels to maintain fabric quality.
Talk chemicals and the attention immediately gets drawn to how green or sustainable are they. What steps do you take, or what is the kind of focus on research and development (R&D) do you have to ensure so that chemicals from Tanatex have a smaller carbon footprint?
We are active in several aspects. We know that a lot of water is used in the textile industry, so we have developed chemicals that can be added to the baths or even reduce the amount of baths during the process. Furthermore, we focus on a 'first-time-right' to reduce reprocessing and increase the efficiency of the production process. Next to that, we focus on high quality products, as these last longer and, hopefully, are recycled at a later stage by the consumer. Of course we are continuously in search of greener alternatives like mineral technology and clay-based products. These products come from the earth and go back to the earth. I am proud that we only sell water-based auxiliaries and our R&D keeps looking for alternatives.
What are the other latest technological innovations taking place in green chemicals?
As the awareness around the background of products is rising, we see a growing market for greener products. Brands are also driving this change and ask for certified chemicals. We, together with other major players in the industry, have recently asked Zero Discharge of Hazardous Chemicals (ZDHC) Foundation, which works on implementation of sustainable chemistry and best practices in the textile, leather and footwear industries, for a global industry standard. I feel this is rather more important to move the industry forward as we want to focus on green technologies, but the administrative hurdles and the amount of criteria growing, it becomes a complete labyrinth of rules.
What new products from Tanatex Chemicals can the industry expect this year?
We are looking into several new products and keep improving on technologies we already have. The market is asking for a combination of functionalities on a range of fabrics. This can be a challenge of its own. I cannot be specific yet, but keep an eye on our website for our latest developments.
What kind of revolution do you envision in the coming decade for the textile chemicals industry?
Digitalisation will have, and already has, a major impact on the industry. The possibilities go beyond imagination. I feel our industry is behind this development and rather conservative. Digitalisation will change the way we are doing business and pushes us to look into other business models and how we do business internationally. Can you imagine what more functionalities can be integrated? It is an exciting development I am eager to include in my work. (HO)