We focus on development of innovative organic textiles
Utenos Trikotazas is a client-oriented certified jersey producer, successfully working in two main business areas: ready-to-wear production on demand and jersey fabrics development and manufacturing. Established in 1967 and located in the city of Utena, Lithuania, the factory is the biggest jersey producer in the Baltic states and Central/Eastern Europe. It employs over 700 in-house trained workers, progressive textile sector professionals, and an internationally operating managing staff. Algirdas Sabunas, CEO of Utenos Trikotazas talks to Fibre2Fashion about production cycle.
Tell us about the journey of Utenos Trikotazas.
AB Utenos Trikotazas now is the largest and one of the most modern jersey production company in Central and Eastern Europe. It is also the largest textile factory in Lithuania. The Utenos Trikotazas factory began operation in July 25, 1967. At that time it was amongst the highest capacity factories in the Baltic countries: it had 518 employees, and its annual production volume reached 841 thousand units of products per year.
From 2001 till 2012, Utenos Trikotazas was accredited with certifications and got awards: the Environmental Management Certification ISO14000, ISO 14001 Certification, awarded with the European Union Ecolabel Flower, became the first Lithuanian company to introduce the Social Accountability Standard SA8000, got production certificates OE100 and OE Blended, both certifying that the company is using organic cotton in its production and got the GOTS certificate, which certifies products being compliant with the ecologic standards and is recognised in all markets globally.
Since 2012, the company has been producing and developing two retail brands: Utenos and About. After one year, products of the about brand company were awarded the Product of the Year prize. 
In 2015, the company was accredited the Woolmark certificate, which is recognised worldwide and certifies the consistency of the product and compliance with high quality standards (in the case of Utenos Trikotazas, it certifies products being produced from 100 per cent pure wool).
This year (in 2017), Utenos Trikotazas became the first company in Lithuania to officially join the Detox campaign by Greenpeace. The company committed itself to eliminate any raw materials likely to have adverse effects on humans or the environment from all stages of the production cycle, from the start of the production through to packing, to wearing, washing, sorting and recycling of clothing, by 2020.
AB Utenos Trikotazas has three subsidaries: AB Satrija, UAB Gotija, OAO Mrija.  The group currently employs approximately 1200 employees. This year the company celebrates its 50th anniversary.
Which are your key markets for ready-to-wear garments and fabrics? Where do you see potential?
AB Utenos Trikotazas exports 80 per cent production to 50 countries. Utenos Trikotazas production is oriented to target markets with conscious-minded consumers: Germany, Austria, Switzerland and Scandinavian countries. However, we believe that demand for high quality, innovative jersey fabrics will increase further across all developed countries worldwide.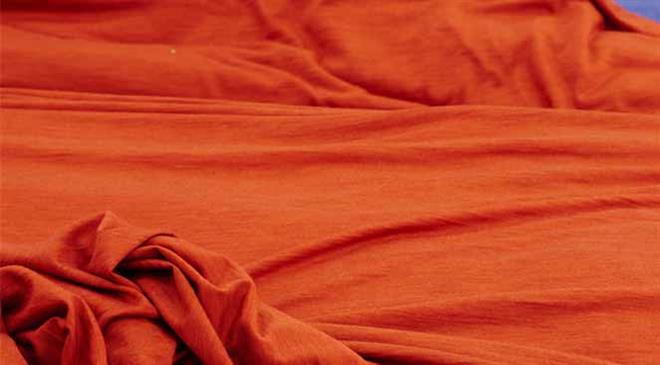 How does your company cater to more specialised and customised need for garments?
Our customers are looking for a full production cycle, EU origin and sustainable production. All these distinctions are offered by Utenos Trikotazas. Having vertically-integrated production from yarn to the final garment we provide our customers with full service from the R&D and on-demand development of completely new fabrics up until producing and shipping ready garments straight to the customer. In addition, we work with almost all fibre types covering not only cotton but yarns like wool, silk, linen, hemp, tencel, synthetic, and various blends. We offer approximately 6,000 different fabrics articles for our customers to choose from. Such a variety allows us to satisfy wide needs of our customers be it fashion, functional or sports.
What is the reason for having in-house infrastructure for testing and laboratory?
Having an in-house testing and laboratory infrastructure and vast experience enables us to constantly develop new fabrics for our customers. New developments and top quality requires thorough control and testing process.
What is the specialty of your factory machinery park?
Utenos Trikotazas is quite a unique company that maintains a vertically-integrated production cycle. It starts with more than 50 circular jersey knitting machines, then fabric and yarn dyeing machines, finishing machines including brushing, various piece and all over printing possibilities including new digital printing technology, embroidery and heat transfer machines, automatic cutting machines as well as modern sewing equipment. And all this is under one roof here in Lithuania.
How have you managed to gain operational efficiency as per the last financial performance?
Recent constant and consistent growth, which we have been enjoying for several years, is a result of strictly following our motto to be 'Organically Innovative'. That means we are fully committed to sustainable production and aim to be the world leader in this. On the other hand, our consistent investments in R&D, the development of new fabric qualities allows to get interest of our customers. Top quality, on-time delivery and superior customer service are key priorities for us.